Embroidery is considered as one of the most therapeutic hobbies and has proved to decrease the stress levels. Now-a-days embroidery is gaining immense popularity and people are also starting their business with it. With the increased demand for embroidery, it has become a promising career field in fashion designing. Embroidery is the core of Indian fashion and it helps the fashion designers create elegant designs on the fabric. It is an art of creating intricate designs on a piece of fabric to enhance its beauty. The best thing about embroidery is that it can be used to create fashion garments, home décor items like table cloth, curtains, cushions and much more.
There are different types of hand embroidery designs that can be found all across the country. Different Indian states have different embroidery styles and each one of them are unique in its own way.
In this blog we will talk about Phulkari embroidery. This hand embroidery design emerged in the states of Punjab. When we hear the word phulkari, we often think about the bright and beautiful thread work with floral motifs. But, phulkari is not just limited to leaves and flowers, there's a lot more to this artistic handcraft. The hand embroidered designs make it look vivid and elegant.
Did you ever think about why phulkari is different from the other types of embroidery? Well, it is the darn stitching method, done on the wrong side of the fabric, which makes this handcraft standout.
Here are the 4 types of phulkari embroidery you should know. Let's have a look at them one by one:
1. Senchi Phulkari
The senchi phulkari usually has jewellery or bird motifs. This authentic design is heavily embellished and this is why it is preferred as a bridal wear in many parts of our country. The Online Textile Courses will teach you different and easy ways to stitch this unique design.
2. Chhamas
We all have seen fabrics that have both mirror work and embroidery. This is none other than the chhamas phulkari. The mirrors are either stitched or pasted on the fabric and the borders are stitched with yellow or grey coloured thread. You can learn this attractive embroidery by joining Textiles for Fashion Online Courses.
Image Source- Artindo
Also Read : 3 Must-Have Mirror Embroidered Western Garments!
3. Neelak
This is another type of phulkari that is paired with metal or copper coloured borders. Neelak phulkari is stitched using the bright red or yellow coloured threads on a black or red background as they blend well with the borders. You can learn to make this beautiful type of phulkari by joining the Textiles & Fashion Design Online Courses.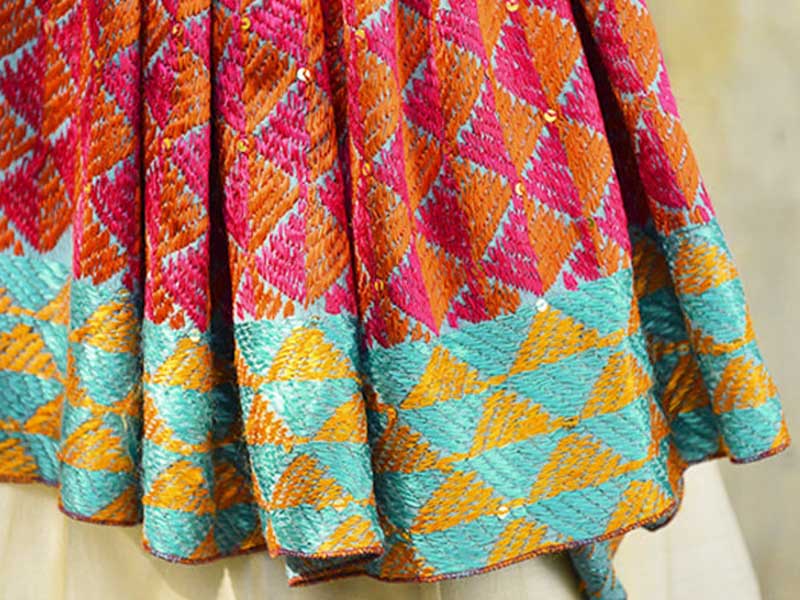 Image Source- My Grandma's Legacy
4. Chope and subhar
Chope is a type of phulkari that is stitched on both sides of a fabric. The edges and the borders are embellished with delicate embroidery. As Subhar has motifs along the sides and in the centre, you can easily differentiate it from the other types of phulkari.
Image Source- Banani Vista
Apart from phulkari, there are many other types of embroidery. With Hunar Online's Textile Courses, you can learn all about them from the comfort of your home. Enrol in our creative courses today and get a government-recognised certificate through National Skill Development Corporation.
People assume that Embroidery is very tough but that is not true. To master this skill, you just need to be consistent. Hunar Online Courses offers an Embroidery Course where you can use your creative skills and create different designsand much more. You can enrol in our Online Embroidery Courses. It has easy video classes which are accessible every time and you can learn from anywhere. You also get 24/7 faculty support which will help you clear your doubts.
So, what are you waiting for? Join Hunar Online's Embroidery course and start learning to create different designs and so much more from the best in this industry! Enrol now to start your journey towards a successful career!