Fashion Designing industry is greatly dependent on fabric. Without fabric fashion couldn't be created. It is the core of the fashion industry. There are many ways to create designs and patterns on fabric and embroidery is one of them. Embroidery has been one of the oldest methods of beautifying a fabric with intricate designs and motifs. In India, embroidery designs differ from region to region and there are around dozens of them.
Embroidery in India has come a long way. With the changing fashion trends, embroidery has also emerged but the essence of it remains the same. Throughout the time, Indian embroidery managed to stay elegant and sophisticated. Different types of Indian embroidery designs are making a style statement in the fashion world. There are so many Fashion Designing institutes that are teaching Fabric Designing Courses with the help of which students learn to draw different types of embroidery on fabric.
There are some popular embroidery designs of India that have made a huge place in people's hearts. Let's have a look at the one by one:
1. Chikankari Embroidery
Chikakari originated in Uttar Pradesh, Lucknow. It is rumoured to be discovered by Noor Jahan, wife of Jahangir. In this, white cotton threads are done on white cotton fabric. But with change in the fashion trends, you can now find chikankari embroidery in various colours on different colours of fabric. You can also find this beautiful embroidery on different types of fabric like linen, georgette or chiffons. The thread work done in this type of embroidery usually depicts motifs like flora and fauna. You can find this embroidery designs on every garment from sarees to kurtis and from lehengas to tops. Making designs using chikankari requires lots of hard work and patience. You can wear outfits with this embroidery on a daily basis and special occasions.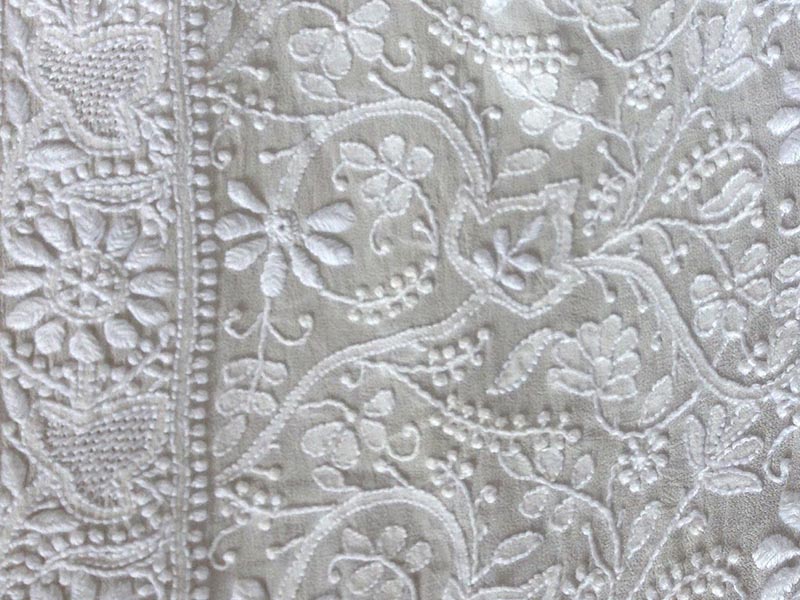 Image Source- Pinterest
2. Zari/Zardosi
Mughals introduced another embroidery design in the 16th century known as Zari, also known as Zardosi. The word zardosi comes from the Persian names of gold and embroidery. 'Zari' means 'gold' and 'dosi' means 'embroidery' in Persian. In this embroidery, one usually uses gold and silver threads to create intricate designs and motifs with precious stones and pearls. Initially, one can practice zari on velvet fabric, which makes it look very royal, but now you can also do it on various fabrics like silk and much more. Earlier, only the rich can wear it, but now almost everyone could afford it. You can find zari embroidery on various traditional clothes like sarees, kurtis, blouses, lehengas, suits, etc. It gives you a rich and glamorous look.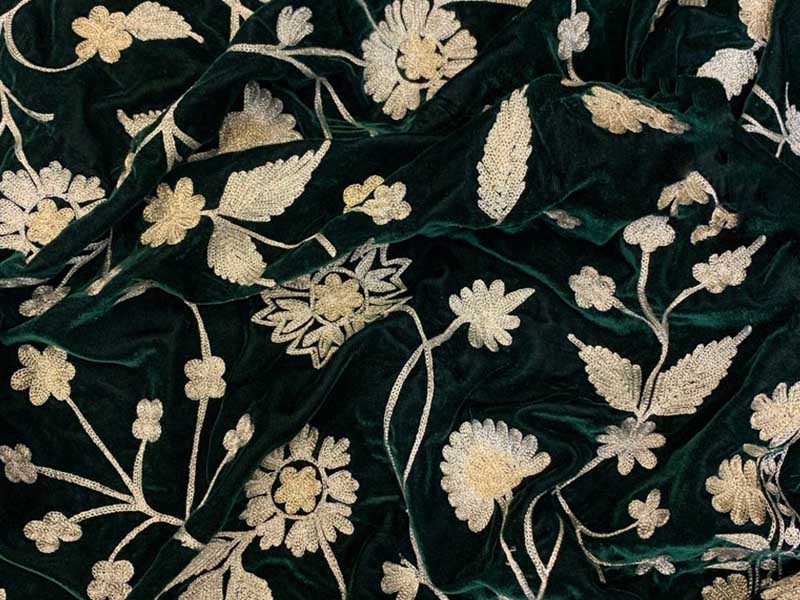 Image Source- Angad Creations
3. Phulkari Embroidery
Phulkari means 'garden of flowers'. This embroidery design originated in the Punjab region and is an important part of a Punjabi bride's trousseau. It originated in the Jat community and became popular all over the country in no time. One can trace its present form back to the time of Ranjit Singh in the 15th century. The base cloth is dull, often Khadi. Then one can completely covered it with bright coloured embroidery designs with no gaps. The motifs follow a geometrical pattern and one can usually decorate in floral designs. Previously, one can use khaddar for Phulkari embroidery but now other fabrics such as georgette, chiffon and cotton. Now-a-days phulkari dupatta is in trend. You can get a gorgeous look by adding some oxidised jewellery with a phulkari embroidered suit. Traditionally, phulkari was a bridal outfit, but today it can be worn on traditional events too.
4. Mirror work Embroidery Designs
Iranian travellers brought this embroidery design to India in the 17th century. One can originally do it with Mica. You can find mirror work embroidery in various Indian states like Rajasthan, Haryana and Gujarat. You can create apparels as well as accessories using this embroidery design. Mirror work varies in style according to the region and state. One can wear it as a daily wear as well as on special occasions.
5. Kantha Embroidery Designs
Kantha embroidery is mainly practiced by the rural women of East Indian states like West Bengal, Odisha and Tripura and Bangladesh. This type of embroidery is done by stitching on the clothes, which gives the cloth a wrinkled and wavy effect. Different types of motifs like flowers, animals, celestial objects, geometrical patterns and much more are created on the fabric. Originally kantha embroidery was done to create cushion covers, blankets and bedspreads, but now these designs can be found on dupattas and tops too.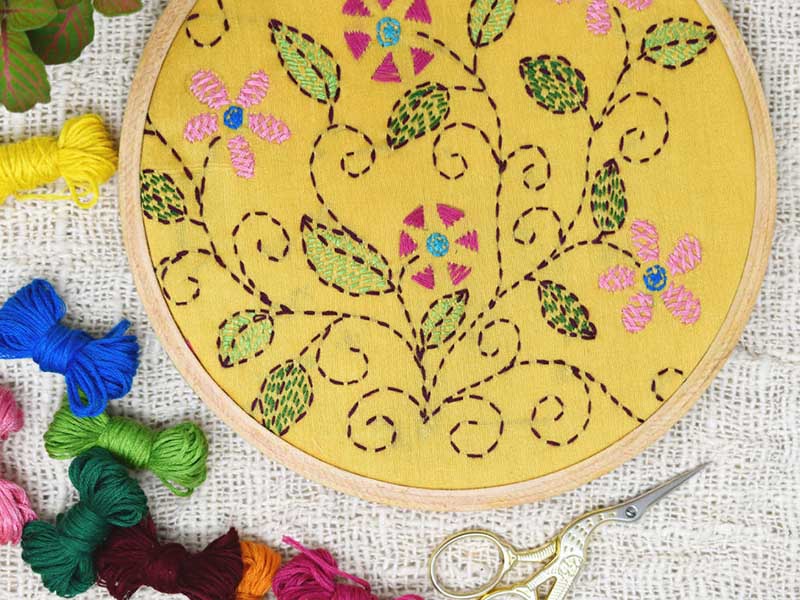 Image Source- Paytm Insider
Fabric Designing and Fashion Designing are co-dependent. One is incomplete without the other. To create record-breaking fashion trends, a fashion designer needs to create outstanding outfits using different types of fabric. This is where fabric designing comes in that makes a normal piece of fabric beautiful and gorgeous.
People assume that Fabric Designing is very tough but that is not true. To master this skill, you just need to be consistent. Hunar Online Courses offers a Fabric Designing Course where you can use your creative skills and create different types of designer fabrics for different occasions. You can enroll in our Online Fabric Designing Courses. It has easy video classes which are accessible every time and you can learn from anywhere. You also get 24/7 faculty support which will help you clear your doubts. So, what are you waiting for? Join Hunar Online Courses and start paving a new path to your career.