Women drape different kinds of sarees in different style. Their choice and preference in this 6-yard cloth of elegance depends on their personal preference, mood, occasion and many other factors. Applique and Patchwork is one of the top choices of women in patterns. Besides sarees, this pattern is also used to design other ethnic and trendy outfits!
Here are the 3 Applique and Patchwork designs that are trending in the fashion industry. Let us  check them out.
Kalamkari Applique and Patchwork
The Kalamkari Applique Patchwork is usually stitched on the pallu and borders or on the entire body of the saree that can give an attractive look to this traditional attire. These sarees can be worn for both casual and formal events. A simple chain and stud earrings go well with this simple and elegant outfit. 
Kalasam Patchwork Applique
A metal pot holding a big coconut is known as a kalash and is used in traditional Hindu occasions. The kalasam Patchwork Applique is inspired by this pot. A saree with this type of patchwork is best for the cultural events. Ethnic gold jewellery, along with a long gajra enhances the appearance of this saree. Drape this uniquely elegant saree for the next occasion flaunt yourself.
Applique and Mirror Work 
In India, festive season never seems to end and hence investing on an elegant saree with mirror work is something that you might need. The applique and mirror patchwork sarees are trendsetters during the navratri. Out of all the amazing types of mirror-embroidered sarees, the zardozi work applique is used for most of the ethnic garments. To enhance the look of your saree, pair it with heavy earrings and trendy bangles.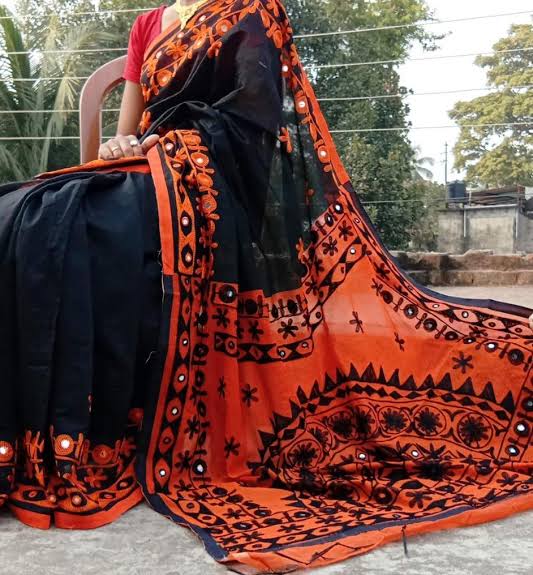 You might be having a variety of sarees, but the applique ones are something you must have in your closet. The best part is that you can even make your own unique applique and patchwork designs and enhance your wardrobe.
Apart from the three applique designs listed above, Quilting Patchwork and Applique is another trending pattern you must try. With Hunar Online's Embroidery courses, you can learn about all of them. Enrol in our creative courses now and get government-recognised certificate from NSDC.
Get all the Excitement through the Hunar Online Courses APP Today. Download Now!