Fashion keeps on changing with the time but the core of it remains the same. Fashion is cyclical but there are some trends that are evergreen. Everyone wants to get the perfect traditional look and be up-to-date with the latest fashion trends be it Indian fashion or western fashion.
The best thing about fashion is that you can give it your own twist and create a new and unique look. With festivities round the corner, it gets very daunting to select the perfect traditional wear. The fashion trends are changing and everyone wants to add their own twist to their attires but couldn't come up with something that could give them a stylish touch. We all want comfort and freedom while wearing a traditional dress and the best way to do that is by giving your dress a modern twist. Here are different ways to give your traditional outfit a western touch and stand-out in the crowd. Let's have a look at them one by one:
1. Ruffle Saree
Saree is a timeless Indian attire and can be worn everywhere no matter what the function is. It goes perfectly for every occasion and makes a woman look gorgeous too. Give a twist to your desi saree by adding ruffles to its border. It can give a classic upgrade to your saree in an instant. You can pair a beautiful halter neck blouse or a backless blouse as per your choice. A ruffle saree gives you the perfect feminine touch and can be carried to any occasion. While a ruffle saree comes in various colours and prints, a solid pick would be perfect for every function. To get the best look pair your saree with statement jewellery like necklace and earrings.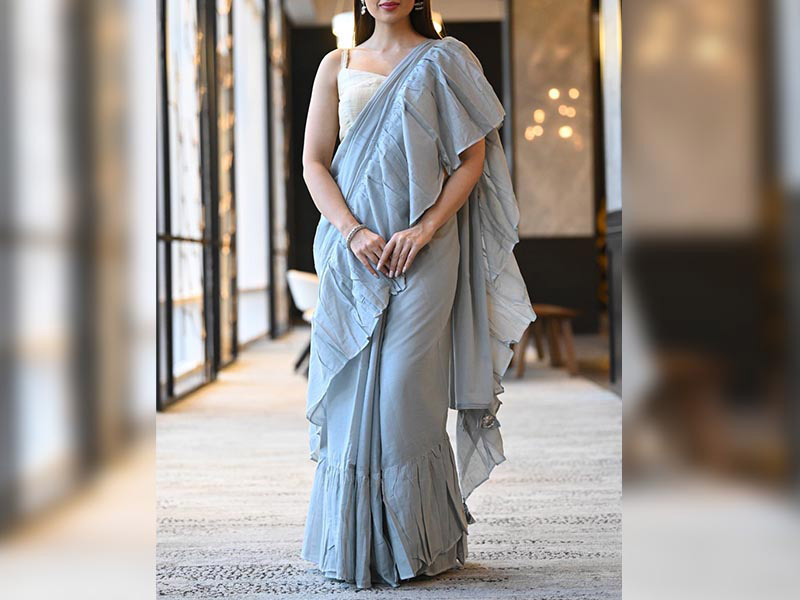 Image Source: Beatitude
2. Saree Gown
Gown and saree are the most preferred outfit for any occasion. What if I say that you can wear both at the same time? This version of gown which is known as 'Saree Gown' is perfect for you when you are confused between a saree and a gown. It gives a very feminine and sophisticated look and is perfect for cocktail parties and receptions. If you opt for bold colours like blue, navy or wine red, then go for diamond drop earrings or pearl drops. You can choose nude shades for your lipsticks and go easy with the eye make-up. If you go for pastel shades for your gown you can choose bold lipstick shades and stand out of the crowd.
3. Pant Saree
Pant saree has taken over the fashion industry with a rage with all the celebrities wearing it in the award shows and parties. This saree style is draped over pants and you can also add a jacket for a cool look. You can choose between culotte styles wide pants or straight fit pants depending upon your look and choice. As the look of a pant saree looks like it is overladen with fabric so pulling up your hair in a ponytail or a low bun would be the perfect choice. Go minimal with the jewellery. You can opt for a choker to complete your look.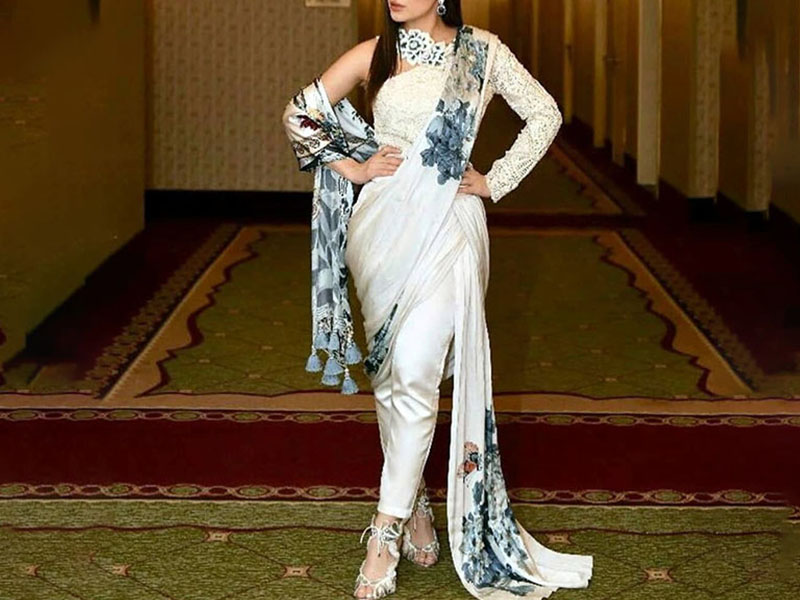 Image Source: StylesNIC
4. Dhoti Pants with Crop-Tops
Dhoti pants have been the latest trends as it has been spotted on many celebs in the B-town. You can easily pull off this look with a solid coloured shirt, short kurta, tank tops or a crop-top. Dhotis are the trendiest bottom wear of 2021 and can be worn to sangeet, receptions or festivals. This style is not only comfortable but also unique and stylish. Heels and statement bracelets are the best way to complete your look.
Also Read: Fashion Styling Tips for Summer Make-up
5. Indian Skirt and White Shirt
When you are in a hurry this look can be your great saviour. You can pick any skirt from your wardrobe and pair it with a white shirt, it will give a sophisticated look. You can also pair your shirt with a lehenga skirt. To complete the look, pair it with a statement necklace on the top of your shirt. You can add heels to get a bold feminine look. This outfit can be worn to cocktail parties, sangeet and receptions.
Image Source: Pinterest
6. Saree with Jackets
B-town celebrities have given a whole new to our most loved traditional wear- saree; by pairing it up with a jacket. This gives an ethnic wear a very trendy look and you can easily wear it to cocktail parties and big events. This fashion trend was popularised by celebrities like Aishwarya Rai Bacchan and Sonam Kapoor. The jackets are intricately embroidered which elevates the look of saree. They give a vintage touch to the saree and give you a royal look. The jacket looks gorgeous with nude and light coloured sarees. While picking up a jacket make sure that you choose the colour that goes well with the colour of your saree.
7. Lehenga Style Saree
Lehenga style saree is an amalgamation of two beautiful Indian ethnic wear- a saree and a lehenga. It is one of the latest trends which got popularised by Bollywood celebrities like Deepika Padukone and others, flaunting it at various events and award shows. This attire is perfect for the modern women who are living a fast paced life. It eliminates the extra work of draping the saree and making the pleats. Lehenga style saree is perfect for weddings and festivals.
8. Kurti and Maxi Skirts
Maxi Skirts have been trending lately. This is the best attire to exude class and elegance. You may have tried these skirts with t-shirts, tank tops or crop-tops. Next time try wearing it with a kurta. The trend of kurta paired with a maxi skirt has taken over the fashion industry with storm. This dress is not only comfortable to carry but also gives you a sophisticated look. If you have a printed maxi skirt then you can pair it with a plain kurta or a kurta that has embellishment on the neck area and the arms. You can spot many celebrities wearing this combination of outfit on various occasions.
You can wear a brocade kurta with a brocade maxi skirt for special occasions and festivals. To accentuate the look of your outfit try to put on some jhumkas and bangles. Footwear you pair with this attire plays a defining role in determining your look. You can pair mojris, jooti or kolhapuris to rock your look.
9. Crop-Tops with Skirts
Crop-tops are the best way to give a modern twist to your traditional outfit. They give a modern twist to your ethnic outfit and make you look gorgeous for every event. They are not only perfect for different types of western wear but also for Indian outfits. Crop-tops make a high fashion statement and add versatility to any outfit. You can wear a crop-top with an Indian traditional skirt or lehenga and add a western twist to your outfit. You can pair any footwear with this dress that you find comfortable. Crop-tops are the best way to replace the traditional blouses and add a fashion quotient to any outfit.
10. Crop-Top with Saree
It's the time to ditch those uncomfortable saree blouses and give a modern twist to your traditional attire. Replace your blouse with a crop-top and add a modern touch to your saree look. It cuts down the hassle of buttoning the blouse. It is the easiest way to get the chic and sophisticated look with an ethnic outfit. You can wear an off shoulder crop-top with your saree to get an edgy look. Put on a beautiful pair of heels with your saree and wear a bracelet or a watch to complete your look. Tie your hair in a messy low bun to add charm to your whole look.
11. Jeans with Blouse
Pairing your blouse with jeans is the best way to mix and match the ethnic and western wear. For special occasions or parties you can create this beautiful indo-western look. Heels are the best footwear to go with this outfit. You can also wear boots if you want comfort and style to go together. For your hairstyle, it will be better to keep your hair open or try small curls or beachy waves. Put on a bracelet and rings to accessorise your look.
12. Dupatta and Jeans
There are myriad ways to style your jeans and give it a modern touch. Try to wrap a dupatta in the way you want to and secure it with a belt. You can carry this style in comfort and look fashionable at the same time. You can easily style this look for special occasions and parties. Wear heels, boots or shoes depending on what is comfortable for you. Matching bangles with your dupatta can be the best accessory for your look or you can simply wear a wrist watch if you want to keep your style minimal. You can style your hair in different ways. You can leave it open, tie it up in a bun or wear a high ponytail with this look.
13. Dhoti Pants and Boots
Dhoti pants when paired with crop-tops, t-shirts or tops are the best way to give a modern twist to an ethnic wear. But this is not an end to it. You can get that edgy look with dhoti pants by pairing it with boots. Boots are fashionable and comfortable at the same time and go well with dhoti pants. You can style your hair the way you want to but open hair and a high ponytail would complement your whole look.
14. Kurti as a Dress
Nowadays you must have seen that kurtis are commonly worn as dresses. To wear your kurta as a dress make sure that your kurta is A-line and not the traditional kurtis with side slits. These kurtis are often ankle length or calf-length and worn as a dress on various occasions. It is perfect for festivals and parties. You can put on a pair of mojris, jootis or kolhapuris with this outfit. Silver oxidised jewellery is the best way to accessorise your look.
Image Source- Kalanjali
15. Palazzo with Crop-Tops
Palazzo pants are back in trend but with a twist. They were the most loved attire of the 80s and in the present days they are very popular and loved by many because of the comfort it offers. To give it a modern touch, put on a crop-top with your palazzo pants. You must have spotted many Bollywood celebrities carrying this style with grace. This outfit is best for festivals and parties and you can pair a beautiful matching pair of earrings to complete your look.
Image Source- Pinterest
16. Turtle Neck Top and Lehenga
Lehenga has been modernised in the present days. Many celebrities have been spotted wearing lehenga with a turtle neck top. This style is very comfortable and adds a modern touch to your traditional look too. This outfit is elegant and sophisticated, therefore it is perfect for parties and festivals. As the lehenga skirt is already heavy and has intricate work and brocade on it, try to wear a simple turtle neck blouse that can complement the look of your lehenga. Flats are the best footwear to pair with this look. Try to go minimal with your jewellery so that you can get a chic look.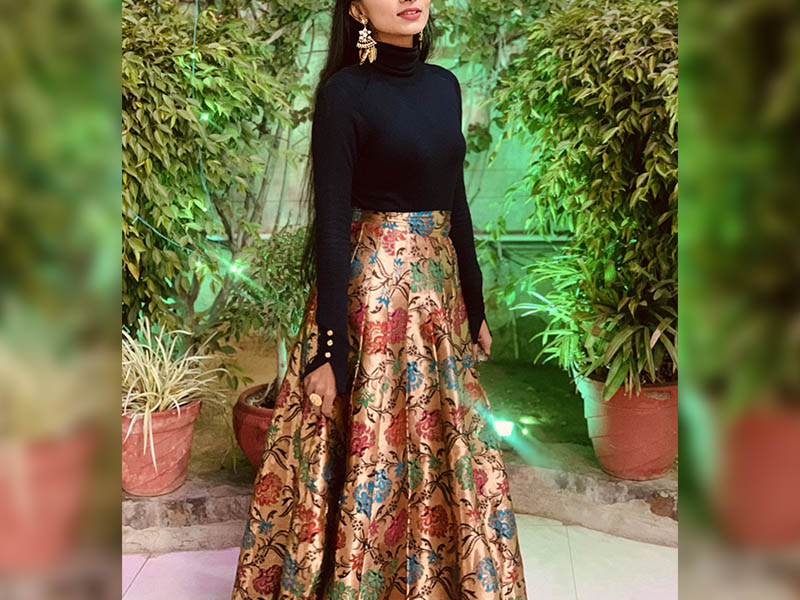 Image Source- Pinterest
Adding a western twist to the traditional Indian outfits is not an easy task but this will surely help you get the right choice every time. People love to wear fusion dresses because it is not only very comfortable and easy to carry.
Many institutes are teaching a Garment Making Course as it is gaining immense popularity lately. Many people assume that it is tough and creating designs using this craft is very complex, but this is not the case in reality. You just need to spend some time learning this new skill regularly and before you realise it, you'll be the master of it. Hunar Online Courses offers a Garment Making Course where you can use your creative skills and create different types of designs. You can make use of your creativity and get a perfect dress according to your needs. You can enrol in our Online Garment Making Course. It has easy video classes which are accessible every time and you can learn from anywhere. You also get 24/7 faculty support which will help you clear your doubts.
So, what are you waiting for? Join Hunar Online Courses and start paving a new path to your career.