Saree is a traditional garment of India which depicts its rich culture and heritage. This elegant attire has been passed on for many generations. It is worn by women all over the country, while some prefer to wear it for special occasions like weddings and traditional festivals, others don this outfit round the year. There are many fashion designing courses that lay its focus on sarees. Saree is one of those ethnic dresses that every woman loves. It is a piece of unstitched cloth of approximately 6 metres, that is draped around the body in different styles.
A saree enhances the beauty of a woman but a good fashion design blouse enhances the beauty of a saree. It is a fitting top that is worn with saree. The right fit and the right design of the blouse can make or break the saree look. With the advancement in the field of fashion designing, saree blouses have reached a whole new level.
There are many types of fashion design blouses to saree that you can choose to design and wear as per the occasion. You can choose the design of the blouses as per the occasion and comfort. Many fashion design courses are taught across various fashion designing institutes, where they teach to make different types of saree blouses.
Let's have a look at the variety of saree blouse designs available:
1. Mirror Work Blouse
Mirror-embellished saree blouse is one of the all-time favourites of ladies when it comes to occasions like weddings. Women love blouses that have mirror work on it. Such a type of fashion design blouse can make a simple saree look gorgeous. If you have a plain saree using material like chiffon, net, georgette, muslin or anything else then you can easily opt for a mirror work blouse and give an elegant look to your saree.
The mirror work blouse contains both real and faux mirrors. Attaching a real mirror on a fabric can be a task and it makes the fabric heavy, due to which it becomes heavy to carry. Therefore, faux mirrors are vastly used on fabrics, which is generally light in weight and is easy to carry.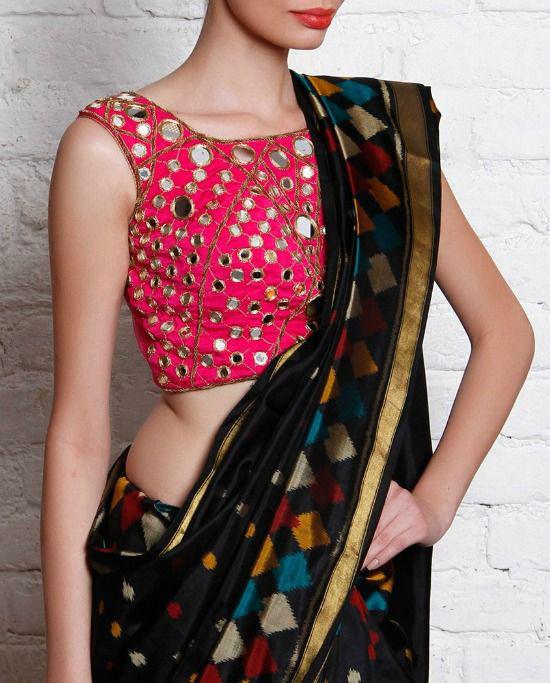 Image Source- Pinterest
2. Bow Knot Blouse
If you want to give a sensational look to a traditional outfit then opt for a bow-knot blouse. There are many different ways in which a bow knot can be introduced in a blouse. Generally, a bow knot is used at the back to tie the blouse back together. A neatly tied bow gives a chic to the blouse and to the saree overall. However, there are many ways in which a bow can be styled on a saree. A bow knot blouse gives a feminine touch to the outfit.
A bow can be tied with the different ends of the blouse or a readymade bow can be fixed on to it at the back.
Image Source- Magicpin
3. Basic Ready-Made Blouse
A basic ready-made blouse is a single-coloured blouse with a small round neck. It is generally made of cotton and has hooks on the front. These blouses have around 6-7 inches of sleeve length. It can come in handy, in case of urgent situations, when there is no time to get a blouse made by the tailor. The design of such blouses is universal and can go well with almost any kind of blouse.
4. Sleeveless Saree Blouse
A sleeveless blouse can be found in the wardrobe of every woman just like a basic ready-made blouse. It can make you look chic and sophisticated and it totally depends on the way that you decide to carry. It can be worn with any type of sarees, be it silk, chiffon, net, georgette or anything. There are also various fashion designing courses that teach to design different types of saree blouses. You can take some reference from there if different designs overwhelm you.
Image Source- Pinterest
5. Halter-Neck Saree Blouse
A halter-neck saree blouse gives a sensational look and goes best with chiffon saree or a net saree. If you are a daring lady then you can easily opt for it. This type of blouse looks best on women who have toned arms and shoulders.
Image Source- Tips and Beauty
Also Read : 3 Trendy Sleeve Design You Can Use In Saree Blouse Making!
6. Full Sleeve Saree Blouse
Another variation of saree blouse is a full sleeve saree blouse. These types of saree blouses are ideal for winter or for women who want to keep their arms covered. There are different varieties of this blouse design, which also includes a full sleeve saree blouse with heavy work on the sleeves, a transparent full sleeves saree blouse, a net full sleeve saree blouse with embroidery and embellishment on it, and many more. There are many options available and a woman can choose anything that fits her look.
Image Source- Glitter Gleam
7. Puffed Sleeve Blouse
This kind of sleeve is very common and looks great with traditional sarees like katan, banarasi, etc. The fluffy sleeve makes the wearer look adorable and gives a gorgeous look on a whole. Visually it adds weight, so it is preferable for women with thinner arms. A puffed sleeve blouse should be generally worn with traditional sarees and any kind of modern saree should be avoided.
Image Source- Keep me stylish
As a saree comes in different styles, so does a saree blouse. To attain the best look in a saree, the blouse chosen must be perfect. These are some different types of saree blouse designs which can help you in various occasions. Hunar Online Courses offer a Garment Making Course where you can use your creative skills to design different types of blouses. You can enrol in our Online Fashion Designing Courses. It has easy video classes which are accessible every time and you can learn from anywhere. You also get a 24/7 faculty support which will help you clear your doubts.
So, what are you waiting for? Join Hunar Online Courses and start paving a new path to your career.