Fashion is one of the many things loved by the majority population around the world. People always try to come up with their own fashion trends and follow the latest trends avidly to keep up with the changing fads. In the modern days, the definition of fashion has changed a lot and instead of trying to fit in a tight dress to get a desirable hour-glass figure, it is all about comfort and personal choices. Choosing things and styles that are comfortable for you and give you the desired look to help you bring out your inner fashionista flawlessly.
Creating your own fashion trend is not tough. You just need to have a clear idea on what's going on in the industry and what you really want. A little mix and match of the industry trends and your style can take you a long way. Fashion styling is an amalgamation of things like clothes, make-up and hairstyle and each factor depends on your body type, skin texture, complexion, face-shape and height to a great extent. You must keep in mind all these factors when you are trying something new.
Fashion Trends of 2021
Fashion designers try to come up with new styles every season and every year so that they can create record-breaking fashion. As 2020 was the year that no one wants to remember, in 2021 people are trying new looks and even some of the retro fashion trends are being revived. The youth culture is experimenting a lot with their looks and inspiring the general public. The 90s fashion is coming back and it is loved by a lot of people. Here are some of the latest trends that are loved by the majority of the population in 2021. Let's have a look at them one by one:
1. Bohemian Florals
For a long time, flowers have represented beauty, renewal and the feminine side of nature. When incorporated with fashion, they give a dazzling look. The floral prints have a huge craze in 2021. These prints are loved by women and have been a fashion trend for almost 100 years.
Image Source- Apricus Fashion
2. Puff Sleeves
Most of the fashion trends begin just as "trends". But there are various trends that stay for a long time and become evergreen. Although some alterations are being made with the changing trends, the base remains the same. Puff sleeves are the perfect example of it. The super-size sleeve has been one of the most trending designs of all time but sleeve styles like the balloon, the Juliet, disappeared as soon as they arrived. The puff sleeve has been able to survive for all these years. In 2021, this sleeve design is more popular than ever.
3. Maxi Dress
Maxi dress has been in trend for a long time and it is gaining popularity in 2021. It is one of the most versatile dresses of a woman. You can get that casual vibe by pairing it with a hat and shoes or you can look classy and get ready for a wedding by pairing it with some jewels and heels. You can choose the colours as per your choice and occasion. In 2021, brighter, louder colours are preferred by women. Different styles are available in maxi dresses and you can accordingly choose the style and prints for it.
4. Mesh Shirts
Mesh shirts have taken the fashion industry in 2021 by a storm. These shirts are very appealing and it is known as 'second skin'. No matter what the season is, one must definitely have a mesh shirt in their wardrobe. There are many ways to style a mesh shirt and you can pick the style which suits you the best. You can layer your sheer tops with shirts and jackets if the weather is cold. You can get an edgy look by pairing your mesh shirt with a jacket for the chilly days.
5. Wide Legged Pants
Wide legged pants are back in fashion and are loved by people now more than ever. You can wear them slouchy, baggy, extra-long or loose as long as you can balance them perfectly with a crop top or a slim fitting top. In the past decade, if you asked a woman to wear baggy bottoms, she would have rolled her eyes or said a 'no' straight to your face. There was a time when we gave undivided attention to skinny jeans and leggings. Things changed in 2021 and we finally got rid of the uncomfortable tight jeans. All thanks to the wide legged pants. Make sure that you pair these pants perfectly with crop tops or slim fit tops else you'll look lazy or disorganised.
Image Source- Vero Moda
Also Read: 4 Fashion Illustration Tips for Fashion Designers
6. Cropped Cardigan
Cropped cardigans define contemporary fashion in the best way possible. This vintage inspired outfit is highlighted by the major brands like Alessandra Rich and LoveShackFancy. If you want to put on a cute dress but think it's too much to handle then try pairing a cropped cardigan with slim fit jeans. There are a variety of style ranges be it buttons-up, embroidered, embellished or pretty knits. There are plenty of options for everyone.
Make-up Trends 2021
Now that you are all decked up with a pretty dress of your own choice but you know that your look is still incomplete without proper make-up. There are a variety of make-up looks that you can try with your outfit. You may choose to go light on your make-up if you are wearing a fancy traditional dress: maybe bold eyes or bold lips could be perfect to complete your look. If your dress is simple, then you can opt for loud make-up to stand out in the crowd. Make sure that the products that you use are suitable for your skin as you wouldn't want any skin irritation later.
Just like the fashion trends, the make-up trends also depend on the taste of the majority and keeps on changing from time to time. Whether you prefer a no make-up makeup look or love something bold or you are a make-up novice, few trends are loved by all and everyone wants to try them at least once in their life. Some make-up trends remain evergreen and some trends are cyclical and depend on the taste and preference of the crowd. Let's have a look at some of the latest make-up trends of 2021 one by one:
1. Metallic Colours
Make-up with metallic colours is becoming a sensation in 2021. You can add drama to your simple look with the help of a metallic make-up look. If you want a bold look then add colours to your skin, cheeks, lips and even the brows. This can help you get a perfect party look with all its glitz and glam elements.
2. Dewy Skin
When it's summer, 'less is more' is perfect when it comes to make-up. It's best to let our skin breathe in the summers. Therefore, dewy skin make-up is perfect for this season. Applying foundations with light coverage is the best option or you can even get supple skin with regular moisturising. To get the perfect dewy skin look, use a wet sponge to apply the foundation. If you don't want to apply foundation on your face, then use it to cover the spots and discolorations of your face. Make sure that you are using cream based make-up products. Apply bright blush on your cheeks to for a natural looking dewy skin look.
3. Rosy Hues
Rosy hues are back in trend to give you that dreamy look. Apply a rosy coloured blush on the apple of your cheeks and blend it properly to get the perfect look. This make-up trend was very popular in the 90s and loved by all. Now they have made a bang-on comeback in 2021. You can easily try this look for parties and special occasions.
4. Pastel and Bright Rainbow Nail Art
Pastel and rainbow nail art has become a trend of 2021 on social media and the top celebrities are making it a hit for the summer and spring seasons. No matter what the season is, you can always try pastel and rainbow manicures whenever you feel like. Bubble-gum pink, all the shades of blue and purple, greens and emeralds are some of the most common choices of the masses.
Image Source- The Best Acrylic Nails
Also Read: Bollywood Inspired Make-up Looks Trending this Festive Season
5. Bold and Glossy Lips
In 2021 people opted for bold and glossy lips and it became quite the trend for the year. This is one of the simplest trends where you don't have to put any extra effort into your make-up look. You can just apply the perfect shade of the lipstick and elevate your look and brighten your complexion as well as your mood. You can also go for a shiny tinted gloss and get the perfect glossy lips.
Make-up Tips for Summer
In the summers, you can flaunt your fashion style easily without having to be buried under the layers of sweaters and jackets. Therefore, it is loved a lot by fashion enthusiasts. It is also the most loved season by many people. Summer is full of wonderful things and it is loved by people for many reasons but melting foundation, smeared eyeliners or sticky lipstick are not among them.
Fashion styling in summer is quite different from that in other seasons and you need to have the right products at your disposal so that everything can be perfect and the mess can be avoided. This is the season where you have to take extra care of everything and make sure to protect your skin and hair from the scorching heat of the sun. Summer make-up trends are all about golden and shimmering make-up, dewy skin, pastel lip balms and vibrant colours. With the changing fashion trends, the styling of make-up in the summer season has also upgraded. The main focus is to get a natural, fresh and hydrated look round the clock in summers even when you are sweating.
You get many styling tips for your skin all over the internet and among the pages of popular fashion magazines. You can try thousands of make-up products but not everything can work wonderfully for your skin. Here are some fashion styling tips which are perfect for any skin type. Try out these tips, especially in the summer season. Let's have a look at these tips one by one:
1. Choose the Right Moisturiser
It is known to us all that our skin produces extra oil during the summer season, even if you have dry skin. Therefore, it is very important for you to take care of your skin by choosing the right moisturiser for your skin. Make sure to use an oil-free moisturizer on your face to give it the nourishment it needs. This will help your skin be less greasy even in the scorching heat. Use light-weight moisturisers so that your face can be hydrated all day long.
2. Put on some Sun Protection
Hydrating your skin during summer is important but protecting it from the sun is equally important. The harmful radiation of the sun can permanently damage your skin cells therefore, it is always advised to put on a layer of sunscreen before stepping out in the sun. Most of the time it is suggested to wear a sunscreen of at least SPF 30 or more. To ensure that your skin is properly protected from the sun, re-apply the sunscreen every two hours. Even if you are planning to use make-up make sure to apply sunscreen under your make-up. It ensures that the skin is protected from the damage that the sun can cause.
Image Source- Medical News Today
3. Invest in a Proper Make-up Primer
You will never regret investing in a proper primer. It just takes a few minutes to apply primer evenly on the skin. It is generally applied after moisturiser and sunscreen. It is the base of make-up that keeps the make-up intact and in place. They have a way to go in the summer and hold the make-up in place without making your skin heavy. A good primer can help soften your wrinkles and blur away the imperfections.
4. Apply Less Make-up
When it comes to make-up, 'less is more'. All you need is perfection while you apply make-up. If you want to prevent your makeup from caking and creasing, then it is best to apply less make-up. It is important that your skin breathes during the summers. Using tinted concealers or moisturisers can help you get a make-up look in an instant.
5. Glam Up with Some Bronzer
To keep your look fresh and natural apply some bronzer over your make-up. It is recommended to apply bronzer on the high points of your face, where the sun hits you naturally, like forehead, chin, cheekbones and nose. Make sure that you don't apply bronzer to every nook and corner of your face to avoid the fake and cakey look. It is advised to use powder bronzer during the summers as it is easy to apply and also it won't slip around because of the summer heat.
6. Make Sure that Your Eyeshadow Sticks Till the End
If you want your eyeshadow to last longer then avoid using eye cream on your lids, it can break down your make-up. Instead, smoothen your eyelids with an eye primer. It minimises creasing and creates a base for the shadow to cling to it so that it can last longer. If you want your eyeshadow to last all day long, then go for a powder-based eyeshadow over the cream one.
Image Source- YouTube
Easy Make-up Hacks for Everyday
There are a number of beauty products available in the market and it is common for women to get confused among them. Women don't know what would be the best option for their skin and end up picking up the wrong item most of the time. They blindly follow the fashion magazines and try the trending products which can cause irritation on their sensitive skin.
Getting that perfect make-up look can be a task, especially when you are just a beginner. The whole process is time-consuming and complicated. You need to do each step with perfection. You should have a clear and concise idea about the make-up products and what suits your skin the best. Applying the perfect winged eye-liner, getting the perfect shade of foundation according to your skin shade can be exhausting and there is no guarantee if you will get it right or not. Almost every woman loves to do make-up but not all of them have time. Therefore, make-up artists have come up with simple & easy tips and tricks that can save your time and you can get ready in the quickest way possible. No matter if you are a beginner or a pro; these tips will always come in handy for you. Let's have a look at them one by one:
1. Clean Your Skin
Before applying any make-up product, make sure you wash, exfoliate and moisturise your face nicely. The combination of warm water and gentle facial massage keeps your face hydrated and moisturised. This helps in easy application of make-up and your skin looks perfect.
2. Eye Make-up Before Anything Else
This is one of the most common tips that make-up artists suggest all the time. If you want a mess-free make-up order, then use this trick every time before applying make-up. You won't have to worry about the eye-shadow falling on your perfectly contoured and highlighted cheeks or smearing the kohl under your eyes. You will save time because you won't have to redo your make-up or add extra finishing touches to it.
3. Opt Out Concealer for the Eyes
Applying concealer on your eyelids and below can be very tempting. They can mask all the dark circles and under-eyes bags very nicely but it is not advised. You can ruin your eye-makeup because a concealer will give a creased look after it dries out.
Also Read: 6 Most Popular Eye Make-up Ideas for Fashion Styling
4. Make Use of Tape or a Spoon to Get the Perfect Winged Eye-Liner
You must have seen this make-up hack many times on YouTube or other social media platforms. This hack works like magic and is the easiest way to get a perfectly winged eye-liner. It can save you a lot of time and energy. Start by creating a straight line from the outer corner of your eyes and then follow the edge of the spoon. After that, trace around the curved edge and then fill in the wing. You can get unlimited video tutorials on YouTube and get a clear understanding on how to use a spoon or tape for the perfect winged eye-liner.
Image Source- Sigma Beauty
5. Match Your Lip Colour with Your Blush
One of the best and the most popular make-up trends has been the one where the colour of your blush matches the colour of your lips. If you want to create a lovely, coordinated and natural look then match the colour of your lips with the colour of your cheeks. To achieve this look, you don't need to use two products. You can easily use your lipstick as a cream blush. Apply it in the back of your hands and use your fingers to gently rub them on your cheeks. This hack can also save you in the times when you run out of blush.
6. Smokey Eyes in 2 Minutes
When in doubt, get those smokey eyes on and flaunt your style. Smokey eyes have been in trend for a long time and are not going out any time soon. They are loved by many women and are generally preferred for parties. Now you can easily get the perfect smokey eyes look within seconds without using different shades of eye-shadows. There is a fast and easy alternative to that. Use an eye pencil and draw a slanted hashtag above the outer corner of your eyes and blend it nicely. This will create killer smokey eyes in an instant with the perfect shading at the right place.
7. Shiny Skin with Foundation
Who doesn't want to have youthful and radiant skin? You can get shiny and luminous skin with the help of foundation and glow like a queen. You can fake this look on the days when your skin looks dull or on the days when you have an important function. Mix a small amount of golden or pearly white eyeshadow with your foundation and apply it on your face. You will notice your face glow-up in an instant.
8. Make Your Lipstick Last Longer
Lipsticks can elevate your look in an instant but they tend to fade away quickly too. Lipsticks tend to stick everywhere from a wine glass to the tissue paper and anywhere except on your lips. There is an easy fix to this problem. You can make your lipstick last longer on your lips. After you are done applying lipstick, place a tissue over your lips and dust some translucent powder over it. This will help you set the colour properly and also make it last longer.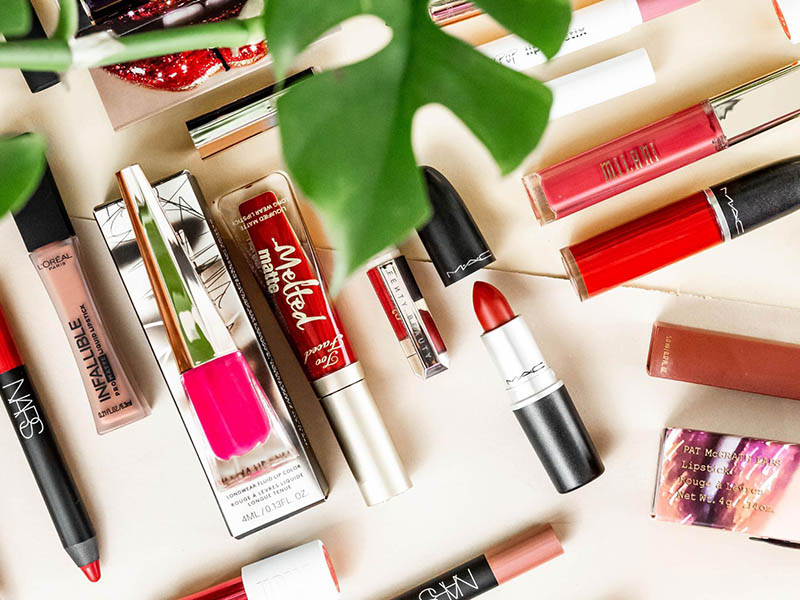 Image Source- CNN
How to Get that 'No Make-up' Make-up Look?
One of the most popular trends of 2021 is the 'no make-up' make-up look also known as minimal make-up look. The major inspiration for this look has been the celebrities who somehow convince us that they are blessed with the goddess-like skin. We try to follow their skincare routine and even try out the products used and recommended by these celebrities. We hover through a lot of fashion magazines and try to inculcate the diet plans of the celebrities but nothing works. It can be really frustrating that after so much effort you are still not close to getting the skin of your dreams. What do you think that celebrities do differently than most of us? The answer is simple! Make-up!
The trend of minimal make-up is getting popular these days and it is here to stay for a long time. This make-up look helps you look fresh and awake even when you don't feel that way. Nailing the perfect minimal look can be trickier than it appears to be. You can look up in the fashion magazines and follow celeb make-up artists to get an idea about that. Here is a step by step guide to achieve that flawless 'no make-up' make-up look. Let's have a look at them one by one:
1. Prepare Your Skin
This is the first step to achieving flawless skin. You need to prepare your skin for the 'no make-up' make-up look. Clean your skin properly using a mild cleanser or a face wash. Make sure to remove all the dirt and impurities from your skin pores. To make sure that your skin doesn't feel tight and dry, apply a light moisturiser. It keeps your skin soft and hydrated and makes it ready for makeup.
2. Use Primer
Primer is necessary when going for the minimal makeup look. It is the easiest way to achieve a smooth base. It fills all the unnecessary pores of your skin and prepares it better for makeup. An illuminating primer can brighten your skin and make it glow from within. Investing in a good primer is a smart choice especially for the beginners.
3. Light Coverage
To get that flawless natural looking skin, go for a BB or CC cream. It hydrates your skin and makes the imperfections look beautiful. To give your skin a dewy look, apply the cream with a foundation brush or use a sponge. It is better to skip foundation and let your skin breathe.
Image Source- Skincare.com
4. Concealer
Concealer helps you cover those baggy under eyes and the blemishes on your skin. Make sure to use a lightweight hydrating concealer as it gives a nice coverage to the dark circles and acne marks and makes your skin look fresh.
5. Contour
If you want to add a dimension to your face and give yourself a shadow effect then you can use a cream contour. This is not an everyday product but if you take care of your skin before and after applying makeup then you can use it regularly. If you want to enhance your facial features, then you can easily use this product.
6. Dew over Highlighter
To get the perfect 'no make-up' make-up look ditch your highlighter. Rather than applying the natural shimmery powder highlighter go for a dew stick. It will give your skin a dewy look and make it glow. Cream based dew sticks go a long way and help you achieve natural shine.
Image Source- Morphe
7. Blush
Blush is a woman's best friend especially when you are trying to get that minimal make-up look. A natural blush adds to the beauty of a woman and makes your skin look gorgeous. Opt for a cream blush which can blend with your skin naturally. To get the flawless look, apply it using your finger on the apple of your cheeks and bridge of the nose.
8. Mascara
Having dark eyelashes is the dream of every woman. It makes the eyes look so pretty and expressive. Curl your lashes and apply brown mascara to get the natural look. You can also skip the mascara part all together if you want to have more focus on your skin.
9. Lip Tint
The natural tint we get after adding lip tint is gorgeous. To achieve that "no-makeup" makeup look apply lip balms with natural pinkish hues. It is the best way to get natural looking lips. You can also apply lipstick and wipe off the extra using tissue and get the natural lips.
Image Source- Hayley Hall
Make sure that the make-up products you use for getting the perfect minimal look are cream based. It helps achieve that natural look flawlessly and blends perfectly with your skin. Try these tips suggested by the make-up artists and pull-off the minimal make-up look naturally.
Image Source- The Times of India
Make-up is a woman's best friend and every woman wants to achieve that flawless skin with the help of make-up. Although it can help you achieve your perfect skin, it's temporary. Make sure that you eat healthy as it helps the skin shine from within. Apart from makeup, you must take care of your skin on a regular basis. Eating fresh fruits and drinking lots of water makes your skin glow naturally. Also make sure that you don't expose your skin in direct sun because it can cause long-term damage and tans that take a long time to recover. Apart from the food, use the make-up products that suits your skin and doesn't cause you any irritation. You can pull-off the perfect make-up style for any occasion once you get the hang of it.
At Hunar Online you can learn about make-up with the help of our Fashion Styling course. This course will teach you everything in detail and step by step. Apart from make-up, you'll learn about different types of hairstyles, fashion and wardrobe styling. You can enroll in our Fashion Styling course and start learning. At Hunar Online, You get the support of our faculty 24/7 and can clear your doubts whenever you want to. The video lessons are in detail and pre-recorded, therefore, you can watch your lessons many times until you are clear about that topic. You can learn from anywhere at any time. You get to learn from the comfort of your home and a chance to learn from the experts from the industry.
So, what are you waiting for? Join Hunar Online Courses and start paving a new path to your career.