The adjectives- 'intricate, traditional and artistic could not do much justice to the free-flowing attitude with which South Indian jewellery design pieces are worn. Now, let us look at some of the intricate South Indian jewellery design pieces, particularly the necklaces.
1.Mullamottu Mala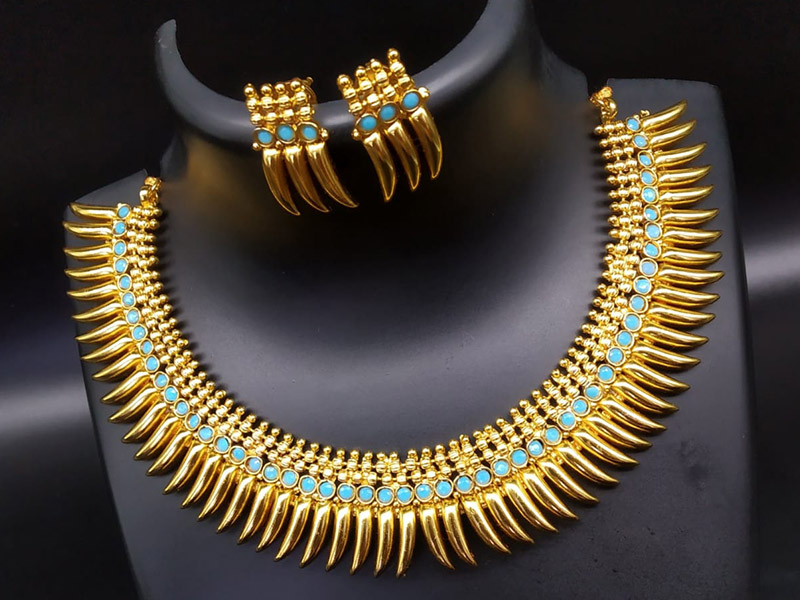 source: soosi.co.in
A beautiful bride adorned with this exquisite South Indian bridal jewellery design known as the mullamottu mala is indeed a wonderful sight! Like a jasmine bud that breathes its fragrance and stimulates our senses, this necklace holds a special place inside the hearts of the brides when it comes to carefully selecting their South Indian jewellery design for their special day. The soft and tender jasmine buds in gold are strung together with a single stone layer set on one side and netted gold work on the other which gives the brides freedom to wear it either way. The option of wearing it as a neck hugging necklace or the longer edge necklace on the day of the wedding or any other special occasion is always available.
2.The Gutta Pusalu Necklace:
This South Indian jewellery design is a classic necklace design and a piece of heritage from Andhra Pradesh. Firstly, the meaning of Pusalu is "beads" and gutta means "a shoal of small fish". Both words combined give the necklace, which is fringed with bunches of small pearls very similar to a shoal of small fish (Gutta), its name. This irresistible South Indian jewellery design originated in areas close to the ancient pearl fisheries along the Coromandel coast of India and is sure to please the jewellery connoisseur in you.
3.Attigai Necklace:
This South Indian jewellery design piece comes from Tamil Nadu. This is perfect for parties and marriage functions too. Hence, with its magnificent artwork one of its kind natures, this necklace is loved by women of all age groups.
4.Thaali/ Mangalyam/ Suthuru
source: the metropolitan museum of art
The groom ties this traditional South Indian bridal jewellery design around the bride's neck during their marriage. This reflects the special bond between the two. You can find differences in the shape according to the caste.
5.Beaded Haar
This South Indian gold jewellery necklace design is another beauty in solid gold with a pinch of colour added to it in the form of Meenakari work. The necklace with its simplicity is sure to complement the bride's attire and the rest of the look. You can work this look for your minor wedding functions as a standalone piece with lehengas as well you can also use it in a combination for the main wedding ceremony while making sure that the smaller necklace you wear with it isn't too flamboyant so as it takes away the splendour of the main piece.
6.Meenakari Haar
The Persian art form Meenakari is the heart of this south Indian antique gold jewellery design. Without looking flamboyant, it also flawlessly adds colours to your look. It is completely capable of defining your entire bridal look when paired up with simple minimalist lehengas. You can carry this hair well with any choker necklace of your choice as the hair is not very long. You can work this one for all of your ethnic functions as well as for the main wedding ceremony.
7.Solid Gold Haar
Choose solid gold designs for your jewellery. In case you are going for a traditional saree or anything less dazzling for your wedding day. This maintains the sensibility of the attire without losing any charm of it. This South Indian gold jewellery design complements all of the other layers of necklaces and enhances the bridal saree. You can add embellishments of your choice. You can also work this Maharani Haar as a standalone piece, for any of your day Puja events.
8.Malai
This is a traditional South Indian jewellery design that has risen to great popularity and is back in the trend. The intricately set precious stones elevate the look of the necklace. They make the bride look extremely flamboyant and ethnic on this significant occasion of the wedding. This makes it one of the best South Indian wedding jewellery pieces.
9.Nakshi and Temple Jewellery
The Nakshi and Temple Jewellery give the bride a divine and exquisite look. This South Indian jewellery design with coloured beads, antique finish layered chains of gold balls and Nakshi work is all set to complement the entire look of the bride. The jewellery looks heavy with trending uncut diamonds, nakshi balls, the pendants of Gods and Goddesses studded with precious gemstones and polkis which gives the bride an opulently traditional appearance. The most preferred design for pendants is that of
Lord Ganesha and Goddess Lakshmi. Nakshi waist belts or vaddanams are can elevate the overall of the look.
10.Kasu Haram or Kasulaperu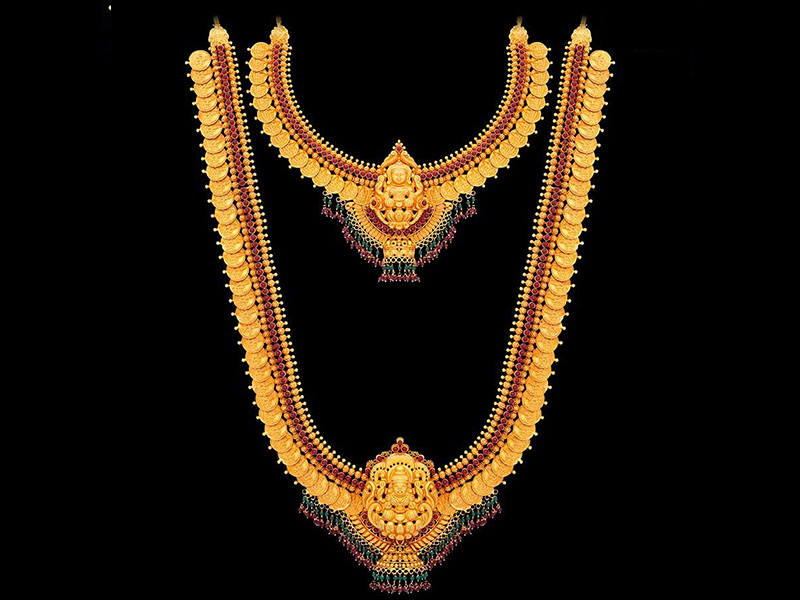 source: Saravana stores elite
This is a traditional south Indian jewellery design piece that comes from Kerala. The coins used for the jewels have designs embossed on them. Brides who want to enrich their traditional looks opt for this timeless jewellery in the shiny or dull antique finish. With each piece being an eye-catching antique art, these Kasu malas are available in a huge variety of designs and different traditional works.
The above list of South Indian jewellery designs comprises traditional, ethnic as well as modern necklace pieces. To know more about these, enrol in our courses. Learn Jewellery Designing with Hunar Online Courses.
Also Read: Scope of Gold Jewellery Designing in India
At Hunar Online, you will get access to detailed video lessons and can learn from anywhere. You will get 24/7 faculty support and a chance to learn from the experts of the industry. Also, watch our trial classes and get a glimpse of our courses. You can start learning your favourite course by downloading the app.
So, what are you waiting for? Join Hunar Online Courses and do what you always wanted to do.