Hunar Online App is an e-learning platform that offers a wide range of courses in the field of creating fashion, design, and business. Hunar Online App offers courses in various areas, including fashion designing, interior designing, jewellery making, beauty, and baking. This app is designed to be self-paced, allowing students to learn at their convenience. They also come with video lectures, tutorials, and assignments that enable students to apply what they have learned in real-world situations. One of the unique features of Hunar Online Courses is the option to choose a certification course or a hobby course. Certification courses are designed for students who want to pursue a career in their chosen field, while hobby courses are intended for individuals who want to learn a new skill for personal enrichment.
Hunar Online App has received positive reviews from students who appreciate the quality of the courses and the affordability of the fees. Hunar Online Courses also offers job placement assistance for students who complete certification courses, which is a significant benefit for those who are looking to jumpstart their careers in the creative arts. In summary, Hunar Online app is a reliable platform for individuals looking to learn creative skills at their own pace and at an affordable cost.
COURSES OFFERED BY HUNAR APP
FASHION DESIGNING COURSES
Hunar Online offers a range of fashion design courses that can help individuals learn and develop the skills necessary for a career in fashion. These courses are designed to cater to different skill levels, from beginners to advanced learners. This course is ideal for beginners who want to learn the basics of fashion design and illustration. It covers topics such as colour theory, fabric selection, and garment construction, among others.
MAKEUP COURSES
Hunar Online is a platform that offers a range of courses related to beauty and makeup. These courses are designed to help students learn about various aspects of beauty, makeup, and hairstyling. Some of the courses offered by Hunar Online include:
Professional Makeup Course
Party Makeup Course
Bridal Makeup Course
These courses are designed to be comprehensive and cover a wide range of topics related to beauty and makeup. They are conducted by experienced instructors who provide step-by-step guidance and support to help students learn and develop their skills. Additionally, the courses are flexible and can be accessed from anywhere, allowing students to learn at their own pace and on their own schedule.
BAKING COURSES
We provide online baking courses for beginners and professionals to learn and enhance their skills in baking. Hunar Online offers both live and recorded classes that cover a wide range of baking techniques, including cakes, cookies, bread, and pastry making.
Their courses are designed to provide practical knowledge and hands-on experience in baking, including ingredient selection, mixing techniques, baking temperatures, and decorating skills. They offer a structured learning approach with step-by-step instructions, recipe demonstrations, and practical tips to help students master the art of baking.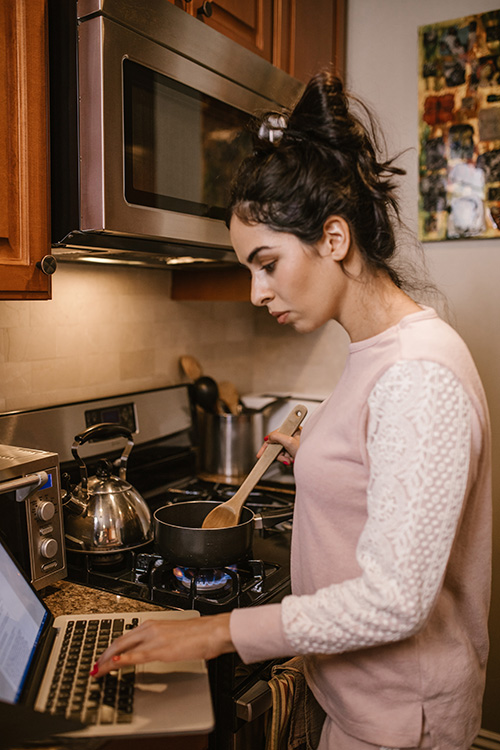 BENEFITS OF THE HUNAR ONLINE APP
Hunar Online is an e-learning app that offers a variety of courses in different areas, such as fashion, baking, cooking, beauty, and more. Some of the benefits of using the Hunar Online app include:
1.Flexibility
The app provides access to courses that can be completed at any time and from anywhere. This makes it possible for learners to study at their own pace, which is especially useful for those who have busy schedules or other commitments.
2.Variety of Courses
The app offers a wide range of courses, catering to different interests and skill levels. Whether you want to learn a new craft or develop your cooking skills, there is likely to be a course that suits your needs.
3.Experienced Instructors
The app's courses are taught by experienced instructors who are experts in their respective fields. This means that learners can be confident that they are receiving high-quality instruction and guidance.
4.Interactive Learning
The app offers interactive learning experiences, which can include videos, quizzes, and other activities that help learners to engage with the material in a more immersive way.
5.Budget Friendly
The courses offered by Hunar Online are generally more affordable than traditional in-person courses, making it an accessible option for those who may not have the financial resources to attend classes in person.
6.Career-oriented Courses
Hunar Online app offers many career-oriented courses, helping learners to develop skills that are in demand in the job market. This can be especially useful for those who are looking to change careers or to develop new skills to enhance their existing careers.
Overall, the Hunar Online app offers a convenient and accessible way for learners to develop new skills and knowledge in a variety of areas.
At Hunar Online, you will get access to detailed video lessons and can learn from anywhere. You will get 24/7 faculty support and a chance to learn from the experts in the industry. You can also watch our trial COURSES and get a glimpse of our courses. You can start learning your favourite course by downloading the app.
So, what are you waiting for? Join Hunar Online Courses and do what you always wanted to do.