Embroidery has been one of the most popular Indian techniques of adding patterns and designs to fabric. It is a craft used to decorate fabric or any other material with the help of using thread and needle. There are different sizes of needles used for various kinds of fabrics and different types of embroidery design that makes a garment look traditional or modern.
Now, Embroidery is practiced all over the world but it was first sighted in China and during 30,000 B.C. This is according to the archaeological findings which contained heavily hand-stitched and decorated clothes. Other early sightings of embroidery was in Sweden during the Viking Age and the stitching techniques became most popular all over the world during the Medieval Islamic era.
Even today, the same embroidery techniques are used for displaying custom artwork, names and logo designs of organizations, clubs & other businesses. There are several types of custom Embroidery designs such as counted thread embroidery, whitework technique, outline embroidery and many others which facilitate above-mentioned thoughts to turn into reality. These designs are also popular on different types of garments, thus giving each piece a distinct look.
Following are 3 hand-embroidery designs which are most popular:
Counted-Thread Stitch
This technique of embroidery involves counting the fabric threads by the embroiderer before inserting the needle into the fabric and starting to stitch. The cloth used usually for this type of stitching technique is the even-weave fabric which generates a symmetrical image because weft and warp fabric threads are spaced evenly.
There are many types of counted-thread stitching techniques such as Assissi, Bargello, Blackwork, Canvas work, Hardanger, Needlepoint and many others. One of the most common hand-embroidery designs in counted-thread embroidery is Cross-stitch embroidery technique.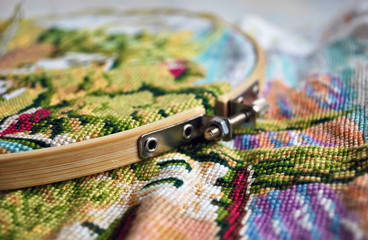 Outline Stitch
This stitching method, as the name suggests is generally used for outlining patterns on the fabric using the appropriate and needle size. Basically, in these types of embroidery designs, the stitch is made by overlapping the backstitches to form a new pattern outlining the already existing.
In this stitching technique, the design outline is generally worked with different kinds of stitches which includes holbein stitch, pick stitch, chain stitch (which has 12 variations), backstitch (which has 2 variations), stem stitch (which has 3 variations), running stitch (which has 9 variations), blanket stitch (which has 2 variations) and others. One of the most common embroidery designs among these is chain stitch which has 12 variations for outlining fabrics.
There are many embroidery courses where you can learn all these outline stitches and many other types easily through video classes and 24×7 faculty support.
Whitework Embroidery
Originated in India & China, Whitework embroidery technique is a stitching method in which the colour of thread is the same as the foundation colour of the fabric. This stitching technique is generally used on white fabric with white floss. This hand-embroidery design is also called as French-Laid Work.
Similar to counter-thread and outline stitches, whitework embroidery method also has many types like shadow work, reticella stitch, broderie anglaise, hardanger embroidery, Hedebo stitch, Mountmellick, reticella, Schwalm and many others. One of the most common embroidery designs among whitework stitches is broderie anglaise which is an open embroidery technique used for the creation of floral patterns on fine white linen or cotton fabrics.
You can choose from different embroidery training courses provided by Hunar Online Courses to choose the type of embroidery designs you love and want to learn to create beautiful designs on your own from home.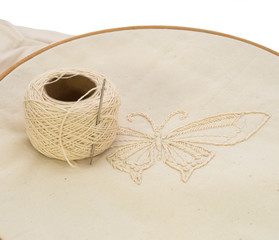 Among these embroidery designs, there is one special kind of embroidery which is always trending- Zardosi Embroidery. It does not matter which part of India you may belong to, you have to agree that Zardosi is one of the most preferred and elegant types of embroidery technique. It is perfect for wedding seasons and other festivities.
Zardosi Embroidery
This kind of embroidery originated in Lucknow in the 12th century while Aurangzeb ruled the state. This embroidery style was encouraged by all Mughal emperors who went out of their way to spread this style across India making it so famous that we all love it today!
Embroidery is the queen of all stitches for its amazing look and unique patterns is known as Zardosi embroidery. To put in simple words, it is a type of embroidery technique which is heavy and uses metal for embroidery on fabric bases like satin, velvet and silk mainly. The designs are made mostly using gold and silver threads which incorporates beads, pearls and precious stones.
There are 2 basic embroidery designs used to create zardosi, they are:
Aari Work
Aari work is a golden and silver type of thread and fiber known as the name of kasab which embroiderers decorate by sewing patterns on it with thread. Aari work embroidery is the art of embellishing fabric or using different materials by threads and needles. Involvement of embellishments may also involve in the form of different materials such as metal strips, beads, pearls, sequins quills among others.
Kundan Work
Kundan work is one of the most beautiful embroidery decorations on fabrics. Kundan work is a combination of various Kundans and Zardozi work which creates an elegant & classic pattern. The primary Kundan work is that after making the Zardozi hand-embroidery designs using silver and gold threads or ribbons, pearls and gemstones are studded onto it.
Gota Patti Work
Gota Patti Embroidery is simply known as Gota Work, which is a type of Indian embroidery that originated around Farrukhabad and Rajasthan. Gota Patti is made of small pieces of fabrics by sewing from a needle of zardosi by applying threads on different types of outfits.
So, what are you waiting for? Want to learn more about the practical usage of multiple embroidery designs quickly? Then you can join our online embroidery classes and learn all these and more from the comfort of your home. You will be mentored by Neeta Lulla along with certification from her and Govt. of India after completion of your course.