Fabric/Textile Designing is an art of creating designs and patterns on fabrics be it woven, knitted or non-woven fabrics. It also includes putting embellishments on the fabric. Creating appealing designs and patterns on the fabric is an integral part of decorative art. It is done to make a piece of fabric more attractive and appealing. With the help of textile designing many types of patterns and designs can be created.
The process includes creating various fabric designs on pieces of cloth like towels, carpets, dresses, etc. Fabrics are made by weaving or knitting and the patterns on them are made with the help of printing, dyeing, painting, etc. The sound knowledge of surface designing and structural designing of fabrics is required for the process of textile designing. A fabric designer must be thorough with the knowledge of yarns, weaving, knitting, etc. to create beautiful fabric designs. They should know how to experiment with different hues to get a desirable colour. A profound knowledge of various aspects helps the designer keep up with the trends and demands of the market.
What are the Different Textile Printing Methods for Textile Designing?
Among the various methods of textile designing, textile printing is the most popular. It is not as complex as the tie and dye method or the hand painting method. Thus, it is more in demand and designers and craftsmen find this method easy to create patterns and designs on a fabric. Textile printing has various methods with the help of which different patterns and designs are created on the fabric.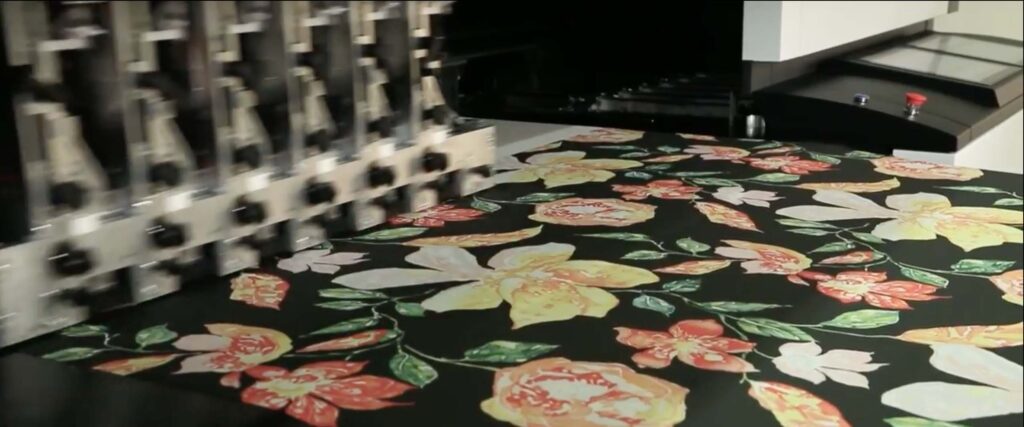 Image Source- Blog-SPGPrints
1.Screen Printing
This method of textile printing uses a screen or mesh to create patterns on the fabric. It involves a series of steps. First, a stencil is cut out of a nylon mesh depending on the design that needs to be printed, then a fabric is placed under the nylon mesh and then ink is spread over it and pressed firmly into the fabric. Screen printing is of two types- flat bed screen printing and rotary screen printing. Screen printing is viable if you want to print solid designs as one colour is printed at a time. Special inks can be used to make different patterns and designs.
Affordability:
Screen printing can be costly if it includes several colours.
Creating different screens out of the nylon mesh for different stencil designs requires a lot of effort.
Screen printing can be an affordable option for bulk orders but is quite expensive for small orders.
Pros:
It can help in producing several prints and patterns at a great price.
The choice of fabric is unlimited as screen printing can be done easily on any type of fabric.
The ink/dye used in screen printing penetrates deeply which holds the ink into the fabric for a long time and is very durable.
Cons:
Creating screens and stencils is a costly method and is very time consuming too.
Photographic patterns or designs cannot be printed as one colour is used at a time.
Image Source- Giant Robo Printing
2.Digital Printing
Digital printing is also called direct-to-garment printing. This printing is done with the help of a special printer and ink. The designs are directly printed from the computer on a garment or a piece of fabric. The process of this type of printing is quite similar to the inkjet printer that we use at home. The design is set on the fabric with the help of a tunnel dryer or heat press. If you want photographic print or a detailed colourful print then you can opt for this printing method. It will print exactly what's on the computer screen.
Also Read: 3 Must-Know Basic Patterns Used In Textile Designing
Affordability:
It is more affordable when compared to screen printing.
Pros:
The fabric options for digital printing are limitless.
It is a cost-effective method of textile printing for a small number of orders.
The detail and precision of this printing method is very high.
Cons:
The ink doesn't penetrate deeply so the print can wear off easily in a short period of time.
Since the colour doesn't penetrate deeply, this printing method is not suitable for dark-coloured fabrics.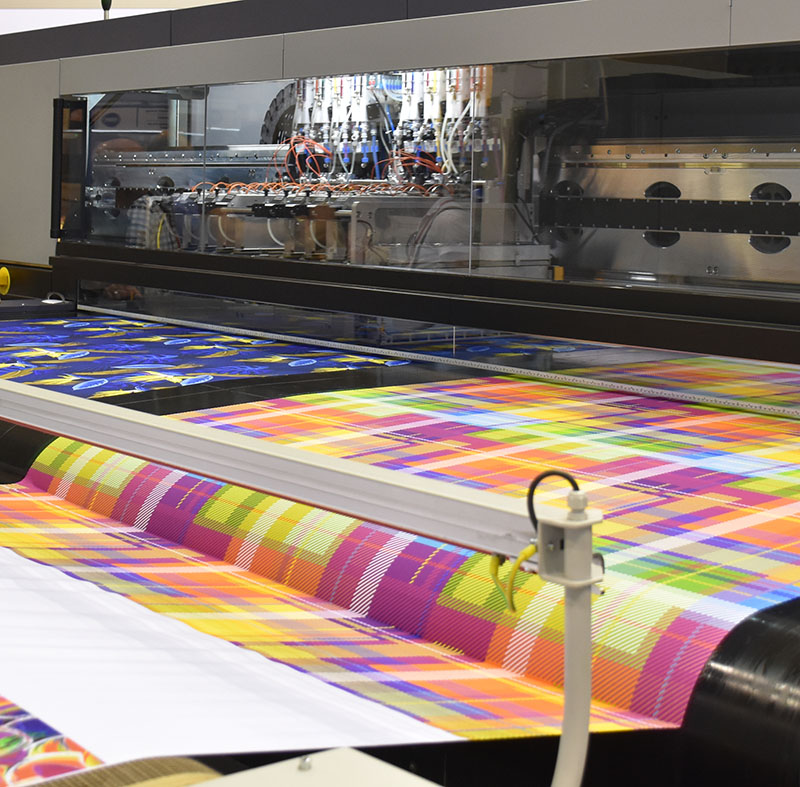 Image Source- FESPA
3.Thermal Printing
This method of textile printing is very popular. Thermal printing is also known as the heat press method. The process of thermal printing involves the use of a printer and a heat press machine. First of all, the printing is done on a transfer paper and then the design is transferred to the fabric as the paper is passed through the heat press machine. The thermal printing method is great for printing designs and patterns on t-shirts and is also very simple. It can also be used to print logos and graphic t-shirts.
Affordability:
It is a very common and affordable method of textile printing.
The cost of bulk orders and small orders are almost the same.
Pros:
This method is the fastest way to get a print on a fabric.
It can be done on light as well as dark-coloured fabric.
The colours after the heat press remain vibrant and bold.
Cons:
As the ink is transferred with the help of a transfer paper, the ink doesn't penetrate deeply into the fabric.
The print doesn't stay for long and can peel off in a short duration of time.
Image Source- Fashion Angel Warrior
Textile designing makes a simple piece of fabric look elegant and attractive. Textile printing, being one of the methods of textile designing helps in making the task much simpler. There are many fashion designing institutes that teach such courses. Now you can also learn textile designing with us, online. At Hunar Online, you will get access to detailed video lessons and can learn from anywhere. You will get 24/7 faculty support and a chance to learn from the experts of the industry.
So, what are you waiting for? Join Hunar Online Courses and start paving a new path to your career.