Whai is Fabric Design? In India, people love to innovate with their fashion statement every now and then. India is a country of colours and colourful fabrics. A journey from the northernmost to the southernmost part of India. It will make one realize how diverse this country is in a lot of different ways. Indian fashion designers also love to experiment with various patterns and fabric designs. Fabric designing is the art of colouring a piece of fabric in different colours. Using varied patterns in order to make the fabric look more beautiful.
Fabric design take inspiration from the vast and diverse culture of India to create brilliant pieces of fabrics. Different states have set of style trends and fabric patterns. That have remained the major attraction of the regions since many years. For example, the chikan style comes from Lucknow and the bandani dyeing pattern is related to Gujarat and Maharashtra. Similarly, every corner of the country has a unique and breathtaking legacy of intricate fashion styles. Many international fashion designers are now taking inspiration from India. They are spreading the beauty of Indian culture all throughout the world.
Image Source: FESPA
Let us take a closer look at the different ways in which you can design fabrics.
3 Ways of Fabric Design to Get a Fresh and Unique Print:
1.Indian Handpainting
This form of fabric designing was occupy by the ancient art of Indian paintings. Since the very beginning, Indian culture has always inspired artists to paint unique patterns on walls, fabrics and on canvases. Historically, Indian paintings comes after by the stories of war and of mythology. Gradually, some Indian art forms evolved to become a permanent form of painting. Also, it gathered their own name.
When it comes to fabric design, the kalamkari print, the madhubani print and the warli print are famous art forms. That evolved from different corners of India. These art forms are now not only an integral part of Indian traditional wear. They also attract several international tourists to the country. These forms of paintings beautify different pieces of fabrics such as sarees, kurtas, blouses and much more. Since these types of paintings have a history attached to them, they tend to attract many women. In today's world of modern fashion designing, a lot of effort have to put by designers and artists to incorporate this artform in their work. Fabric designing using these painting methods is also one way in which we can never let this art die.
Image Source: Pinterest
2.Fabric Design: Dyeing and Printing
Dyeing and printing on a piece of fabric are two other ways that are used to make a fabric more beautiful. Although plain fabrics are also loved by many, people today prefer to wear clothes that are not plain in order to look more modern and presentable. Dyeing a fabric using various methods is one way in which you can add some variety to the design of the fabric. There are different methods of dyeing that are used all around the country and also internationally.
Some of these dyeing methods are, the Knotting Technique, the Marbling Technique, the Chevron Technique and the Bandani technique. The Bandani technique is an ancient Indian technique of dyeing that involves creating beautiful and colourful motifs all over the fabric by tying knots on the fabrics and dipping them in colourful dye. The trik-tik technique, the spiderweb technique and the leheria technique are also some of the famous dyeing techniques that are used in India. The Hunar Online Courses App teaches you how to create all these types of patterns on fabrics which will make your dress look more colourful and pretty. 
Image Source: Wikipedia
Other than dyeing, printing directly on the fabric is another way of accentuating the look of the fabric. Block printing is one of the most famous printing techniques used in fabric designing. This technique involves creating different designs using pieces of wood, dipping them in colourful dyes and firmly pressing them over the fabric in order to create beautiful patterns all over the fabric.
3.Fabric Design: Natural Dyeing:
Out of all the techniques in fabric designing, natural dyeing is the most famous one. It allows fashion designers to create some breathtaking patterns that make the fabrics look not so plain. Natural dyeing is an intricate technique of fabric designing that requires to be done with focus in order to get it right. The basic method of dyeing fabrics is by tying them in various places and then dipping them in a tub or bucket full of colourful dye. The shape resist technique, the pole resist technique, the binding and pleating technique are some of the most common techniques that are used while naturally dyeing a fabric. These techniques can be used to design various types of fabrics such as kurtas, tunics, crop-tops etc. In the textile industry, these techniques are also used to create patterns on home décor items such as cushion covers, curtains, pouches etc.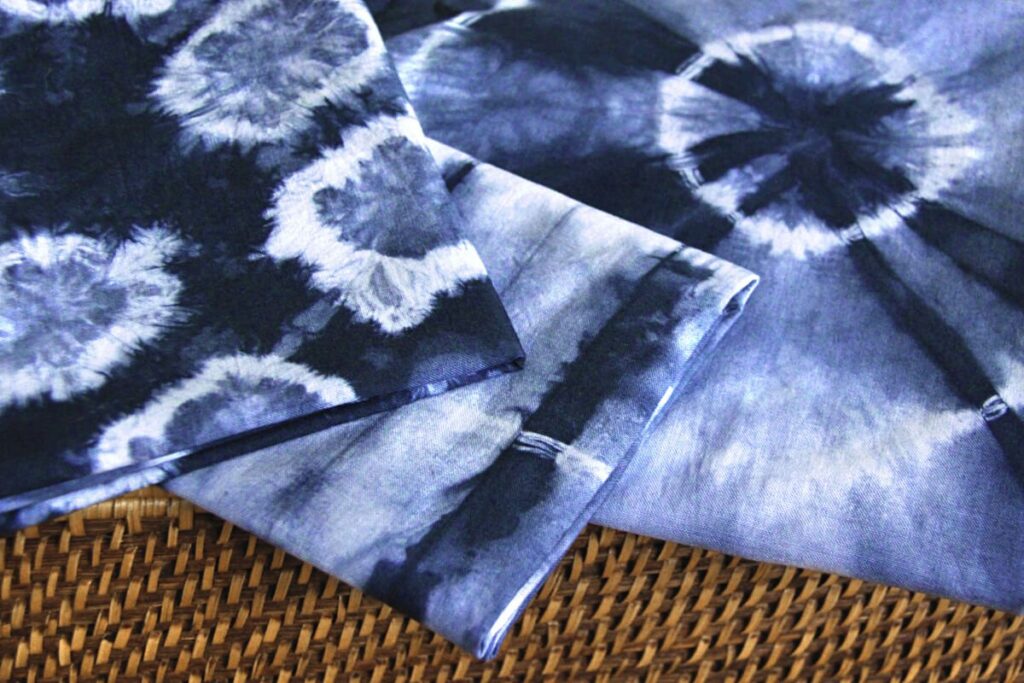 Image source: OnlineFabricStore
The new Hunar Online Courses App is a platform where you can learn how to create various pieces of fabric. Not only designing, you can also learn how to stitch different types of fabrics like wedding wear, Indian traditional wear, Men's wear and a lot more. The Hunar Online Courses App offers a wide range of courses in various creative skills such as bag making, home décor, jewellery making and a lot more.
At Hunar Online, you will be provided with a certificate after the end of your course. You will also be given 24/7 faculty support and easy access to video tutorials, so you get to learn from anywhere.
So, what are you waiting for? Download the app today and start your new creative career.