What is textile designing? Textile designing refers to the process of creating designs for fabrics, including patterns, colours, and textures. Textile designers use a range of techniques and materials to create designs that can be applied to various types of fabrics, including woven, knitted, printed, and embroidered textiles.
Textile designing involves a combination of artistic and technical skills. Designers often begin the process by sketching their ideas on paper, creating mood boards, and selecting colours and materials. They may then use computer-aided design (CAD) software to create detailed digital designs that can be modified and refined. Once a design has been finalised, textile designers may work with manufacturers to produce a sample or a prototype of the fabric. This process may involve selecting the appropriate materials, printing or weaving the design onto the fabric, and testing the final product for quality and durability. Textile designers may work in a variety of industries, including fashion, home décor, and industrial textiles. They may also specialise in specific areas, such as print design, embroidery, or knitwear design. Overall, textile designing plays an important role in the creation of fabrics that are aesthetically pleasing, functional, and suited to specific applications.
Hunar Online Textile Design Course is a platform for learning, practising, and demonstrating your textile skills. This is one of the top online universities delivering fabric education, information, and learning from the convenience of your own home with one of the best specialists in the market. So, why delay? Take your phone and join up today! Join Hunar's online textile design course if you love fashion and want to establish your own style. Hunar, an online video platform, provides fashion design classes. Our professionals will help you through all the complexities of fashion and style drawing. We are always happy to have you on our platform.
CAREER IN TEXTILE DESIGNING
Textile designing is a vast and diverse field that offers a wide range of career opportunities. Some of the most popular career options in textile design include:
Textile Designer
Textile designers are responsible for creating designs for fabrics and other textile products, such as clothing, home decor, and accessories. They use a variety of techniques and tools, including hand drawing, digital software, and printmaking.
Fashion Designer
Fashion designers create clothing and accessories using fabrics and other materials. They often work closely with textile designers to develop fabrics and patterns for their designs.
Product Developer
Product developers work in the textile and fashion industries to develop new products and improve existing ones. They may work with designers, manufacturers, and suppliers to ensure that products meet quality and design standards.
Textile Engineer
Textile engineers are responsible for developing and improving textile materials and processes. They work to create textiles that are more durable, comfortable, and sustainable.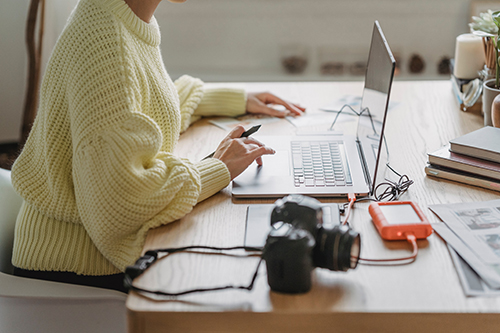 Textile Merchandiser
Textile merchandisers work in retail and wholesale settings to promote and sell textile products. They may work with designers and manufacturers to develop marketing strategies and analyse consumer trends.
Textile Technologist
Textile technologists work in textile manufacturing companies to develop and improve production processes. They may be involved in quality control, product development, and research and development.
Textile Researcher
Textile researchers conduct research on textile materials, processes, and products. They may work in academia or in industry, developing new technologies and techniques to improve the textile industry.
By pursuing a career in textile design, individuals can explore a variety of career options and make a significant impact in the fashion and textile industries.
HUNAR ONLINE TEXTILE DESIGNING COURSES
If you are searching for an answer to What is textile designing? Then here is the answer! Hunar Online Textile Courses is the answer! You'll study everything from classic needlework skills to cutting-edge fashion design software through a varied choice of courses conducted by industry specialists. Our online platform allows you to learn at your own pace and on your own schedule, allowing you to balance your passion with your hectic schedule. Hunar Online Textile Courses provides something for everyone, whether you're a novice or a seasoned master. So, what are you holding out for? Want to channel your inner fashion designer and push your creativity to new heights? Let your creativity run wild and begin your fashion journey with Hunar Online now!
At Hunar Online, you will get access to detailed video lessons and can learn from anywhere. You will get 24/7 faculty support and a chance to learn from the experts in the industry. You can also watch our trial classes and get a glimpse of our courses. You can start learning your favourite course by downloading the app.
So, what are you waiting for? Join Hunar Online Courses and do what you always wanted to do.