What is Textile Designing? It is also a discipline of fashion designing, which offers students a designing course with materials. Textile designing teaches to create patterns and material fashion. We can say that this is the basis of fashion and fabric designing. So, if someone asks what is Textile Designing? This is not limited to the fabric industry. It also fixes with paper and furniture designing. It would be correct to say that this type of designing has a wide area of education and career as well. So, Let's read this blog to know more about textile designing, its scope and career growth.
Types of Textile Designing
PRINTED TEXTILE DESIGNING
Firstly, Printing or Printed textiles enhance the beauty of textile or fabric. It refers to making designs and patterns on plain fabric. It is an application of ties, dyes, pigmentations, marks, etc. on given textile fabrics. Printing a textile has two methods- Direct and Discharge. In Direct printing method, paint is directly applied to the fabric, while in Discharge printing method first background colours are used to paint then start with fabric patterns. There is another method, in which after colouring a special fabric treatment is given with colours and caustic soda. The three main types of Textile Designing are-
Block Painting
Screen Painting
Digital Printing
Apart from the above, there are more types of textile designing. You can find it in your Textile Designing Course.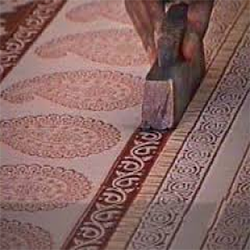 Source: Rajasthan Industries
WOVEN TEXTILE DESIGNING
Woven textile refers to the type of designing which is formed by weaving with the help of loom, threading and others. Generally it is formed by weaving two or more threads by interfacing at right angles. In India, woven textiles are commonly known as Handlooms. There are mainly two types of textile designing in woven textile designing. They are-
1.BROCADE WEAVING
Brocade is usually woven with silk or yarn. Uttar Pradesh and Tamil Nadu are the most common producers. By their designing styles, colour combination and making, Brocade has three types of weaving. They are-
BANARASI– Banarasi brocade is made with bright colours metallic or silk yarn. It is generally in prints of animals, florals and mangos designs. Banarasi Saree is famous for this brocade style.
PAITHANI– Generally, peacocks, parrots, lotus, geometrical figures and mangos designs are printed in this Paithani Weaving. It is quite famous in Aurangabad, Maharashtra.
KANJIVARAM– Most popular and costlier weaving design among all. It is hugely famous and also made in Tamil Nadu. They are commonly in bright colours. Like Banarasi Brocade animals, florals and mangos designs are also printed in this.
2.IKAT WEAVING
Ikat Weaving is related to Gujrat, Odisha and Andhra Pradesh. They also have three types like brocade. These are-
PATOLA- Patola is related to Patan, Gujrat. Single Ikat weaving is another name for this style.
BANDHANI– Bandhani originated in Odisha. It is a combination of geometrical figures and bright colours.
POCHAMPALLY- Silk or Cotton yarn used with tying-dying. It is similar to Patola Weaving.
Source: Medium.com
MIXED MEDIA TEXTILE DESIGNING
Firstly, Mixed Media Textile designing is related to embroidery done with applique, quilting, laser cutting or pleating. This is traditionally handmade only.
Source: Trendy Art Ideas
SCOPE OF TEXTILE DESIGN
This field has a broad range of career and its growth. Along with the learning, you can become a designer with the help of types of Textile Designing. You can own your Styling Studio or get a job in a fashion institute. Nowadays, this stream has a separate career. It is easier for professional designers to get a well paying job. So many big brands are hiring fashion or fabric designers for their brand's marketing and advertising. Now have a look for the career options for textile designing course:-
Textile Designer
Embroidery Designer
Fashion Resource Manager
Fabric Designer
Fashion Stylist
Fashion Business
COURSES OFFERED BY HUNAR ONLINE COURSES
Hunar Online Courses are offering online video courses that can give you the chance to enhance your fashion skills. This can give you a highly paid employment in a reputable firm. High career needs perfection and experience. Also, you can flaunt your creativity yourself by online and offline together. We are providing courses regarding fashion and fabric designing and these are-
Garment Making
Styling
Fashion Illustration
Embroidery
Fabric Designing
Boutique Management
If you want to start your career in this field and want to know what textile designing is? Then, Hunar Online Course have brought Fashion Designing Course and Garment Making Course for you. Apart from the above, there are many ways to learn about fashion and designing at your home, with a bit of hard work. We are always ready to welcome you to our platform. Learn in your language. Now that you know how to learn about textile designing at home, draw all your creativity together and colour them on the pages of your wardrobe. All the best for your future.
At Hunar Online, you will get access to detailed video lessons and can learn from anywhere. You will get 24/7 faculty support and a chance to learn from the experts in the industry. Also, watch our trial classes and get a glimpse of our courses. You can start learning your favourite course by downloading the app.
So, what are you waiting for? Join Hunar Online Courses and do what you always wanted to do.