Everyone loves desserts and it simply isn't possible that we mention desserts and cake doesn't come to mind. So many people want to make a cake at home but they want everything at a simple level, and simple is best. Hunar Online Platform that helps you try easy cake recipes at home. In this blog, you will learn how to bake different and easy cake making at home and from the comfort kitchen. Now, we will talk about the two cake recipes, which you can easily learn and bake.
The most important and fun thing is that we are describing easy cake recipes at home for two different cakes with common ingredients. It will save your time, money and effort. At one time you will be able to bake two different cakes with the help of this single blog. Let's Start Baking
Baking Tools: –
Baking Pan
Microwave Oven
Spatula
Electric beater
Whisk or Egg Beater or Hand Beater
Two Mixing Bowl
One bowl of small size
One Spoon
Common Ingredients: –
All-purpose flour or Maida- 150 gm
Baking Powder- 1.5 tbsp.
Baking Soda- 1 tbsp.
A pinch of Salt
Powdered Sugar- 150 gm
Flavoured Essence- 1 tbsp.
Unsalted Butter (on room temperature)- 150 gm
Milk (on room temperature)- 1/4th Cup
Eggs- 3
Cocoa Powder- 1 tbsp.
Vegetable Oil
Water- As per required
Above are the common ingredients which are useful for our both Cakes. Let's talk about the easy cake recipes at home. For Red Velvet Cake, you need 2 tablespoon edible red colour. Here it is-
Red Velvet Cake
The first cake in our easy cake recipes at home is Red Velvet Cake. It is very popular these days and also it looks very classy and beautiful. As per its name, it is very creamy in taste. Let's start with the process of baking-
Recipe:
Take a mixing Bowl and add Maida, Baking Powder and Cocoa Powder and mix them. Turn on your microwave oven for preheating at 180 degrees for 15 to 20 minutes. Keep that batter aside. Take a separate bowl and add butter with sugar and beat them with an electric beater, until it gets a smooth texture. Add Vanilla essence and eggs, one by one. Now, add Maida batter gradually and mix everything with the help of milk. Don't put milk in one go, be slow. Mix it, until the whole batter gets dropping or lightest consistency. In the end, bend red edible colour with them and keep this aside.
Take a baking pan/bowl, and grease with Vegetable Oil. Cut the butter paper in the shape of the radius of the pan. Spread the butter paper in it. Pour cake batter in it. Set it properly and put it under the microwave oven and let it cook for 20 to 25 minutes. Take it out and leave it to be cool.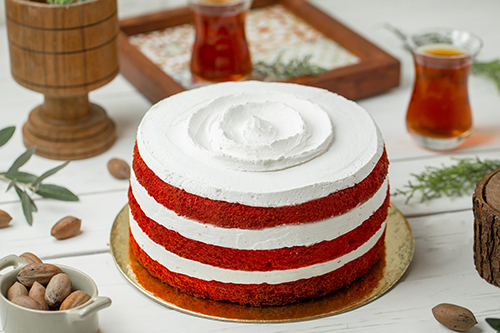 Expert Advice:
For a smooth and tasty flavour add Nutmeg, pinch of ginger powder, cinnamon and clove into the whipped cream. Beat it lightly. Cut the cake sponge in two or three parts as per the same radius. Coat it with sugar syrup. For Sugar syrup, take a small bowl with ½ tablespoon of sugar and add a little warm water. Garnish it properly. Tada! The beautiful Red Velvet Cake is ready to serve.
Black Forest Cake
Black forest Cake is also quite famous among the cake lovers. It is today's second easy cake recipe at home. Let's start with the process of baking-
Recipe:
Take a mixing bowl and mix the Maida, baking powder, baking soda and cocoa powder together with the help of hand whisk. Turn on your microwave to preheat at 180 degrees for 35 to 40 minutes. Keep this paste aside. In a separate bowl, add the butter and sugar and beat until smooth. Add vanilla essence and egg in turn and mix it with a hand beater. Now, gradually add the Maida paste and mix everything with the help of milk. Do not add milk all at once, slowly. Mix it, until the whole paste becomes dripping or the lightest consistency. Finally, fold the edible red with them and set aside.
Take a baking dish/bowl and grease with vegetable oil. Cut butter paper according to the shape of the mould radius. Spread butter on top. Pour in the cake batter. Put it properly and put it under the microwave and let it cook for 20-25 minutes. Drain and cut cherries, soak halves of cake with cherry syrup. Beat cream and sugar until light and fluffy, topping both layers with whipped cream and chopped cherries. Garnish with whipped cream, cherries and chocolate shavings. Cool and serve.
Expert Advice:
Apart from the above, there are so many ways to learn about easy cake recipes at home. We are always ready to welcome you on our platform. Learn in your own language. Now that you know how to learn about easy cake recipes at home, draw all your creativity together and add sweetness with colour of joy in your career and life.
Also Read: What are the Best Ways to Decorate Cakes after Baking?
At Hunar Online, you will get access to detailed video lessons and can learn from anywhere. You will get 24/7 faculty support and a chance to learn from the experts in the industry. Also, watch our trial classes and get a glimpse of our courses. You can start learning your favourite course by downloading the app.
So, what are you waiting for? Join Hunar Online Courses and do what you always wanted to do.