Cakes are a piece of paradise for all the sweet lovers. Baking delicious cakes gives you comfort and relaxes you but decorating cakes is more relaxing and is loved by many people. As this is the festive season, I am sure something delicious might be cooking in every home and festivals are incomplete without cakes. Cake making is fun but decorating cakes is even more fun and you get to use your creativity to the fullest. Baking is not only limited to cakes and cupcakes. It is a profession of its own and a good cake making course can help you learn the right techniques and recipes so that you can create a career out of a hobby. Hunar Online Courses now offers you a Baking program as well to let the baker in you thrive. Every little celebration demands something sweet and we always go for cakes. Our love for cake is never-ending and we keep on trying something new with it every time. They can be the showstopper and make all our guests happy in no time. The sweetness and softness of the cake makes it a perfect partner for every party and occasion.
 A nicely decorated cake can help you impress your guests and make you look like a pro baker. Baking has become a common hobby and many people wish to polish their skills enough to make a career as a professional baker. You can use these ways to decorate a cake and present yourself like a professional baker. Let's have a look at the different ways on cake decoration one by one:
1.Melted Chocolate and Ganache
It is one of the easiest and the best ways to decorate a cake and also melted chocolate and ganache is an absolute favourite of all the cake lovers. Use a double boiler to melt the chocolate. You can add cream into the melted chocolate to make it ganache and decorate the cake using it or simply decorate the cake with melted chocolate and sprinkle some cocoa powder over it. This is one of the easiest and the best ways to decorate a cake. You can use the topping of your choice. It is better to melt the chocolate at a low flame otherwise it can burn.
2.Easy Swirls
This is another best way to give your cake a very interesting and delicious look. If you are out of piping bags and guests are waiting for the dessert then just take a spoon and solve all your issues. Yes! You read it right. Just a spoon can help you decorate your cake. Make easy swirls with the spoon and decorate it the way you want to. Use the back of the spoon to create swirls and repeat this procedure until the cake is nicely and evenly covered with the frosting.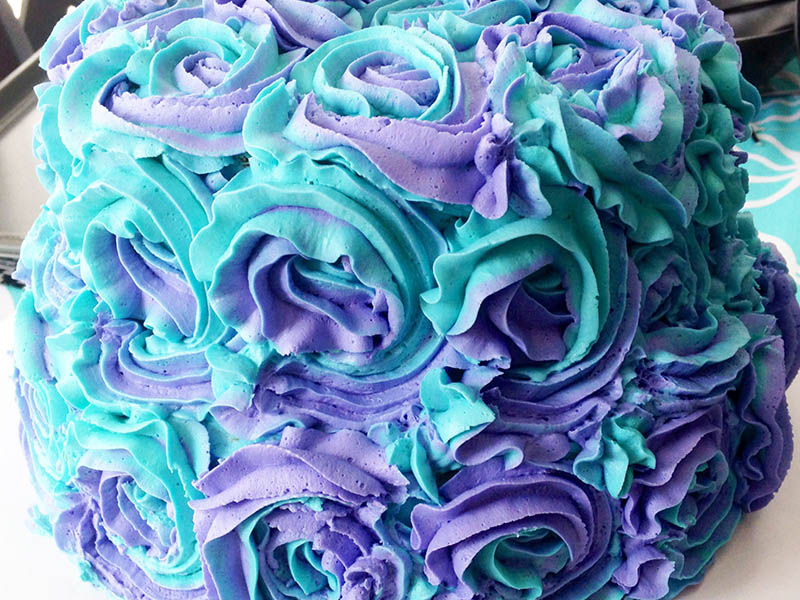 Image Source- Sweets.Eats.Treats. – WordPress.com
3.Sprinklers
Made delicious food for the guests, arranged the table, cleaned the house, baked a delicious cake for dessert but have no time and energy for cake decoration? Worry no more! You can leave this task on your kids and they can decorate the cake very cutely. They can make stencil on the cake using a straw or toothpick and decorate it with some sprinkles. This is one of the best and the easiest ways of cake decoration and can be done in no time.
4.Fruits
Nothing can compete with fresh fruits when it comes to cake decoration. It is another easiest way to decorate a cake. You can chop fruit slices and top the cake with them or simply insert these slices in the cake. You can also decorate your cake with the help of dry fruits and nuts depending on the occasion. Fruits, berries, dry fruits and nuts are the best ways to decorate a cake because they are readily available in the kitchen and can be used in case of an emergency. If you are using fresh fruits then make sure that you add them at the end. This will help you avoid the cake becoming soggy and buttercream won't get wet due to the natural water present in fruits.
Image Source- Bake with Shivesh
5.Edible Flowers
You can find different types of edible flowers in a baking store and use them to decorate your cake. They look very pretty on the cake and the smell of the cake becomes very delicious too. Make sure you use store bought flowers. Don't pluck flowers from your garden and use them for cake decoration. They may contain some bacteria that can cause an upset stomach or uneasiness.
Image Source- Pinterest
Also Read: Easy and Yummy Recipe of Banana Cake
If you want to learn more about such tips and tricks in baking, join our baking classes online and master the skill with experts. With Hunar Online you get several benefits and can start learning from the comfort of your home at any time. Hunar Online provides certificates after completing your course that are sure to help you start your own business. You can also watch trial classes to get a glimpse of our courses. For all courses, Hunar Online provides sessions with experts who are available 24/7 to clarify your doubts and help you every step of the way. Download our app and start learning. Baking cakes is a fun activity and can refresh your mood at any time. If you are someone who loves baking and wants to make a career in it, then here is good news for you. Hunar Online courses brings you a new baking course where you can turn your baking dreams into reality and have your own bakery.
So, what are you waiting for? Sign up for a creative course with Hunar Online today.