What is fashion styling?
Fashion styling is all about choosing the right kind of clothes, makeup and hairstyles according to an occasion. In simple terms, the art of looking stylish and appropriate for any event whether it's a birthday party, wedding or just a simple outing with friends, comprises Fashion Styling. It is the art of fashion styling that will give you the confidence to carry yourself in style.
It is not just a hobby but also a career opportunity to become a fashion stylist as no celebrity or actors from movies/TV shows choose their own clothes, do their own makeup or hair-do's.
A fashion stylist or wardrobe stylist is someone who acts as a consultant and selects clothes, hairstyles and makeup for you depending on occasion, clientele and preferences. It all comes down to one thing- looking appropriate wherever you go! Not only that but fashion stylists also get to select the clothing for published editorial features, print or television advertising campaigns, music videos, concert performances, and any public appearances made by celebrities, models or other public figures.
Image Source- Salon Success Academy
So, before you explore a fashion styling course, let's understand what can you become after completing your course:
1. Wardrobe Stylist
It is all about picking the right kind of outfits in your wardrobe so that you are ready for all kinds of occasions. People hire professionals for this job, who are known as wardrobe stylists. So what do you have to do to get into this profession:
The Body Shape- it is the study of outfits and body structure which is the key rule to follow and understand which outfits will work on which body type.
Explore Your Wardrobe- You don't have to go out shopping every time you have to go to a party or an event. You can just go through your wardrobe and you will definitely find some new combinations to wear. This is a basic principle to be followed while getting ready unless a new outfit is a must-have for certain occasions.
Multiple Looks- Again, explore your wardrobe and create multiple looks using the same garment but with tiny changes. For example, there are multiple ways to wear a saree such as- saree with a peplum top, saree with a blouse, saree with jeans, saree with a crop top and many others. You can create your own style and flaunt it during the next event you attend.
Jewellery– Selecting jewellery with a certain kind of outfit is another part of styling. There are a lot of jewellery types such as beads, embellishments, metallic jewellery for a Bohemian look. All you need is to make sure that all your jewellery items such as earrings, rings, bracelets and necklaces are in sync with each other and your overall attire.
Keep Your Wardrobe Clean- This is very important as you may not always have time to go through your outfits so you should keep your wardrobe sorted in order to find a good combination when you are in a hurry.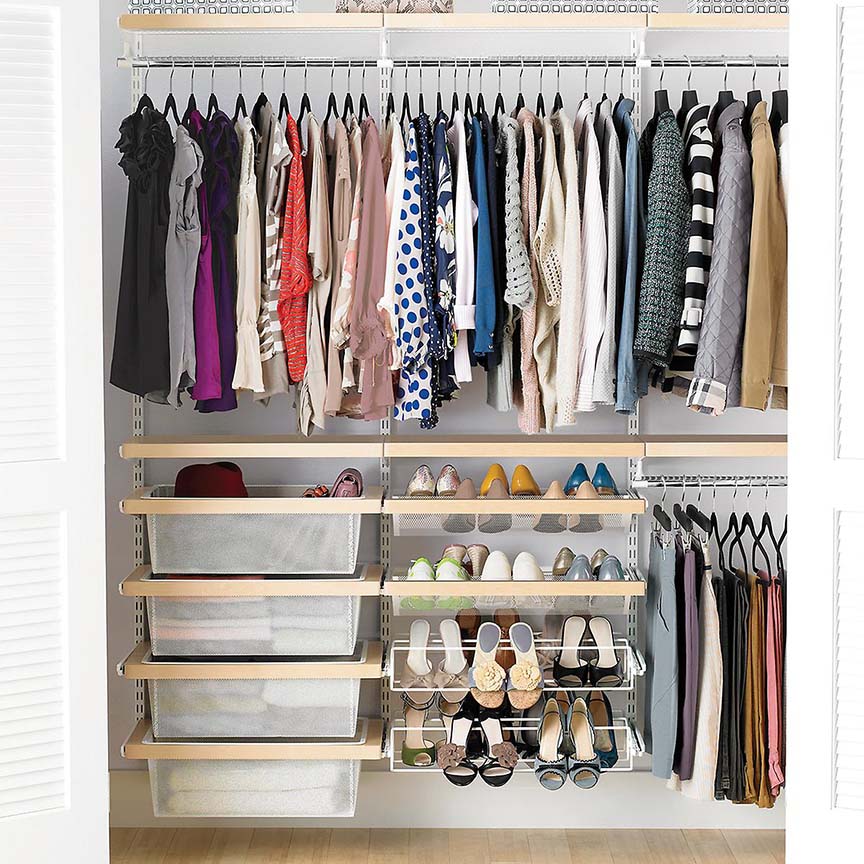 Image Source- The Container Store
2.Makeup
The biggest dilemma for most women is the makeup 2- is it overdone or underdone? Getting that perfectly winged eyeliner is something that makes our day. But there are many tricks you can use to get perfection in makeup:
Shades- Always choose the right shade which will complement your skin. Avoid choosing tones that are lighter or darker than your actual skin tone.
Take Your Time- Never do your makeup in a hurry. If needed, wake up early or start getting ready before time. The whole point of makeup is to look comfortable and confident in your skin.
Always Use Foundation- As the name suggests, the foundation is the base of every makeup, especially for bridal makeup designs. It makes sure that the makeup stays longer and even.
Use Brushes- It does not matter what you are applying, always use a brush to apply makeup on your face. Brushes come in all shapes and sizes.
Image Source- Refiner29
3.Hairstyling
Another important part of fashion styling is to pick the right hairstyle according to the occasion and your mood, of course. There are so many types of hairstyle for women as well as men that it's hard to choose from. However, there are some basic principles involved while choosing the right hairstyle such as:
The length of your hair – This is the most important factor which is involved because the length and thickness of your hair are major determinants of your hairstyle. Research, try out and then pick the style that suits the length of your hair.
Shape of Your Face- It is important to know the shape of your face to understand which hairstyle suits you best. Doing so will help you avoid multiple visits to the hairstylists.
Consider Your Favourite Features- It is important to know which features of your face you want to highlight so that you can decide the hairstyle accordingly.
Image Source- Dulhaniyaa
The principles and aspects given above may seem very simple but have a huge impact to get the look you want. Learn more such methods before you start your career as a fashion stylist by joining a fashion styling course under the mentorship of Neeta Lulla and get certified by Govt. of India from home!