Fabric is the core element of the fashion industry and every style is incomplete without it. A fashion designer knows how to create designer outfits using simple fabrics. Fabrics are of various types like cotton, silk, georgette and there are many ways to beautify it. You can experiment with a few things to add beauty to it. There are also many techniques of fabric designing through which you can add prints, patterns and motifs to a fabric.
You can make use of embroidery to create beautiful designs and patterns on a fabric. You can also use several techniques of fabric designing like printing and dyeing, Indian hand painting, natural dyeing and much more. Natural dyeing is becoming a popular trend in the modern days and you can also do it at home. You can make use of turmeric, beetroot, spinach and many other common household items and naturally add colour to a plain fabric. The reason why natural dyeing is loved by many people is because it is biodegradable, non-toxic, organic and doesn't produce any waste. It does not cause any harmful effects on the skin like other synthetic dyes. Therefore, people prefer it more because they want something non-carcinogenic which is also harmless to the environment.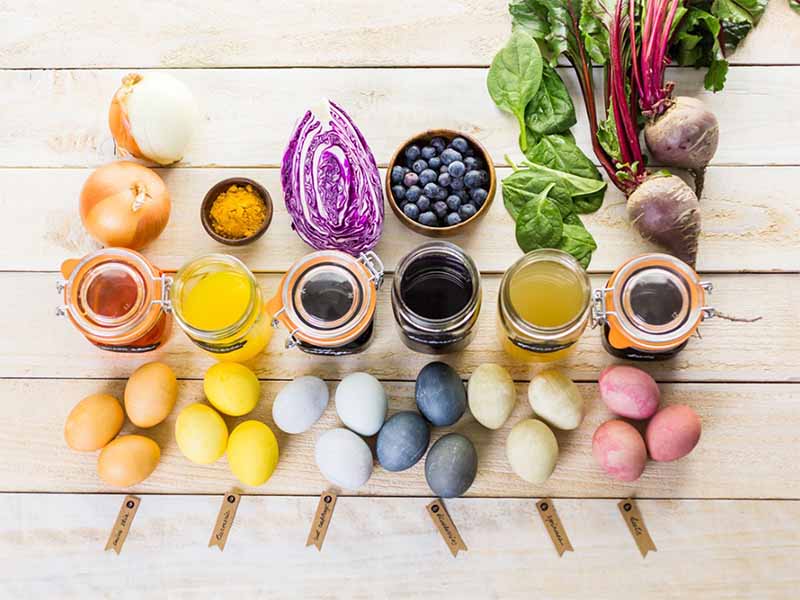 Image Source- Gardening Know How
Not all natural materials will produce colours. Some materials will produce colours that are totally different from the original material. Here is a list of colours and different materials from which you can obtain it.
Orange: Carrots, Gold Lichen, Onion Skin
Brown: Coffee, Acorns, Dandelion Roots, Oak Barks, Walnut Hulls
Yellow: Yellow Roots, Yellow Dock Roots, Bay Leaves, Marigold, Paprika, Turmeric, Dandelion Flowers, St. John's Wort, Lilac Twigs, Celery Leaves, Mahonia Roots
Red-brown: Beets, Bamboo, Bloodroot, Hibiscus, Pomegranates
Green: Spinach, Peppermint Leaves, Peach Leaves, Plantain, Spinach, Artichokes, Lilacs, Grass, Sorrel Roots, Snapdragons
Blue: Woad, Red Cabbage, Red Mulberries, , Blueberries, Elderberries, Indigo, Dogwood Bark, Purple Grapes
Red-purple: Basil Leaves, Daylilies, Huckleberries, Pokeweed Berries, Red Sumac Berries
Pink: Avocado Skins and Seeds, Red and Pink Roses, Cherries, Berries
Grey-black: Iris Roots, Walnut Hulls, Blackberries
There are certain steps that you need to follow to get a perfect result in the natural dyeing process. Let's have a look at them one by one:
1.Prepare Your Fabric for Natural Dyes
Before starting the process of natural dyeing, you need to prepare your fabric first. Start by washing the fabric. Don't dry it, the fabric needs to be wet. Then prepare your fixative or "mordant" which will help the fabric to absorb the natural dyes easily.
If you are using berries for natural dyeing, use salt as a mordant. For other plant based materials, you can use vinegar as a fixative or mordant. The measurement for different fixatives are as follows:
Salt: For every ½ cup of salt, use 8 cups of cold water
Vinegar: For every 1 part of vinegar,mix 4 parts of cold water with it
After you have the fixative ready, place your damp fabric in it for at least half an hour. Rinse the fabric with cool water after it is done. Your fabric is ready for dyeing.
Image Source- Tikau
2.The Process of Natural Dyes of Fabric
Before you start the process of natural dyeing, make sure you cover the work area with a newspaper and if you don't want to get splatter everywhere, then it would be better to cover the area with a plastic sheet. Try to cover your hands. Use plastic gloves so that the fabric does not stick to your hands. Now you are ready to start with the process of natural dyeing.
Place the plant material in a large pan. The pots, pans, spoons and other utensils that you are using are reactive to the dye and can leave permanent stains and spots. So make sure that the pots you use are only for dyeing purposes.
Fill the pot with water. Make sure the amount of water is double as compared to the plant material.
Simmer the mixture for at least an hour, so that you get a nice dark coloured dye.
Now remove the plant material from the mixture and return the liquid to the pot.
Now place the fabric in the dye bath carefully and bring it to a slow boil. Boil the fabric in the mixture for almost an hour or so. Make sure that you keep on stirring the fabric every once a while.
Remove the pot from heat and let it be in the warm water for as long as required. The colour will be lightened when it dries. But if you allow it to sit for longer hours you will get a nice dark hue.
When you get the desired colour, remove the fabric from the mixture and wash it with the cold water. You can expect some colour to shed off, as the excess dye will come out.
Now dry the fabric as usual. Your dyed fabric is ready!
Image Source- HGTV
People assume that Fabric Designing is very tough but that is not true. To create beautiful patterns, prints and designs on a fabric, you just need to be consistent. Hunar Online Courses offers a Fabric Designing Course where you can use your creative skills and create different types of designs, prints and patterns and sell your products, both online and offline. You can enrol in our Online Fabric Designing Course. It has easy video classes that are accessible any time and you can learn from anywhere. You also get 24/7 faculty support which will help you clear your doubts.
So, what are you waiting for? Join Hunar Online's Fabric Designing course and start learning to create different prints, patterns, designs and so much more from the best in this industry! Enrol now to start your journey towards a successful career!