Whether it's an afternoon tea, a day trip, a business meeting or a night out painting the town red with the girls, bags are the perfect necessity. They are not only a great way to show off a signature print but their interior also ensures that you can carry your favourite things with you, anywhere and everywhere you go. With Hunar Online, you can learn bag making, make clothes, jewellery and home décor items from home. You can also watch our trial classes and download the app to start learning.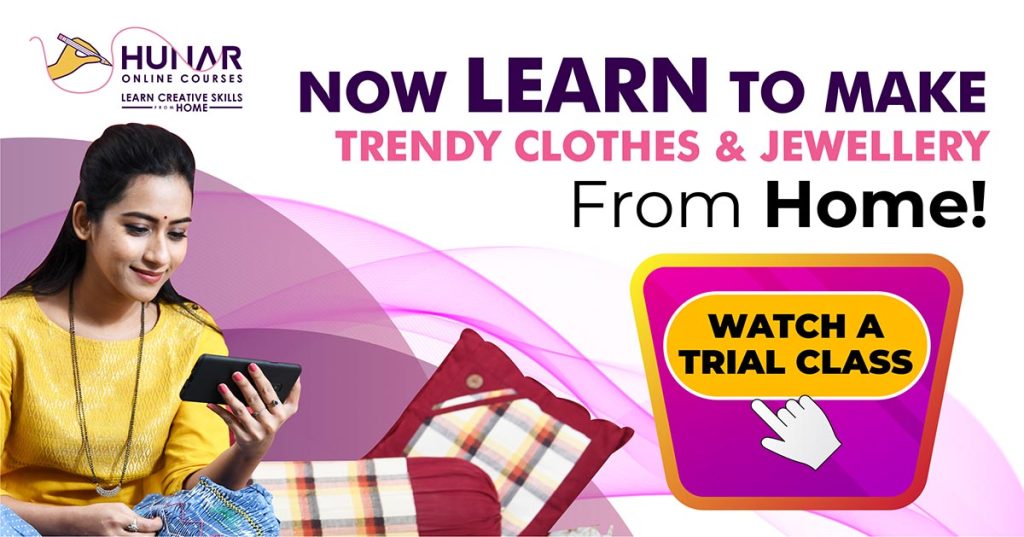 TOOLS for Bag Making
Here are some of the tools you will need for bag making. Some of them you may already have while others may be worth investing in as you progress in your bag making journey.
1) RULER AND ROTARY CUTTER
The rulers are good for marking up straps and stuff like that.
Rotary cutters are useful for cutting rectangles and squares quickly alongside the ruler and for trimming up edges after applying stabilizer.
2) THREAD SNIPS
When you are sewing a bag, you may have some loose threads and thread snips help in cutting off that loose thread ends.
3) LARGE AND SMALL SHARP SCISSORS
You need fabric scissors for bag making, that are extra large and are useful for cutting out fabrics. Also, you need small scissors to cut the thread and a sturdy little scissor that can help cut little snips around the curves.
4) PAPER SCISSORS
Great for cutting out pattern pieces, foam, plastic tubing and anything other than fabrics.
Image Source- William Whiteley
5) PINKING SHEARS
These can be used to prevent fraying and also as a decorative feature. These scissors have precision sharp edges and they provide an improved cutting accuracy.
6) STEAM IRON AND PRESS CLOTH
For a professional finish, steam press the seams of your bag and use a press cloth for delicate areas such as zips.
7) SEAM GAUGE
Especially useful for measuring small units of length such as for hems or instances where accuracy is the key.
8) HERA MARKER
Used to score along the fabric to ensure a crisp fold, it is ideal for card slots and for marking in visible areas.
9) SEAM RIPPER
You have to think of the seam ripper as your friend as it will help you get a better result. With the help of a seam ripper, you can take up the seam and be able to do the work again.
10) BODKIN
Bodkins pull cord elastic, ribbon, thread, or other materials through narrow channels such as a waistband or the edge of a hood, etc.
11) GOOD-QUALITY FABRIC GLUE
Ideal for holding zips while bag making and for securing hardware in place.
12) ROTATING HOLE PUNCH
It is ideal for making guide holes in leather or in any fabric.
13) HAMMER, RIVET SETTER, HOLE PUNCH AND ANVIL
Rivets can be used to secure pockets and layers that are too thick to sew. To set rivets you will need a hole punch, a hammer, an anvil and a rivet setter.
14) TAILOR'S CLAPPER
These are used for pressing faux leather and cork, which usually can't be pressed on directly.
15) MARKING TOOLS
Use a pencil for marking hardware placements on interfacing and use chalk markers that can be easily removed for marking placements on visible areas.
16) MINI DUCT TAPE
To protect sharp hardware backs from wearing through fabrics, add a piece of mini duct tape to the back of the hardware.
17) WASH-AWAY DOUBLE-SIDED BASTING TAPE
This is ideal for bag making and is used to hold zips in place to ensure accurate stitching.
18) CROCHET HOOK
Perfect for running along the inside of seams to ensure that pockets are turned out fully, into corners to keep them sharp and around flap curves to give a well-rounded edge.
19) SET OF SMALL SCREWDRIVERS
Ideally magnetic, screwdrivers are perfect for fitting hardware.
20) AWL
Ideal for making guide holes for hardware and is useful to feed the thick fabrics through the sewing machine.
21) FRAY CHECK
You can use this on any holes punched into the fabric and also on any seams clipped too close to the stitching.
22) QUILTING CLIPS
These are far better for holding bulky fabrics together than pins.
23) TAPE MEASURE
This is essential for accurate measuring.
24) MINI FLUSH RIVET CUTTERS
It can be used to remove a rivet.
25) STAPLER
By stapling well within the seam allowance you can ensure no shifting and also secure the bases of bags in place.
HARDWARE AND BLING for Bag Making
Learn professional bag making by adding a little extra hardware and bling.
1) MAGNETIC SNAPS
You can use magnetic snaps to secure flaps and close pockets. You can also use decorative magnetic snaps to give a polished finish to your bag.
2) TWIST LOCKS
The locks can add an extra layer of security to the bag and also act as a decorative feature.
Though they are not difficult to fit, you do need a little courage to cut through the finished bag to fit it. You can also use press locks which are great for bags with a flap and are easier to fit than twist locks.
3) RIVETS
Rivets can be used to secure pockets, secure layers that are too thick to sew and even close gaps where it's too tight to sew. Double-cap rivets are the most commonly used type of rivets and you can use them on finished panels, straps and flaps. Single-cap rivets are only suitable for panels where the underside will not be seen on the finished bag.
4) BAG FEET AND SOLID BASES
Bag feet are incredibly easy to install and are very practical. They help to keep your beautiful handmade bag clean. You may wish to add a solid base in a structured bag to ensure the bag maintains its shape even when loaded up, though adding a solid base is not at all necessary.
5) STRAP ANCHORS
You will be fitting strap anchors to ensure that the bag can carry the weight of anything placed inside and that the fabric doesn't fail after installation.
6) BAG LABELS
You can fit the bag label in the same way as a magnetic snap and it really gives the bag a designer edge.
7) SCREW-TOGETHER AND ROUND GROMMETS
You can use screw-together grommets that look pretty and are simpler to insert than regular grommets that are tricky to fit neatly.
By the help of all these tools and our bag making classes, you can also learn to create exquisite bags.
At Hunar Online, you will get access to detailed video lessons and can learn from anywhere. You will get 24/7 faculty support and a chance to learn from the experts of the industry. You can also watch our trial classes and get a glimpse of our courses. You can start learning your favourite course by downloading the app.
So, what are you waiting for? Join Hunar Online Courses and do what you always wanted to do.