Embroidery is a hand art of stitching. It makes fabric beautiful and attractive. Firstly, Indian Embroidery contains dozens of embroidery styles, belonging to different states and regions. It has its own diversity. It includes not only designs and hand creativity but also shows the culture of that particular region. Basically, there are two types of Indian Embroidery that we are using in the current era of clothing wear. One is Hand Embroidery and second is Digital Embroidery. Most of the textile designers are using Hand Embroidery for a better showcase. Here, we are discussing here the few types and formats about the various styles of Indian Embroidery.
Indian Embroidery Techniques in Different States
Chamba Rumal
Originated in the 17th century, Chamba Rumal is basically from Himachal Pradesh. It consists of cotton fabric with untwisted silk metallic yarn. It has a square pattern with beautiful Indian Embroidery. Earlier, it was used for marriage purposes only and at that time only women and young children did this embroidery by hand.
Source: – allkarts.com
Chikankari
Next one in Indian Embroidery is 'Chikankari', belonging to Uttar Pradesh. Lucknow is famous for Chikankari Work Embroidery.  It is believed that this Indian Embroidery came from the Mughal Dynasty. Specifically at the time of 'noor jahan'. Generally, it is white thread on plain white cotton or colored fabric pattern; like 'muslin or mulmul'.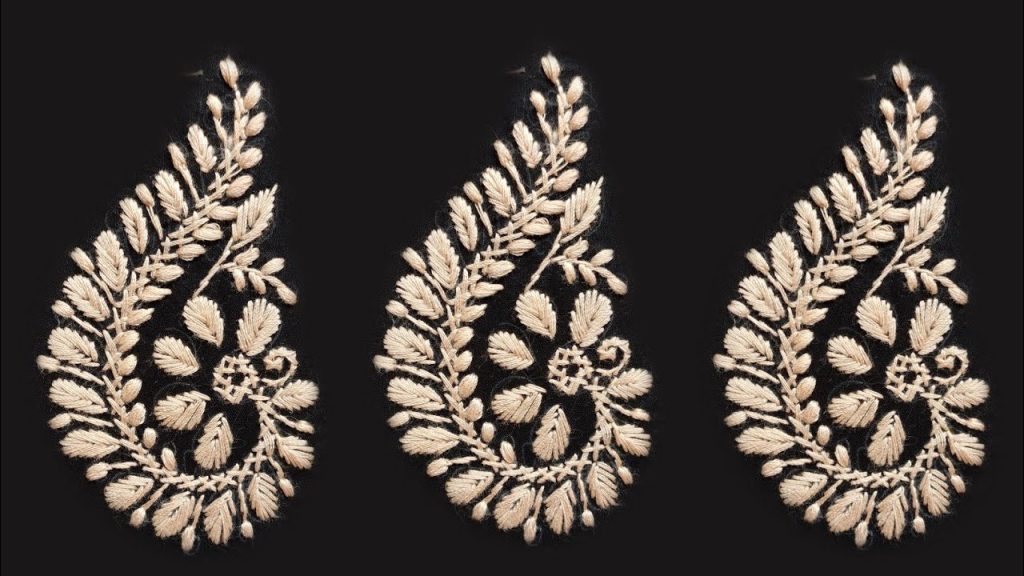 Source: – You Tube
Gota
Gota or Gota Patti Embroidery comes from Rajasthan; specifically in Jaipur. Usually, this type of Indian Embroidery is worn on special occasions. It is known only for female's formal apparel and hence is made with gold thread on zari fabric ribbon. It makes use of birds, animals or nature images.
Source: – You Tube
Kamal Kadai
'Lotus Embroidery' or Kamal Kadhai Originated in Andhra Pradesh. So, the reason behind its name is its style of embroidery; in the form of lotus petals. This Indian Embroidery is made by woven stitch with square shaped pattern. This is also popular in handloom sarees and fabrics.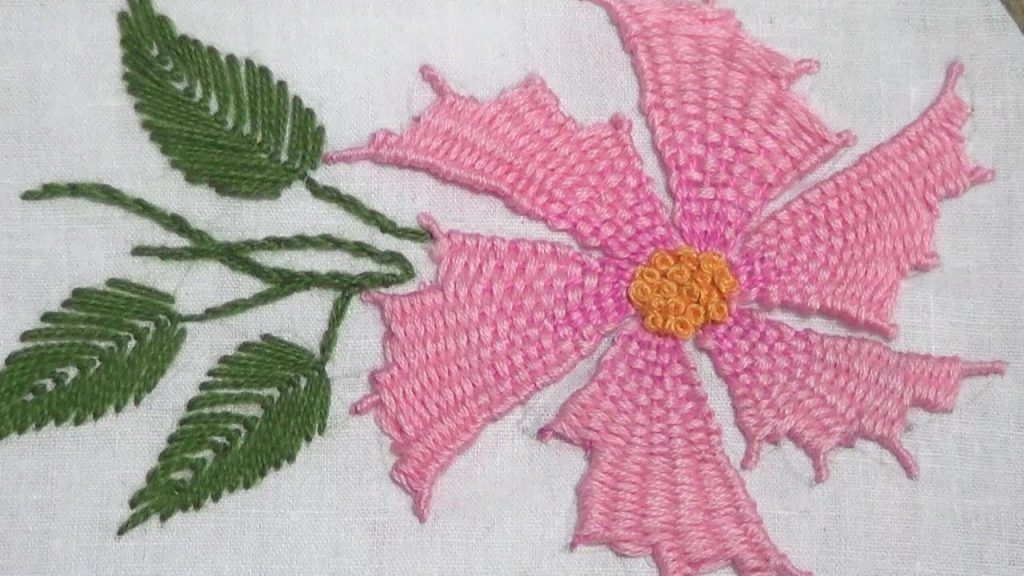 Source: – You Tube
Kashmiri Stitches
Firstly, it is one of the most famous stitches in Indian Embroidery. This embroidery associated with the Mughal era. Kashmiri Stitches also called Kashida Embroidery. You can see these stitches on their pashmina shawls. There are 5 types of Kashida Embroidery, famous for shawls-
Sozni Embroidery
Papier Mache Embroidery
Tilla Embroidery
Kalamkari Embroidery
Aari Embroidery
Source: – Pinterest
Phulkari
Phulkari Embroidery comes from the colourful state of Punjab. The 'Phulkari Dupatta' is quite famous there. This uses a Holbein Stitch. As its name says, it means the flower work. It uses a thread strand at one time, from the rear side of the fabric, leaving a longer stitch at the bottom to form the basic pattern.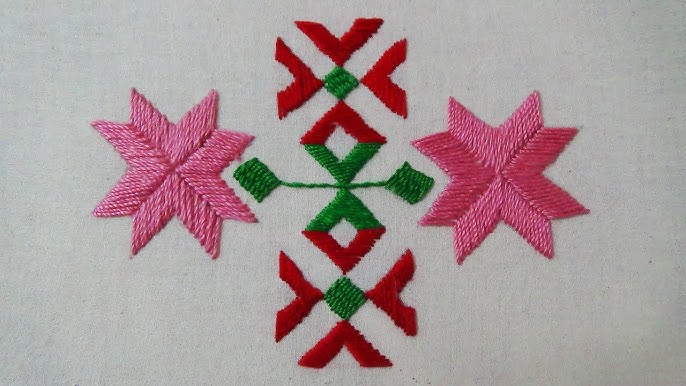 Source: – You Tube
Mirror Work
This embroidery comes equally from Gujarat, Haryana and Rajasthan. Originated in the 13th century, this design consists of small mirrors with various shapes. So, this embroidery is famous for cushion and pillow covers, Kurti, tops, sarees and handmade decorative things. You can also see mirror work in Gujarat's Lehenga Choli.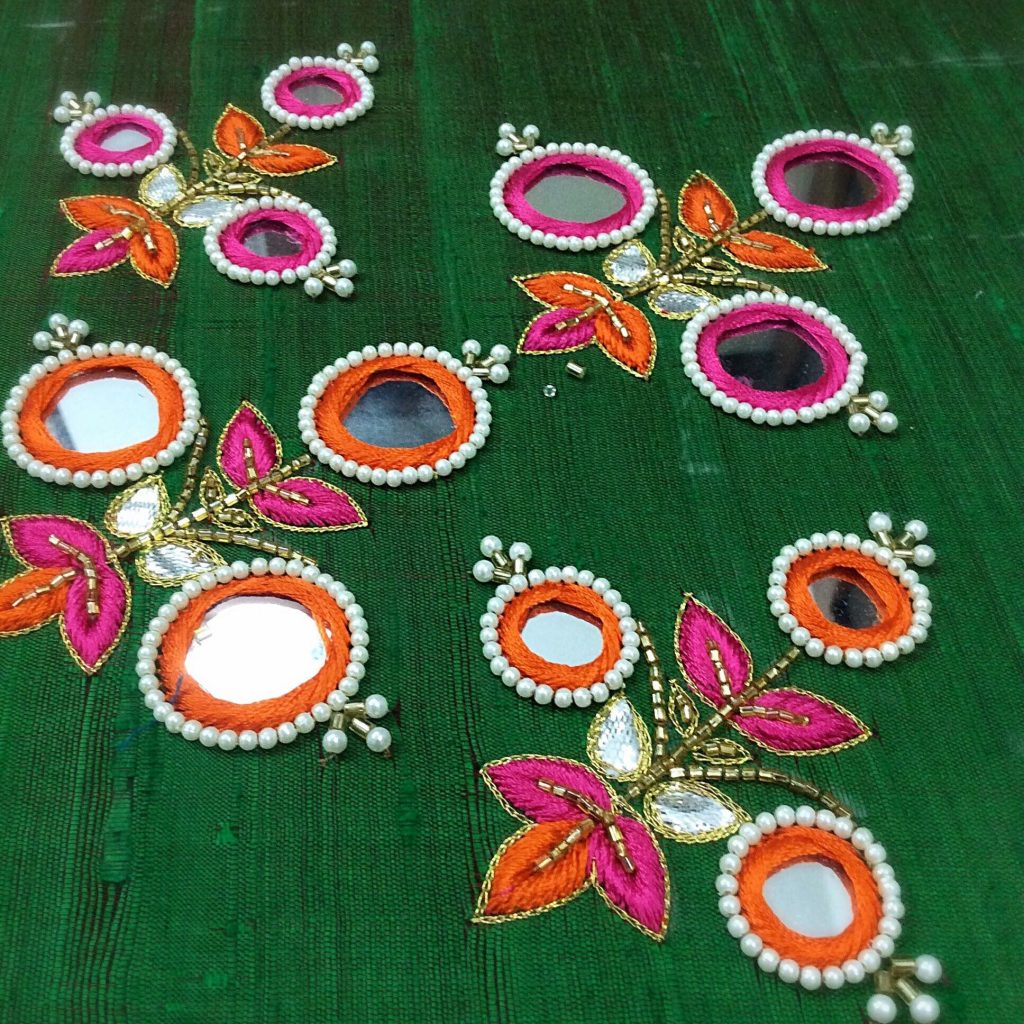 Source: – Pinterest
Banjara Work
Firstly, it is associated with various regions and cultures. So, it is not connected with any particular place. Banjara Embroideries are the combination of Mirror work and patch work. It is sewn by cross stitch in geometric patterns on bright or dark coloured base clothes. Quilting and chain stitching creates iconic designs. So, this embroidery is commonly used for ethnic dresses, lehenga, choli, blouses, bags and many more clothing patterns.
Toda Embroidery
This Indian Embroidery came from Todu Tribes in Tamil Nadu. It is also famous for the name of 'pukhoor', related to the Nilgiri region. This embroidery is made on white cotton fabric with black and red thread; in a square pattern.
Source: – 30 Stades
Zardozi or Zari Embroidery
It is believed that in the 16th Century, the Mughal brought this embroidery in India. So, it is made by plastic threads, coated with gold or silver material colour. Earlier, it used to be made with thread made of real gold and silver. Zari Embroidery is costly in selling also. Hence, Zari Sarees are always in fashion and people wear them at festivals or any special occasions.
Source: – Pinterest
Phool Patti ka Kaam
This type of Indian Embroidery is associated with Uttar Pradesh; specifically from Aligarh and Rampur. So, it shows in its name itself as flower and leaf.  This embroidery is made on cotton, kota doria and organdy fabrics. Hence, made of loop thread in the form of flowers and petals. Most of this embroidery looks great with white thread.
Here, you can see all the important and specific varieties of Indian Embroidery. It is an art of sewing and stitching with creativity and culture all together. Embroidery shows not only creativity but also gives a glimpse of our culture and traditions. Apart from the above, there are many different Types of Indian Embroidery, which you can learn just sitting at home. So, we are always ready to welcome you on our platform. Learn in your own language. Now that you know types of Indian Embroidery, stitch all your creativity together and fill out your wardrobe with the stitching creativity.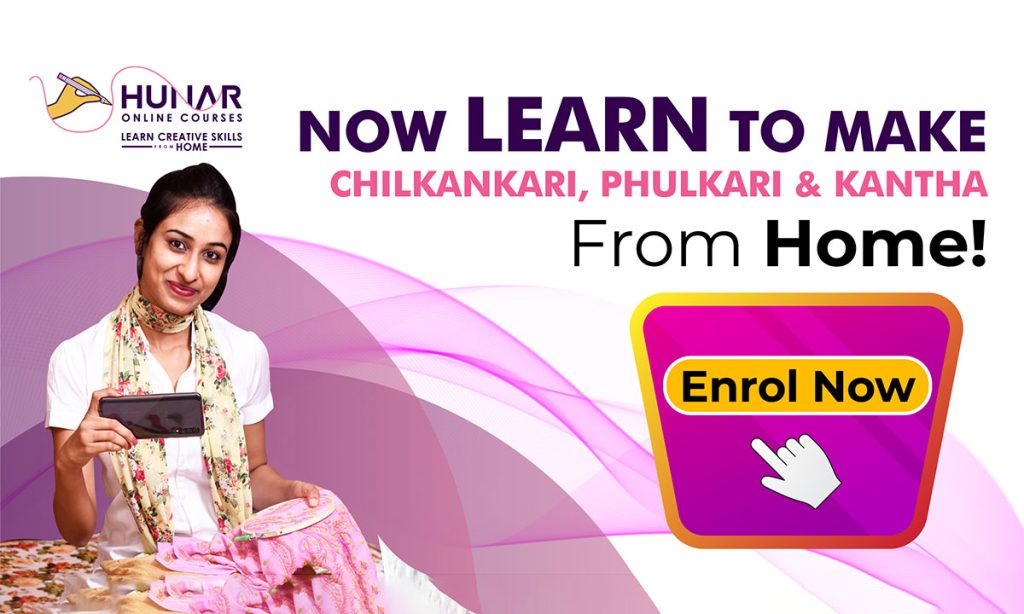 At Hunar Online, you will get access to detailed video lessons and can learn from anywhere. You will get 24/7 faculty support and a chance to learn from the experts in the industry. Also, watch our trial classes and get a glimpse of our courses. You can start learning your favourite course by downloading the app.
So, what are you waiting for? Join Hunar Online Courses and do what you always wanted to do.