Jewellery designing is one of the most creative & artistic fields. People love to pair dazzling pieces according to an occasion and mood. Many choose pieces of jewellery that perfectly complement their personality. If you want to make your own unique designs, you can learn Online Jewellery Making using Fabric and clay. These materials are inexpensive and help in making some amazing pieces that will definitely grab attention in a crowd. The beautiful neckpieces, earrings, bangles and other pieces of jewellery made from fabric and clay look amazing with almost every garment. They are now gaining as much popularity as gold and silver metals.
In Online Jewelry Making Classes, you can explore a range of designs using a variety of metals.
Here are some of the garments that go well with fabric and clay jewellery:
Clay Jewellery with Kurti
If you love wearing fashion jewellery, then fabric and clay ornaments are the best option for you. You can style necklaces made from these materials with a kurti, which will give you an stylish and aesthetic appearance.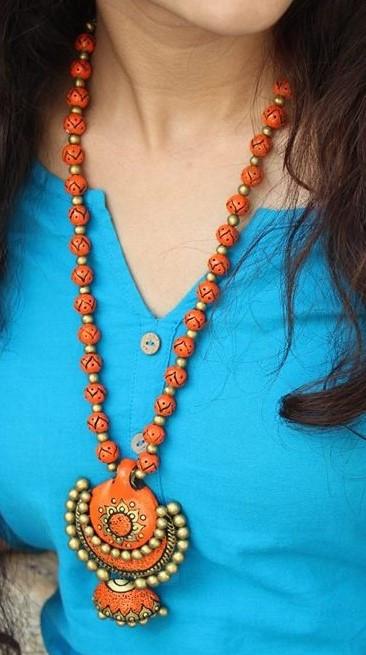 Clay Jewellery with Saree
When in doubt, most women turn towards saree. This is undoubtedly one of the most popular and common fashion choices among women. If you can't choose a perfect jewellery with your dark-coloured saree with thick border, then a broad clay necklace and earrings set will come to your rescue.
Clay Jewellery with Salwar Suits
Salwar suits are often considered as a boring outfit. Bring a difference to these age-old outfits with clay necklaces and bangles. These will keep others' focus on these amazing pieces of jewellery, while adding a distinct look to the outfits. A handmade Fashion Jewelry Making course will help you become a pro and to kick-start your own jewellery business.
Clay Jewellery with Skirt
Designer clay jewelleries can make add vibrance to your long flowy skirts. Pair a beautiful and minimal clay neckpieces with this outfit and display style in comfort.This beautiful necklace can be paired with any designer skirt for special occasions. In professional Jewellery Making classes, you can learn more about how to make these designer clay jewelleries.
Enrol in professional Jewellery Making Courses with Hamstech Online Courses and learn the art of creating your own designs by simply downloading our mobile app. Start your creative journey today and get certified.
Get all the Excitement through the Hamstech Online Courses APP Today. Download Now!