We are always convinced that celebrities are gifted with natural glowing baby soft skin. We hover through various fashion magazines and try to follow the regime and diet of the celebs in the hope to get crystal clear skin. While all our efforts seem to go in vain and we blame our genes for it, do you know what the reality is? The answer to this is very simple – make-up!
Make-up is the reason why every celeb looks so fresh in the morning while we are all amused by their natural glowing skin. The changing fashion trends have brought this make-up in existence and it is not going anywhere soon. This make-up look is loved by all and is perfect when you want to get a fresh and natural look. As these days, the trend of minimalism is being followed by everyone, people are opting for make-up too.
Make-up artists recommend this make-up look when you want to go neutral but still want to look fresh. This make-up look is used to enhance the facial features and give you that glowing look. Although a minimal make-up look may seem easy to pull off, it is tricky to get a perfect minimal make-up look. Few prominent makeup artists have provided a step-by-step guide to achieve the flawless "No-makeup" makeup look. Let's have a look at these steps one-by-one:
1.Prep Your Skin First
As this make-up look is all about getting the natural glow, it is important for you to prepare your skin before applying any make-up product. Use a mild cleanser to remove all the dirt and impurities from the skin. This helps avoid any irritation caused in the skin which happens because of the trapped dirt. To prevent your skin getting tight and dry, apply light moisturiser. A good choice of moisturiser is important as it helps keep your skin hydrated and supple.
2.Primer
The next to achieve the flawless minimal make-up look is to apply a good quality primer. It helps to cover the unwanted pores and evens out your skin which provides a good base for applying make-up. Primer illuminates your skin and leaves a skin that glows from within.
3.Prefer Light Coverage
BB cream and CC cream are the best choice to get that flawless natural skin. When you want to achieve a minimal make-up look it is advisable to use light weight foundation or BB cream and CC cream. They can hydrate your skin from within and make the imperfections look beautiful. Make sure to apply the cream using a foundation brush or a sponge.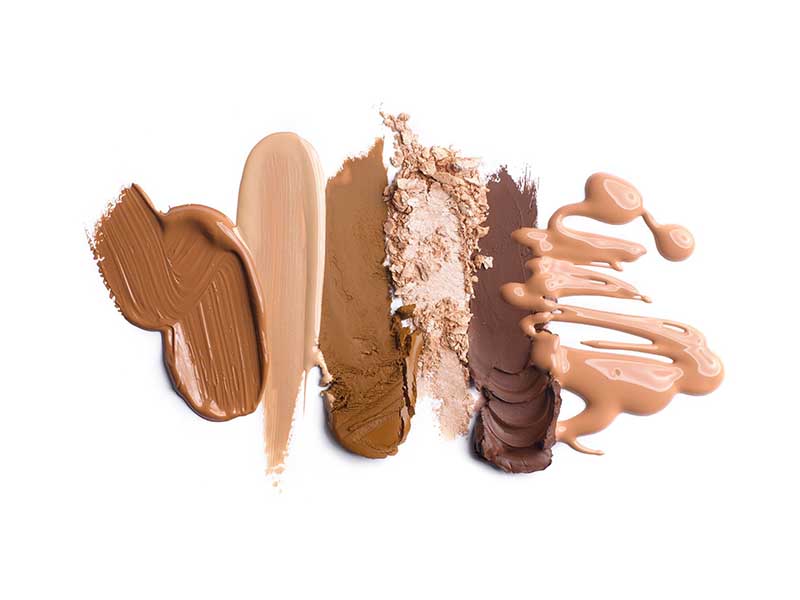 Image Source- Cosmopolitan
4.Go for the Lightweight Concealer
If you want to cover your blemishes and dark circles then choose a lightweight concealer. Make sure to use a hydrating concealer to get perfect finish and coverage. Blend the concealer using your finger to get the perfect look.
5.Cream Contour
Cream contours blend in with the skin perfectly and give a more natural look as compared to the powdered contours. Use a sponge to blend the contour on your skin after applying the foundation and the concealer. It enhances the facial features and makes you look gorgeous.
6.Fake the Blush
A natural blush adds to the beauty of a woman and makes your skin look gorgeous. Opt for a cream blush which can blend with your skin naturally. To get the flawless look apply it using your finger on the apple of your cheeks and bridge of the nose.
Image Source- The Small Things Blog
7.Highlighter
Rather than applying the natural shimmery powder highlighter go for a dew stick. It will give your skin a dewy look and make it glow. Cream based dew sticks go a long way and help you achieve natural shine.
8. Brush Your Brows
It is said that eyes speak the words that we are not able to speak. So, it is very important to make your eyes look appealing. Enhance your brows using brow gel and get the perfect look for your eyes.
Also Read : Must Own Makeup Essentials According to Makeup Artists
9.Light Mascara
It is the dream of every woman to have dark eyelashes. Mascara can help you define the eye lashes and make your eyes look naturally beautiful and expressive. Curl your lashes and apply brown mascara to get the natural look. You can also skip the mascara part all together if you want to have more focus on your skin.
10.Natural Lips
The natural tint we get after adding nude lipstick is gorgeous. To achieve that "no-makeup" makeup look apply lip balms with natural pinkish hues. It is the best way to get natural looking lips. You can also apply lipstick and wipe off the extra using tissue and get the natural lips.
Image Source- SELF Magazine
Make-up helps a woman express her personality and one can do her make-up the way she wants to. Makeup is the best friend of a woman and there are different makeup styles for different occasions. You can't apply heavy makeup on a daily basis, so there is a special way to get a fresh look every day.
Hunar Online Courses offers a Fashion Styling Course where you can use your creative skills and learn to make different make-up styles, hairstyles and much more. You can enrol in our Online Fashion Styling Courses. At Hunar Online, you will get access to detailed video lessons and can learn from anywhere. You will get 24/7 faculty support and a chance to learn from the experts of the industry.  So, what are you waiting for? Join Hunar Online Courses and start making a new path to your career.