All about makeup courses. People generally assume that women wear makeup because they want to impress people, or they are not confident enough to face the world. But this is not the real reason why anyone wears makeup. A woman wears makeup not to hide her real self but to enhance her personality. Makeup boosts confidence and makes a woman look good and comfortable in her own skin.
Sometimes women also wear makeup to hide their acne or wrinkles. We cannot deny the fact that makeup has the power to change the appearance of any person who wears it. Teenage girls can apply makeup to look a bit older than their real age and older women can wear makeup to look younger. Makeup Courses is a form of art and is also a lot of fun. There are many types of makeup designs for a person to try different looks on different days.
Makeup involves a lot of steps and sometimes we tend to miss the most essential ones. To help women with this issue many fashion design institutes have started makeup courses. There are also many online courses that teach about fashion styling and makeup.
Here are some tips by makeup courses that every woman must own according to makeup artists:  
1.Moisturiser
The most basic and essential product that must be in every woman's makeup kit is a good hydrating moisturiser. Moisturisers come according to different skin types, so one can easily find the perfect fit for their skin. It needs to be applied after washing your face and be gently massaged on the skin to keep it hydrated.
2.Primer
Our skin is uneven and even has bumps on it. If we take a close look, we can notice this clearly. Primer is a rescue for uneven skin and bumps on the face. It helps to even out everything and also blurs the bumps of the skin and preps the skin for makeup to make it look fresh.
3.Foundation
Foundation acts as the base of makeup. There are a variety of foundations in the market and they can be picked according to the skin type and skin colour. A right foundation can also offer skin care benefits. It helps you get a smooth finish to your skin and evens the patchy tone of your face.
4.Concealer
As the name suggests, a concealer is used to conceal all the acne, zits and spots. It also helps in covering dark circles or any marks that make the skin look uneven. There are many types of colour correcting concealers available in the market. Peach concealers can be used to hide dark circles while redness of acne marks can be reduced with green concealers. A good concealer goes a long way and helps the overall makeup look good.
5.Setting Powder
Setting powder is slightly under-rated but it is considered as one of the most essential makeup products. It is generally applied after the foundation and the concealer. Setting powder is applied to keep the makeup intact and to prevent it from creasing.
6.Bronzer
A bronzer works wonders and is magical. It gives a sun-kissed look and makes the person wearing it look well-rested and fresh. It also gives a healthy looking glow and must be in the makeup kit of every woman. A bronzer should never be used for contour as it spoils the overall makeup.
7.Makeup brushes and tools
Some women tend to apply makeup by their hand. This is not the right way to apply makeup. Touching your skin with hands has negative effects and it also doesn't give a fine look to your makeup. Therefore, one must invest in good quality makeup brushes and tools which help in applying makeup properly and give a good look.
Image Source- Rio Beauty
Also Read : 5 Basic Makeup Techniques Every Woman Must Know
8.Mascara
Eyes are a very defining feature of a woman's face and eyelashes do the same. To get a beautiful look of the eyes, it is important to apply mascara. It enhances the length of the eyelashes and makes the eyes look pretty. This is another must have makeup essential for a woman.
9.Eye-shadow Palette
To get perfect smokey eyes for a party or an elegant look for a festive occasion or wedding, an eye-shadow palette is one of the essential makeup products. Investing in the right type of eye-shadow palette can help you on every occasion be it a formal meeting, or an evening party. It makes the eyes look stunning and gorgeous.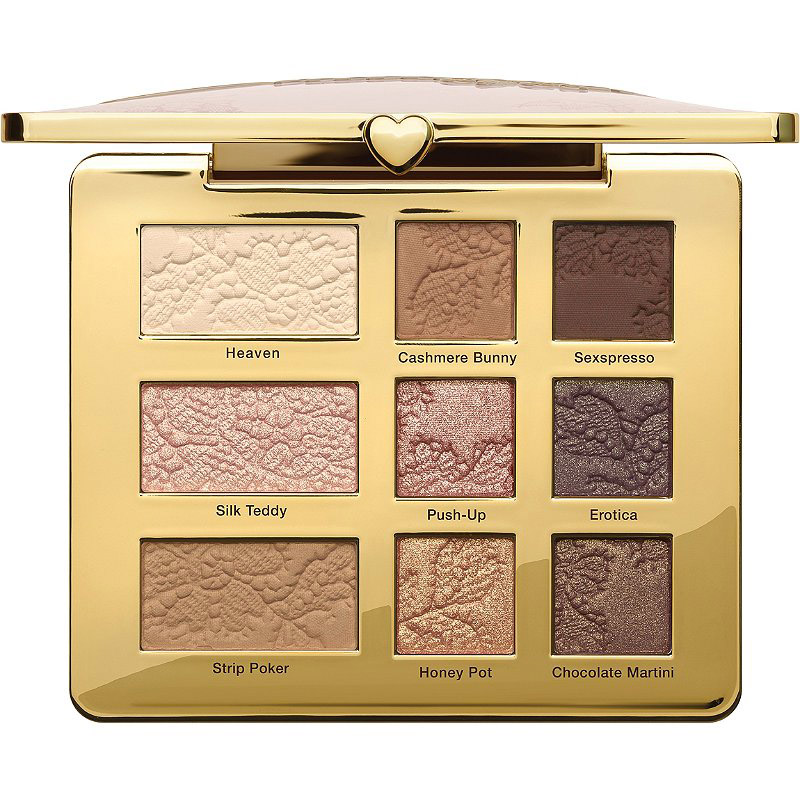 Image Source- Ulta Beauty
10.Kajal
Kohl or Kajal is another important makeup essential that works wonders when it comes to makeup. Kohl can be a perfect fit for every occasion and looks gorgeous on every woman. It makes the eyes look bigger than they actually are.
11.Cream Blush
Cream blush is very flattering and looks good on everyone. It is very easy to apply and can be easily applied with your fingertipss.
Image Source- amazon.com
12.Lipstick and Lip Gloss
Investing in the right type of lipstick and lip gloss can be very beneficial in the long run. It can enhance the beauty of one's face in one go. Nude lipstick shades can be used for formal meetings, red lipsticks can be used for parties and lip gloss can be used for casual meet-ups with friends.
A woman must know the essentials of makeup to get it right. There are a variety of makeup designs that you can learn online with the help of our online courses. At Hunar Online, you will get easy access to video tutorials and can learn from anywhere. You will get 24/7 faculty support and a chance to learn from the experts of the industry.
So, what are you waiting for? Join Hunar Online Courses and start paving a new path for your career.