A saree is an Indian outfit that embraces the beauty of the wearer. There are many styles and methods of wearing a saree. Here we are talking about the beauty of wearing a saree with the latest saree fashion. The very first and most necessary thing is to know the trends. Trends define fashion in a new way. The fashion trend changes from year to year and also returns. We have to keep an eye on this latest saree fashion. Start with us and keep practising every day. Keep an eye on the latest saree fashion trends. Practice watching videos and reading articles and blogs. Use the tips we provide on our blogs and articles. Let's talk about the fascinating and ongoing latest saree fashion in trends
FLORAL SAREE
From heavy work embroidery saree to fine floral, we had seen so many styles for saree fashion. If you talk about the trendiest saree in the latest design, that is floral. If you are looking for the latest fashion wear in a saree, then this blog is for you. From Sridevi Kapoor to Aishwarya Rai Bachhan, everyone tried the floral print with their amazing style. Here we are sharing some fabulous saree designs with floral prints inspired by Bollywood Style. If you have a love for Bollywood and its fashion apparel, especially saree, then this blog is only for you.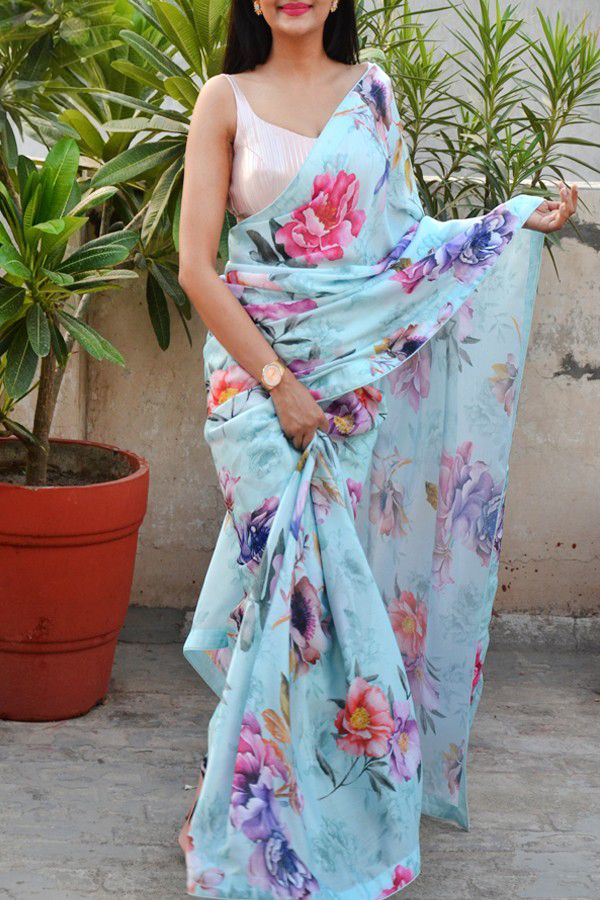 Source: Pinterest
BANARASI SAREE
Varanasi sarees are sarees made in the ancient city of Varanasi, also known as Varanasi. It is an evergreen outfit for saree fashion. These sarees are one of India's finest sarees and are known for their gold and silver brocade or zarees, fine silks, and gorgeous embroidery. His brocade saree is made of finely woven silk and adorned with intricate zari designs. This ornament makes the saree heavy. Their distinguishing feature is Mughal-inspired designs/elements, such as intricate floral and leaf motifs such as karuga and bell.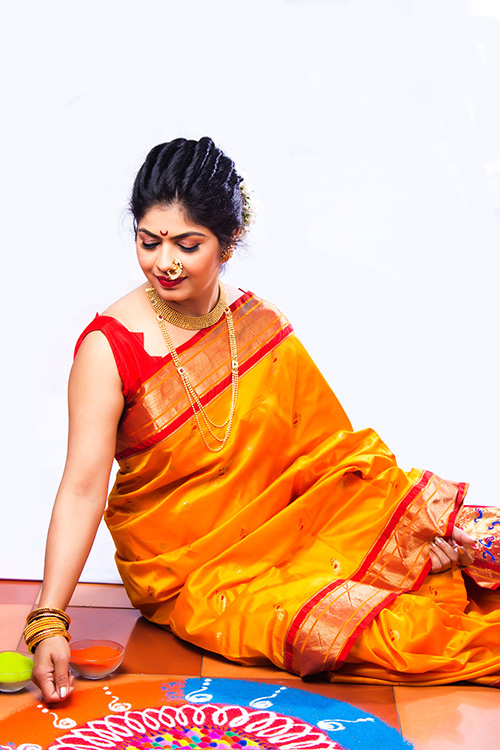 ORGANZA SAREE
Thin plain weave silk fabric. Organza silk is a popular saree material among Indian women who look forward to a classic and elegant look. The organza silk sarees are perfect for different occasions. Organza is a lightweight, sheer plain weave fabric originally made from silk. The material can also be made of synthetic fibres, mainly polyester and nylon. Synthetic fabrics are durable, but they are also very delicate and prone to fraying and tearing.
DOUBLE FABRIC SAREE
Showcasing two different colours, these sarees can be worn contemporary for occasions such as office parties, cocktails, anniversaries, and other formal events. The degree of beauty in these sarees lies in the designer's choice of elements, shades, and tones, and the magnificence they exhibit. Dual fabric silk sarees are one of the few saree fashion saree that is both delicate and feminine. Dual Fabric silk is woven from very fine silk threads that give the fabric its texture and feel. It is one of the famous sarees most decorated with silk sarees.
MULTI-COLOURED CHIFFON SAREE
Multi Colour Chiffon Sarees are trending in 2022 saree fashion. It is a lightweight fabric that flatters your curves beautifully. Premium materials ensure a comfortable fit. It's a light curtain, so it's easy to use. A chiffon saree that can be worn all year round.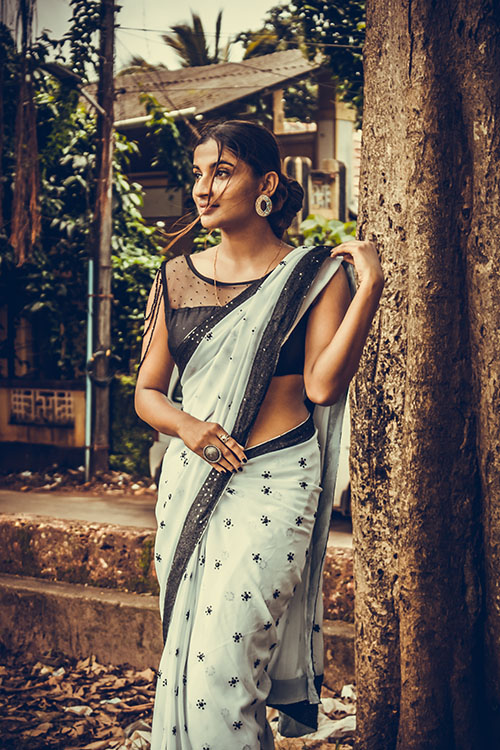 FABRIC DESIGNING COURSE
Hunar Online is a video platform where anyone can learn and improve their skills. If you have potential and creativity and want to show off your career in a creative vein, you've come to the right place. Start learning how to use it. list of photos, etc. Hunar online app not only teaches Indian fashion through crafts and digital arts but also provides illustrations of Indian and Western fashion designs. Learn how to stitch Indian embroideries such as Kashmiri, Chikankari, Kalamkari, Chamb Rumal, Phulkari, Zardozi, Zari ka kaam, Narr Patti ka kaam and Kasuti embroidery. She also learns two styles of sewing: patchwork and western.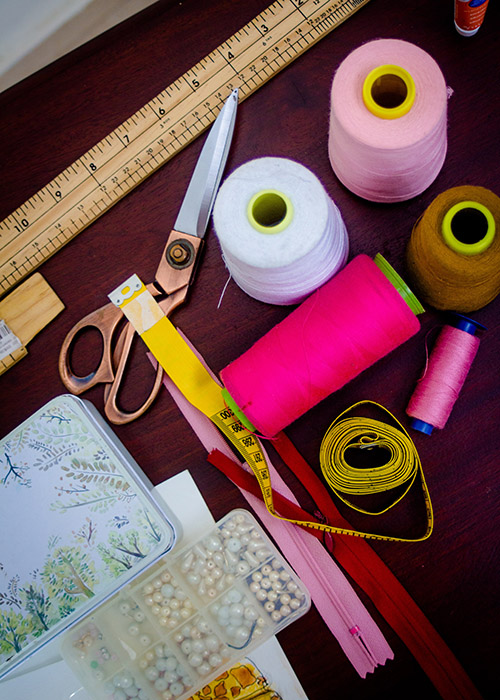 FASHION STYLING
Fashion Styling is all about learning and creating looks for fashion or saree fashion. You can own a styling studio or get a job at a fashion institute. Today, styling involves having their own career. Professional Fashion Stylists are highly paid by their employers. So many big brands hire fashion and garment stylists to market and promote their brands. This will get you a well-paying job at a reputable company. A high career requires perfection and experience. Plus, you can unleash your own creativity by collaborating online and offline.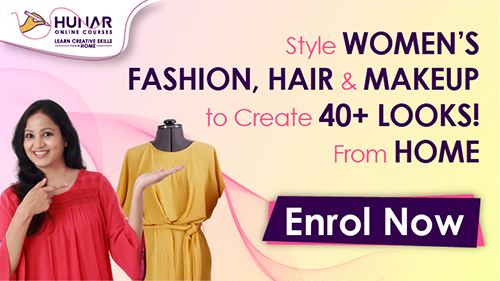 Apart from the above, there are many ways to learn the latest saree fashion at your home, in a couple of months. We are always ready to welcome you to our platform. Learn in your language. Now that you know how to learn about the latest fashion saree at home, draw all your creativity together and colour them on the pages of your wardrobe.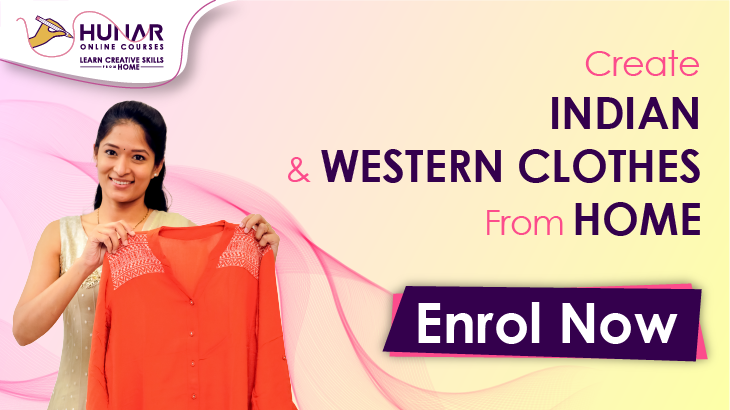 At Hunar Online, you will get access to detailed video lessons and can learn from anywhere. You will get 24/7 faculty support and a chance to learn from the experts in the industry. Also, watch our trial classes and get a glimpse of our courses. You can start learning your favourite course by downloading the app. So, what are you waiting for? Join Hunar Online Courses and do what you always wanted to do.