Jewellery is one of the best accessories for every Indian woman and her look is incomplete without it. You can put on your finest dress with the trendiest shoes and a designer bag but without the right type of jewellery, your look will be incomplete. The onset of the latest fashion trend has made jewellery an integral part of fashion. One of the most loved jewellery items is earrings. It is a part of our day-to-day lives and also plays an important role in elevating our looks during special occasions.
With the increased demand for earrings, jewellery designers tend to experiment with different things to create beautiful earrings designs. They come in various shapes and sizes. Earrings are made up of different types of metals like gold, silver, platinum, rose gold and others and are embellished with beautiful and precious gemstones. There are other varieties available for earring & designs made from beads and clay are cheaper and can be afforded by everyone.
The options of different earrings designs available to us are huge. Let's have a look at some of the best and the most popular earrings one by one:
1. Stud Earrings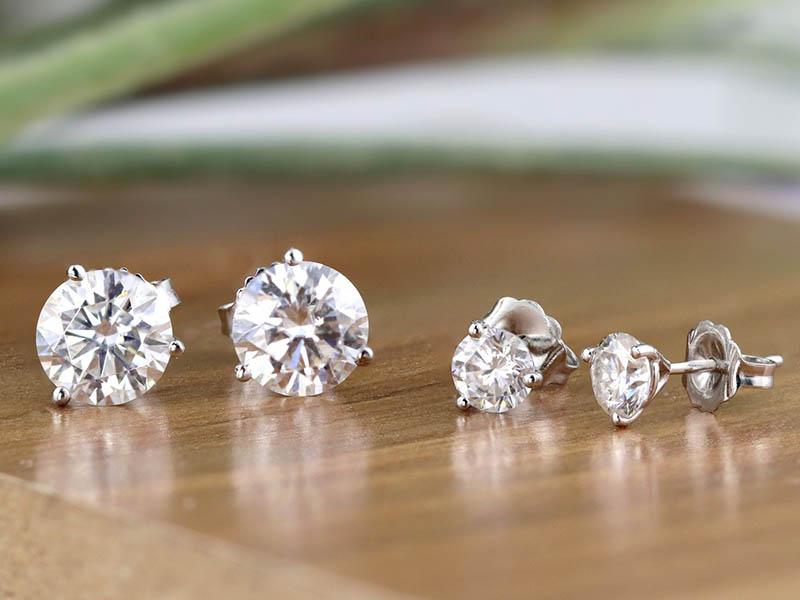 Studs are one of the simplest and hassle free jewellery designs for earrings. The small size of this earring makes it a favourite earring for everyone. They just sit snuggled on the earlobe perfectly without drooping downward, looping backward or climbing upward. These earrings are comfortable to wear and look great with every outfit. Every woman has at least one pair of stud earrings in her jewellery box collection as it is the most popular jewellery design. It comes in different shapes, sizes and colours and can be worn accordingly for different occasions with different outfits.
2. Hoop Earrings
Hoop earrings can be recognised by their distinguishing shape and size. Traditionally, a hoop earring was round in shape with varying sizes but with the upcoming fashion trends you can see that they are available in different shapes like squares, ovals or triangles. They are simple in design and give a classy and elegant look. When you are not sure about what earring to pair up with your traditional attire, go with a hoop bali and you will not be disappointed. They come in various designs and can be worn daily with your kurtas or on special festive occasions.
Also Read: 5 Famous Types of Indian Jewellery Designs
3. Chandelier Earrings
As the name depicts, chandelier earrings are shaped like a chandelier. In some designs these earrings can dangle as well. They attach to the earlobes and drop downwards and several times these earrings have multiple levels of decorations. They may form the shape of a teardrop. These earrings stand out because of their elegant and sophisticated look. They are beloved for their fancy appearance as they are decorated with beautiful glittery gemstones. They can add glamour and charm to any Indian outfit and work wonders with A-line kurtas and anarkalis.
4. Ear Cuffs
Ear cuffs are a westernised version of traditional earrings but it is loved by most of the Indian women. These earrings go well with all types of outfits, be it traditional or modern. The distinguishing factor of this earring style is that it travels all the way through the ear lobe. They can start in the middle and travel all the way down or can start from the beginning and cover your entire ear curve. Every woman wants to own a piece of ear cuff because of its elegance and gives off a royal look. This earpiece is best for those women who love to experiment with fashion. It can be paired with a saree, suit or anarkali to get a stunning look.
5. Chandbalis
This jewellery design became a sensation after the superhit blockbuster movie Ram Leela that starred Deepika Padukone. This movie inspired a lot of women to add this earring to their collection. They look gorgeous with a traditional attire and can be worn to functions and festivals. These earrings have been in existence since the Mughal Era but were popularised recently. As the name goes, Chandbalis are half-moon shaped earrings which are designed very intricately. The crescent shape is decorated beautifully with precious gemstones like diamonds, pearls and other jewels.
6. Jhumkas
Every woman has a collection of these evergreen earrings with her. This earring can amp up your style in an instant. They blend up with every outfit and never disappoint us. You can find different styles and shapes. You can get an elegant and stylish look with this earring. Pair it up with a saree, anarkali or a simple kurta and you are ready to steal the show!
There are a variety of jewellery designs available to us and we can choose the best as per our taste and preference. The increase in demand for jewellery has increased the scope of jewellery designing. You can also design jewellery from home for different occasions. People assume that jewellery designing is tough but it is only when you don't pay much attention while learning. Consistency is the only way you can master this skill.
Image Source- Nykaa Fashion
There are many online institutes that can teach you jewellery designing courses online. Hunar Online Courses is a learning platform that provides jewellery designing courses. This course will teach you to create a variety of traditional and modern jewellery from home. Hunar Online provides certificates after completing your course that are sure to help you start your own business. For all courses, Hunar Online provides sessions with experts who are available 24/7 to clarify your doubts and help you every step of the way.
So, what are you waiting for? Sign up for a creative course with Hunar Online today.