You cannot imagine a saree without a blouse. It completes the look and makes you look beautiful. Previously, saree blouses were just a piece of fabric that were used under the saree. Things are not the same today, with changing fashion trends, there has been a drastic change in the style of the saree blouse. Today, it serves a purpose more than just being a blouse. Fashion designers became creative with making saree blouses. There are various blouse making styles that cater to all the fashion needs of today.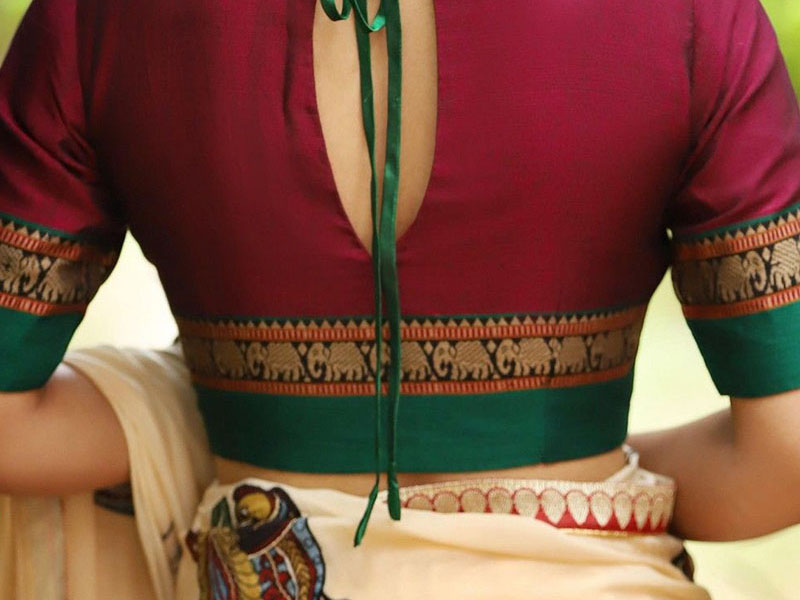 Image Source- Pinterest
Basically, a saree blouse is a piece of clothing that is designed to be worn inside a saree, measuring from the neck to above the navel. They can be made using various types of fabric like cotton, georgette, chiffon, satin, net, etc. Many types of embroidery can be done on blouses to make them look more beautiful. Nowadays, blouses are designed so creatively that they can make a simple saree look gorgeous. There are many designs of them that can make you look trendy and classy. Let's have a look at the latest designs of the saree blouses:
1.High Neck Saree Blouse
The beauty of a high neck saree blouse design is that it is sleeveless, which makes it look very chic. Little embroidery on the neck can add to its style and transform the whole look of the saree. It can be easily paired up with a plain saree or an embellished saree, as long as their designs and colours align together. If you have a slim figure and a toned body, then this blouse will look beautiful on you. You can wear it with chiffon and georgette sarees.
2.Off-shoulder Saree Blouse
This type of saree blouse is gorgeous in itself and has been in trend for a long time. Women with broad shoulders can wear this type of blouse to rock the look. You can pair it up with a net saree to make sure the design of the blouse is visible. The best occasions to wear these types of blouses are evening parties and festive occasions.
3.Sheer Back Saree Blouse
If you love a backless blouse but feel uncomfortable wearing it, then the sheer back saree blouse is just the right fit for you. The sleeves of this blouse are sheer too and make you look glamorous whenever you wear it. Designer sarees with zari work goes well with this type of blouse. If you are a woman who has broad shoulders, then it will look very pretty on you. You can wear them to wedding ceremonies or reception parties.
4.Quarter Sleeve Sheer Blouse
Quarter sleeves blouses have been in trend since the very beginning. If the sleeve is sheer, then women are bound to love this design. The fabric used for making this type of saree blouse is a net fabric. You can easily wear it to evening parties. Georgette and net sarees go well with a quarter sleeve sheer blouse.
5.Mirror Work Saree Blouse
This type of saree blouse is very attractive and stunning. The front part is embellished with mirrors and the back has latkans tied to it. This whole addition of ornaments makes it look unique in its own way and women love this design. These type of saree blouses look more charming when worn to a night party. It can be easily paired with a georgette saree.
Image Source- zatki
6.Modern Lace Saree Blouse
The modern lace saree blouse type is an attention seeker and almost every woman has one of these blouses in their wardrobe. The sheer sleeve with a floral pattern can steal the attention of anyone. It is mostly worn at night parties. It goes well with georgette and net sarees. Women who have broad shoulders can look more charming in this type of blouse.
7.Back Embroidery Saree Blouse
Earlier, mostly brides used to wear back embroidery saree blouses but now everybody wears them, and they are loved by all. In recent years, this type of blouse has become very famous and at every festive function or wedding ceremony, you can spot ladies wearing it. The charm of this type of blouse is increased further when worn with a silk saree. It can be worn by the bride and in various wedding ceremonies.
Image Source- Weddingz.in
8.Shirt Saree Blouse
Were you not expecting this in the list? From the time it has been introduced in the fashion industry, shirt saree blouses have been the ultimate favourite of everyone. It gives a modern touch to a traditional look. You can wear it with a simple saree and an embellished saree as well. If you are bored with the normal saree look and want to mix-match Indian and western attires, a shirt saree blouse is your call.
9.All Beaded Saree Blouse
Ever imagined this type of saree blouse? No, right? That's what makes this saree blouse very interesting and charming. The unique look of it is bound to catch the attention of everybody. You can wear it in the evening and at night parties. Net sarees would look gorgeous on this type of blouse as the design of it can be easily visible.
Image Source- Omsara
Saree blouse is an important part of a saree and it completes the look to make you look gorgeous. Many times, saree problems can be easily solved because of the type of saree blouse that you are wearing with it. You can also create and design them using your own skill and creativity at home. Hunar Online Courses offers a Garment Making Course where you can use your creative skills and create different types of saree blouses easily for different occasions. You can enrol in our Online Garment Making Courses. Hunar Online provides easy video access to classes which allow you to learn from the comfort of your home. You also get 24/7 faculty support to help you clear all your doubts.
So, what are you waiting for? Join Hunar Online Courses and start paving a new path to your career.