Stitching courses have evolved more than ever. Earlier people used to earn a little bit of money by doing sewing work at home or in the neighbourhood, but now you can learn this course from a good professional designer sitting at home and also through digital marketing around the world, you can sell your own clothes or any You can get a good monthly amount by sending a special stitch draft. Hunar Online offers Stitching Course for trendy Indian and western wear. Indian wear designs are known for their vibrant colours, intricate embroidery, and rich fabrics that create a stunning visual impact. In recent years, several trendy and catchy designs have emerged that have become popular among fashion enthusiasts. Now in this new year make something new and showcase your skills with full confidence. Trendy wears are those clothes that change with time and are indicative of current fashion.
The art of stitching is considered a magical skill in the hands of Indian women. Indian fashion has spread its glory not only in India but all over the world. From Chikankari to Kalamkari, you will find many other types of stitching and embroidery that are worn and admired by people all over the world.
Source: Fabricoz
ANARKALI SUIT
One of the most popular Indian wear designs in the stitching course is the Anarkali suit. This outfit features a long, flowy kurta (tunic) paired with a fitted churidar (leggings) and a dupatta (scarf). Anarkali suits come in a range of designs and fabrics, from simple cotton ones for daily wear to heavily embellished ones for weddings and other special occasions.
LEHENGA CHOLI
Another popular design is the lehenga choli, a traditional skirt and blouse combination worn by women for weddings and other formal events. These outfits often feature intricate embroidery, beadwork, and embellishments that add a touch of elegance and glamour.
Source: Fashion World Hub
EMBROIDERED SAREES
Sarees are a staple in Indian wear and have evolved to incorporate modern designs and styles. From traditional silk sarees to more contemporary styles like pre-stitched sarees, dhoti sarees, and saree gowns, there's a saree design for every occasion and personal style. This is an important part of the stitching course.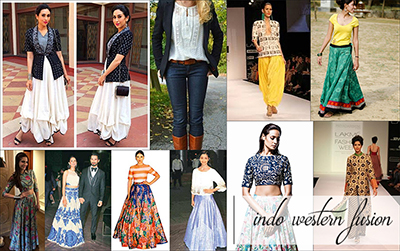 Source: Saree.com
INDO-WESTERN OR FUSION WEAR
In recent years, fusion wear has also gained popularity. This is an important part of the stitching course. This involves combining traditional Indian wear with Western fashion elements to create a unique and modern look. For instance, crop tops paired with high-waisted skirts, Indo-western dresses, and pant sarees are just a few examples of trendy fusion wear designs.
Overall, trendy and catchy Indian wear designs combine the rich cultural heritage of the country with contemporary fashion elements, making them versatile and fashionable choices for any occasion.
HUNAR ONLINE FASHION DESIGN COURSES
Hunar Online Fashion Design Course is a platform where you can learn, practice and demonstrate your fashion skills. This is one of the best online institutions providing fashion education, knowledge, and learning with one of the best professionals in the business in the comfort of your own home. So why wait? Grab your phone and enrol now! If you love fashion and want to create style, join the Hunar Online Fashion Design Course. Online platform Hunar offers online video courses on fashion design. Our experts will guide you through every nuance of fashion and styling illustration. We are always ready to welcome you to our platform. Learn in your language. Get support to start your own business. Now that you know how to manage and look at great winter fashion ladies at home, it's time to get all creative and add some colour to the side of your closet. Sign up now to receive exclusive discounts and other perks.
In conclusion, creating fashion-style clothes is a challenging and rewarding process that requires a blend of creativity, technical expertise, and business acumen. Whether working as a solo designer or part of a larger team, the key to success is staying up-to-date with current fashion trends and using them as a foundation for creating innovative and memorable designs that resonate with consumers.
You can learn all this Design and Stitching in one place through Hunar's Stitching Course. And Hunar not only teaches you this art but also makes you aware of the means of employment that you get from it. Along with this, it also gives you a chance to display your created design in front of people on National TV and digital platforms. And if you have the passion and wholeheartedly engage in stitching or design courses, you may get a chance to showcase your skills in Hunar's fashion shows as well.
At Hunar Online, you will get access to detailed video lessons and can learn from anywhere. You will get 24/7 faculty support and a chance to learn from the experts in the industry. You can also watch our trial classes and get a glimpse of our courses. You can start learning your favourite course by downloading the app. So, what are you waiting for? Join Hunar Online Courses and do what you always wanted to do.