Shilpa Shetty Kundra is one of the biggest Bollywood Stars and Fitness Influencers. Shilpa Shetty, Fashion style and elegance have become synonymous in today's day and age. Not only this, she is also a great entrepreneur and dance diva. Additionally, she is known for her fashion styles and looks. With her talent and skills, she's getting more engagement day by day. Hunar Online Courses Platform is happy to have Shilpa Shetty Kundra as our brand ambassador. We are welcoming her to give guidance and mentor to our students and team. She has always been in news and popularity with her style, looks and glamour. This blog is all related to that fashion only.
Shilpa Shetty Kundra needs no introduction today. She is a talented Indian actress and a strong business woman. We often see her fashion updates in her social media channels. She continuously shares her outfits, makeup looks, glamour, new projects and so much more to tell. Actually it is known to all. Let's talk about fashion. Winter is here and the wedding season along with it. And the most tough question for all the women is, what to wear? Here, we are sharing some amazing and fantastic fashion styles and looks of Shilpa Shetty Kundra that can help you to flaunt on your next occasion. Now, here it is-
SHILPA SHETTY'S BEST FASHION LOOKS
Pink Brocade Saree with Embellished Multi Color Choker
In Kshitij Jalori design, Shilpa Shetty embraces her beauty with Indian traditional wear pink brocade saree. This Shilpa Shetty Fashion Style features a maroon velvet jacket and embellished choker where she looks amazing!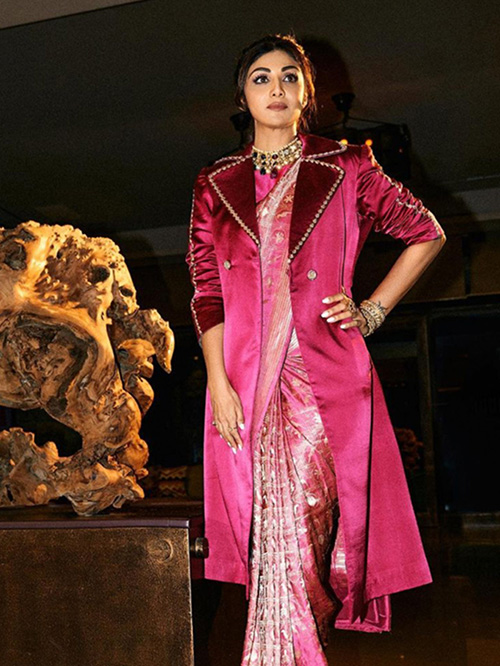 Source: hauterrfly.com
Red Long Blazer Set
Here Shilpa wears the fabulous design by World of Asra. A long blood red colored Blazer with matched pants giving her a bold look.
Source: Twitter
Multicolour Collared Neck Gown
Collar neck with full sleeve gown dress a perfect wear for winter wedding party. Along with light makeup and minimum jewellery can add extra shine in it.
Source: News 18
Bandhini Jumpsuit
This red jumpsuit which is designed by Nupur Kanoi looks fantastic with Bandhani printing. Best for a day or house party in winters.
Source: Instagram
Striped Pyjama with Coat
This fashion look for Shilpa Shetty is quite unique and different. With black body top or tank top these strips are refined beautifully.
Source: Gulte
SHILPA SHETTY'S MOST TRENDY MAKEUP LOOKS
SMOKEY EYE MAKEUP LOOK
This Smokey eye makeup look is best for a night wedding or evening party look. High contouring eyeshadow with bold eyeliner gives you a high contrast look. She did style her look with a green base. It can be best for a theme look. Her eye makeup always comes with a bold smokey look.
Source: Prokerala
TONING WITH MAKEUP
Shilpa Shetty always tries to make sure that her skin colour should be equal from face to body. Her makeup is always in an even tone, whether you see her face, neck area or hands. Do not forget to use contouring and highlight your skin spot.
Source: Gethu Cinema
SHILPA'S LOVE FOR BLOW DRY
As we all know, Shilpa Shetty's hair is very beautiful and thick. Although she grooms her hair according to every style or requirement, she has such a hairstyle which is often seen. Her favourite hairstyle is blow dry hairstyle, in which her hair looks more voluminous. Also she loves to keep experimenting with her crowning glory.
Source: Her Zindagi
CONTRASTING COLOURS
If you are a big fan of Shilpa Shetty Kundra then you must have knowledge of her dressing sense. She chooses her makeup look with the right colour outfit as correct contrast. If she wore a lavender colour outfit then her makeup should be either one shade lighter or two shades darker.
Source: Pinkvilla
REGULAR SKIN CARE ROUTINE
Shilpa Shetty focused on daily nourishment. Also she endorsed skin care brands. Apart from advertising, she teaches some asana and yoga for skin care routine.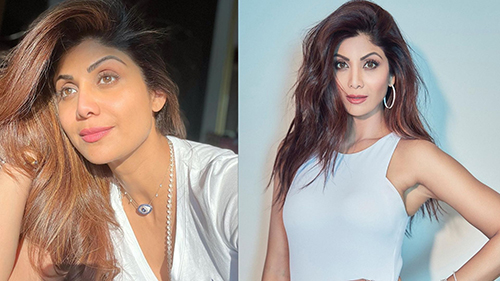 Source: Zee 5
So, now we have shared so many fashion styles and looks of our amazing brand ambassador, Shilpa Shetty Kundra. All these looks are amazing and fantastic. Pickup this blog and start flaunting yourself. Try it out now! In Hunar Online, We are always ready to welcome you on our platform. Learn in your own language. Now that you know how to learn about Shilpa Shetty, fashion style and various looks, now draw all your creativity together and get your vanity ready with these looks for your creativity. Now, Shilpa Shetty Kundra is a new member in the Hunar Online Course family, so you have a chance to get fashion guidance with her. Then why late? Register now and join one of the best fashion styling online courses.
At Hunar Online, you will get access to detailed video lessons and can learn from anywhere. You will get 24/7 faculty support and a chance to learn from the experts in the industry. Also, watch our trial classes and get a glimpse of our courses. You can start learning your favourite course by downloading the app.
So, what are you waiting for? Join Hunar Online Courses and do what you always wanted to do.