Have you ever thought that you can stitch designer clothes like the ones Shilpa Shetty wears? Have you ever thought that you will be able to complete a trendy and technical course like fashion designing, just sitting on the sofa of your home? Yes!
If you are also thinking like this, then let us tell you that now it is possible on Hunar's digital platform. Hunar Online Courses has brought such a course in which you will not only know the style of Bollywood Diva Shilpa Shetty and so many actresses but will also be able to learn how to make them, just sitting at your home. And also it will be certified by Bollywood's famous dress and fashion designer Neeta Lulla.
If we talk about festivals, the name of Indian Wear comes first. It embraces your double look with special charm. Also, Shilpa Shetty inspires us by her looks, fashion sense and fitness. So, embrace your festive style with Celebrity's designer fashion. Along with this, get a chance to learn Bollywood Style Fashion, Illustration, Designing, Baking and many more with Hunar Online Courses.
Here, in this blog we are sharing some fantastic fashion styles for festive looks, inspired by Shilpa Shetty Kundra. Let's have a look-
DHOTI-STYLE SAREE
Now-a-days, after dhoti salwar, Dhoti Saree has become a trend in party occasions. Girls or Women are wearing Dhoti salwar in their desired style. Here are sharing that same dhoti saree look worn by Shilpa Shetty Kundra. Her colour combination of yellow and green enhances her look far better. Also touchup of colourful jewellery completes the look very perfectly. You can also try this look for this Navratri or Wedding Season. Dhoti saree is mainly a wedding or festive outfit. This will be a different yet elegant styling look for all Indian Women and Girls.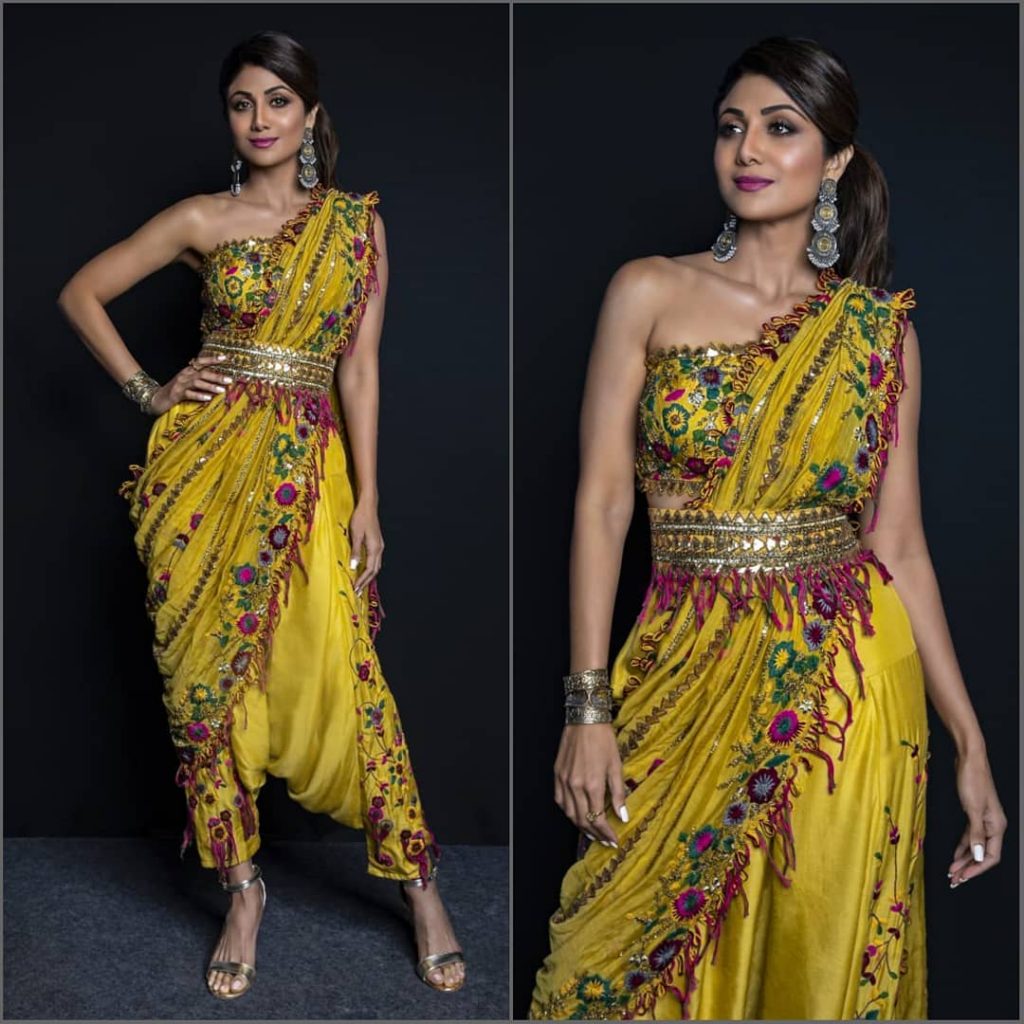 Source: G3fashion
ANARKALI GOWN
Anarkali Gown or Anarkali Dress is known for royal fashion. It is said that the Anarkali dress originated from Lahore and is considered a royal outfit since the time of the Mughals. A long one set dress with so many kalees at the bottom. If we talk about Shilpa Shetty, she looks fabulous in a beige golden Anarkali gown. Along with simple jewellery, you can adopt this look for this upcoming festival or occasions.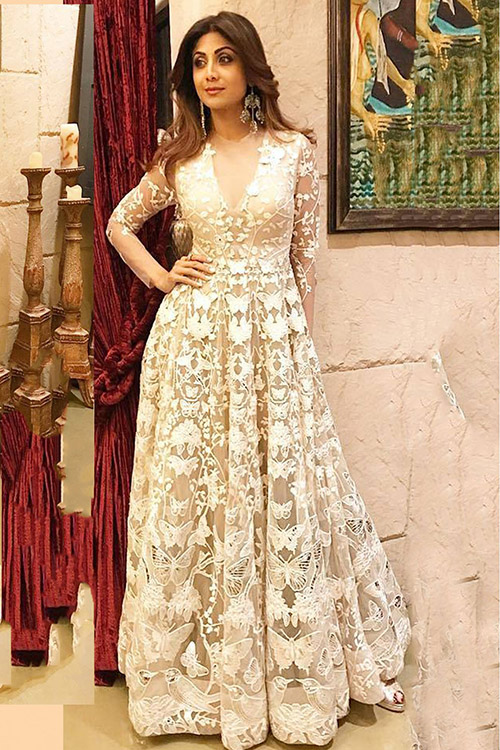 Source: ninecolours
GLAM SEQUIN SAREE
A sequin saree is perfect for party night. Sequin is made with the help of plastic and metals. You can see many Bollywood actresses wearing sequin saree for parties or award functions. Sequin is a different type of fabric. In an earlier period of the Middle East, people used it to make purses, shoes and bags and all to add extra shine and a rich look. Time passes and now it is used for saree, dress and other garments. If you see, Shilpa Shetty looks tremendously awesome in a dark maroon sequin saree. You can also try this for the wedding guest look.
Source: abplive
DAZZLING DOUBLE FABRIC SAREE
Last but not least is Shilpa Shetty's Dazzling look in Double fabric contrast saree. This can be a good choice for office wear. Nowadays, stripes prints are in trend and also look classy. Try this look for casual wear as well as a day party. This saree will go for Mehndi, Haldi and Day festivals.
Source: NDTV.com
HUNAR FASHION DESIGNING COURSE
Hunar Online Course Platform provides a detailed course for fashion or dress designing courses. Here you can learn different types of courses as per your choices. Below are the courses that are really helpful for built a career in Fashion Designing:-
Garment Making– Learn Bollywood Style fashion garments with our fashion designing classes. It consists of Indian festive wear, Saree Blouse Making, Casual wear, baby wear, kids wear etc.
Styling- This section includes fashion styling studies regarding trendy fashion and creating looks.
Fashion Illustration– This course is related to Wedding wear, women clothing, Indo western clothing and creating fashion styles with digital illustration.
Boutique Management– If you want to establish your own fashion studio, then this course will help you to learn management and startup skills.
Embroidery– In this fashion designing classes, our experts will guide you about various stitching like, patchwork, hand stitching, crochet, quilting etc.
Apart from the above, there are many ways to learn the latest fashion at your home, in a couple of months. Hunar Online Course offering courses in Fashion Designing. We are always ready to welcome you to our platform. Learn in your language. Now that you know how to learn about the latest fashion saree at home, draw all your creativity together and colour them on the pages of your wardrobe.
At Hunar Online, you will get access to detailed video lessons and can learn from anywhere. You will get 24/7 faculty support and a chance to learn from the experts in the industry. Also, watch our trial classes and get a glimpse of our courses. You can start learning your favourite course by downloading the app. So, what are you waiting for? Join Hunar Online Classes and do what you always wanted to do.