A saree is a traditional garment worn by women in India, Bangladesh, and other parts of South Asia. It is a long piece of cloth that is wrapped around the waist and draped over one shoulder. Sarees can be made from a variety of fabrics, such as silk, cotton, and chiffon, and can be adorned with intricate embroidery, beadwork, and other embellishments. Saree fashion is a popular and timeless style that is worn by women of all ages and can be dressed up or down depending on the occasion. A saree, also spelled sari, is a traditional garment worn by women in India, Bangladesh, Nepal, Pakistan, and Sri Lanka. It is a long piece of cloth, usually around 5 to 9 yards in length, that is wrapped around the waist and draped over the shoulder. The saree is often paired with a blouse, which covers the upper body, and a petticoat, which is worn underneath to provide support for the saree. Sarees are available in a wide variety of fabrics, colours, and designs, and are considered a versatile and elegant clothing item that can be worn for both casual and formal occasions.
Best Silk Sarees Recommendations from Experts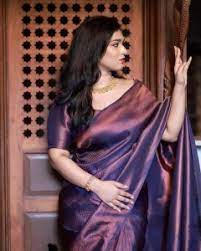 Source: Flipkart
Nowadays, Silk is a trend in the latest saree fashion. These days celebrities also flaunt them in a different type of silk attire. Explore Silk in the way you want to embrace it.
Embracing Embroidery Saree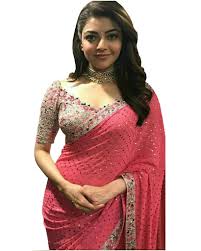 Source: Sulbha Fashion
Embroidery has a different side in the latest saree fashion. It's always in huge demand at festivals, special occasions, wedding celebrations, and so on. Two types of embroidery can be seen generally, like handloom and printed.
Fancy Floral Prints
Source: Junction Store
Floral Prints are evergreen. If you don't have a specific choice of saree, you can go for a floral.
New Net Sarees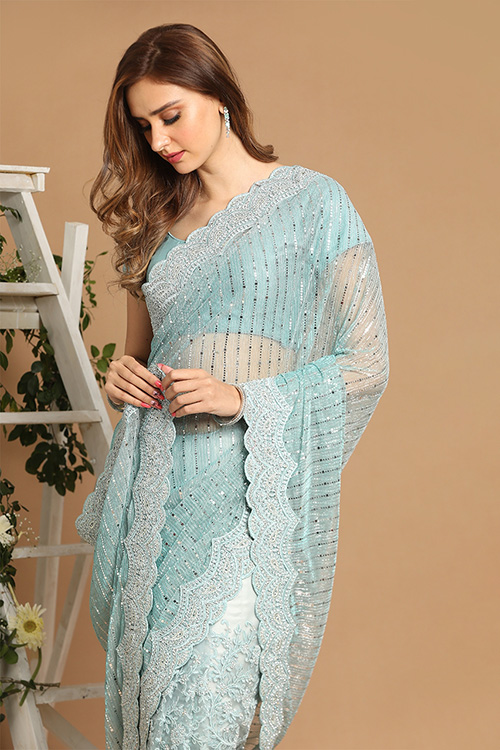 Source: Manyavar
The market is full of Net fabric and net prints. You can explore online or offline as per your comfort. You can take help from any fashion stylist. Net fabrics are easy to carry and you can flaunt yourself with the latest saree fashion.
HUNAR ONLINE FASHION DESIGNING COURSE
Hunar Online Platform provides a detailed course for fashion designing classes. Here you can learn different types of courses as per your choice. Below are the courses that are helpful for building a career in Fashion Designing. A high career needs perfection and experience. Also, you can flaunt your creativity yourself by online and offline together. We are providing courses regarding fashion and fabric designing and these are
Garment Making- Learn Bollywood Style fashion garments with our fashion designing classes. It consists of Indian festive wear, Saree Blouse Making, Casual wear, baby wear, kids wear, etc.
Fashion Styling- Some embroidery courses also cover topics such as pattern making, design, and colour theory. These courses can be taken in-person or online and can be found at community colleges, adult education centres, craft stores, and online learning platforms. This section includes fashion styling studies regarding trendy fashion and creating looks.
Fashion Illustration- This course is related to Wedding wear, women's clothing, Indo-western clothing, and creating fashion styles with digital illustration.
Boutique Management- If you want to establish your fashion studio, then this course will help you with management and startup skills.
Embroidery- Embroidery courses are classes or lessons that teach the art and craft of decorating fabric or clothing using a needle and thread. These courses can range from beginner to advanced level and can cover various techniques such as hand embroidery, machine embroidery, and cross-stitching. In this fashion designing class, our experts will guide you about various stitching like patchwork, hand stitching, crochet, quilting, etc.
Apart from the above, there are so many ways to learn the latest saree fashion at home, in a couple of months. We are always ready to welcome you to our platform. Learn in your language. Now that you know how to learn about the latest fashion saree at home, draw all your creativity together and colour them on the pages of your wardrobe.
At Hunar Online, you will get access to detailed video lessons and can learn from anywhere. You will get 24/7 faculty support and a chance to learn from the experts in the industry. Also, You can watch our trial classes and get a glimpse of our courses. You can start learning your favourite course by downloading the app.
So, what are you waiting for? Join Hunar Online Courses and do what you always wanted to do.