Fabric Painting is an art of designing. Style your saree with graceful fabric painting designs with Hunar Online. Here in this blog, you will see different types of fabric paintings prevalent in India, which you will get to see in the design of saree. Let's talk about fabric design painting-
JAIN PATAS
"Jain Vastralaya" takes you to a wealth of material drawn on large fabrics and papers. The earliest illuminated Jain manuscripts are written and painted on prepared palm leaves and bound with strings threaded through holes in the leaves. They are often decorated with religious or historical themes. Book covers were also made in the later century.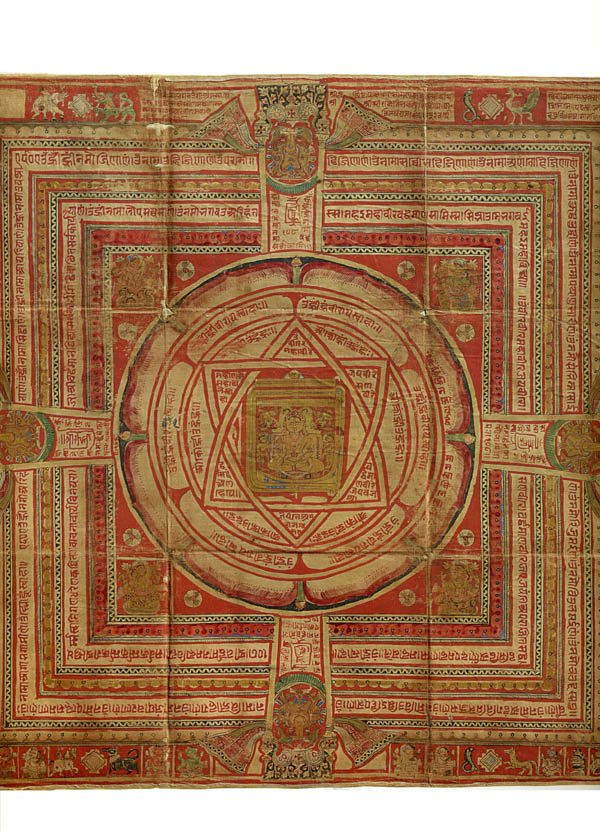 Source: Exotic India Art
KALAMKARI
Kalamkari is known for its magical form of narration that creates an aura that heals the individual physically and mentally. Andhra Pradesh is famous everywhere for this art form. The main forms are Srikalahasti in Chittoor district and Machilipatnam Kalamkari in Krishna district. These fabric paintings are designed by hand painting only. Only natural dyes and ancient styles of painting are used. It is done only on silk or cotton fabric with tamarind pen. From bleaching, dying to cleaning, fixing, there are a total 23 steps involved in it. Kalamkari represents motifs such as peacocks, plants, and illustrations from Hindu epics such as Ramayana and Mahabharata.
Source: India Mart
MADHUBANI
Madhubani painting is related to Bihar. Initially, it was made like Rangoli but gradually this art turned into a painting. Earlier these ciphers were made by women, but now it has become a source of income for men as well. It is said that in ancient times, King Janak built it in the marriage of his daughter Goddess Sita and Lord Shri Ramchandra. Since then, art started here. In Madhubani painting only thick colours are used, like red, green, blue etc. The specialty of these colours is that they are made naturally or are used in the same way. It includes turmeric, milk, leaves etc.
Source: Exporters India
PATTACHITRA
Pattachitra is a special type of art that is traditionally done in Odisha. Patta means cloth. It is a type of scroll painting, which is done in West Bengal as well as some other eastern states of India. Hindu deities are depicted in this painting. Thus, it means that such a painting is made directly on the cloth. Mainly a piece of cloth is colored with natural dyes obtained from various vegetables, stones, clay, etc. The white colour of clams is made through a very difficult process of mashing, boiling, and sifting. Hingla is a mineral used to make red paint. The black colour is obtained by burning puranga oil in lamps or by burning coconut shells, and the green colour is made from neem leaves.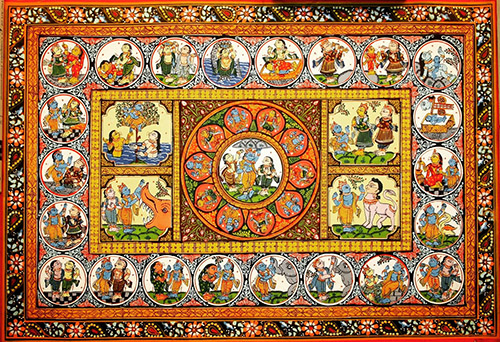 Source: Wikipedia
PICHHWAI
The word Pichwai is derived from Sanskrit. In this, pichh means, back part and wai means trap. Which means, start sewing from the back side. Rajasthan is known for this type of painting or stitching. It is made by dedicating it to Shrinathji. A traditional art form practised in Nathdwara, Rajasthan, pikowai are intricate paintings depicting dramatic scenes from the life of Lord Krishna, usually behind the sanctuary of Shrinaj, his self-expression It is hung Originally, Pitchwai was painted on handmade starched cotton cloth. And the craftsmen painted on the cloth of this star. Decorative and beautiful paintings were painted. The photo is then ready for painting with completely organic and natural dyes, paints, and even natural brushes.
Source: Iteeha
PHADAS
Phadas are large, intricate paintings on cloth or paper depicting Jain philosophy and cosmology.It belongs to Rajasthan State of India.
Source: Paramparik Karigar
ROGHAN
Roghan Paint is made by boiling castor oil for about two days and adding vegetable pigments and binders. The colour obtained is intense and glossy. Painted or printed fabrics are usually dark in colour, which enhances the intense colours. Logan painting is an art form that has been around for 400 years. Said to have originated from the Muslim Katris and practiced only in the Gujarat region, Logan's art is traditionally seen on his wedding dresses and bedspreads.
Source: Gujarat Tourism
As we read about this blog, you now have an idea of fabric painting designs and its styles. If you have skills and want to brush it in embroidery then join us on Hunar Online Courses. Hunar Online Courses offering courses regarding Fabric Designing and Embroidery Designing. We are always ready to welcome you on our platform. Learn in your own language. Now that you know how to learn about Embroidery Designing Course at home, come and join us as soon as possible and grow in your career and life.
At Hunar Online, you will get access to detailed video lessons and can learn from anywhere. You will get 24/7 faculty support and a chance to learn from the experts in the industry. You can also watch our trial classes and get a glimpse of our courses. You can start learning your favourite course by downloading the app.
So, what are you waiting for? Join Hunar Online Courses and do what you always wanted to do.