Phulkari Embroidery is an art and tradition of the Punjab region. It is also found in nearby areas of Punjab and Haryana. In the early period, people used to stitch these embroideries at the time of girl child birth. It was the celebration of womanhood. Also at the time of wedding parents or guardians gave this phulkari embroidery dupatta to the bride as blessings. Not only does it contain designs, but it also highlights the culture of a particular region. We are discussing here the few types and formats about the beautiful styles of Phulkari Embroidery. Read this blog till the end to know more about this embroidery.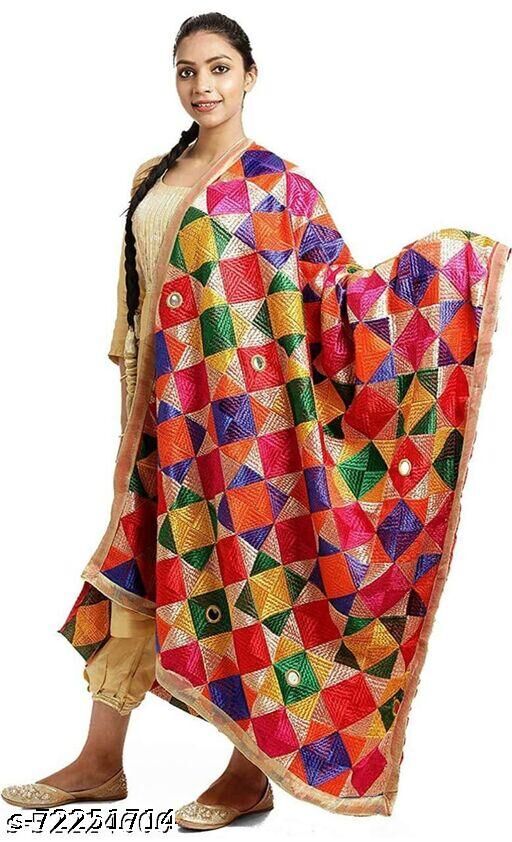 Source: fcity.in
Different Types of Phulkari Embroidery
1.Chope and Subhar
Subhar and Chope both are bridal wear dupatta in Phulkari Embroidery. With triangle patterns, Chope is designed in red and yellow fabric. The Subhar has a central motif and four corner motifs.
2.Bagh
Phulkari has traditionally been made in Punjab both in India and Pakistan. They were part of a woman's dowry and served as a head covering or scarf. They were created by both Muslim and Hindu women. This phulkari is created by Muslims where it uses abstract motifs. The cloth or fabric embroidered with phulkari embroidery are hand-spun khaddar or hand-woven cotton cloth.
3.Ghunghat Bagh
Ghunghat Bagh is a type of Bagh in Phulkari Embroidery but designed with a large triangle. Triangle patterns vary from piece to piece, but are usually geometric. The rest of the Ghunghat Bagh is usually made plain with a border design that matches the triangular design.
4.Darshan Dwar
The large abstracted yellow doors or gates found throughout the body of this phulkari give it its name. Darshan Dwar means the way to God. Devotees gifted these types of phulkari on temples or Gurdwaras as prayers or offerings instead of granting wishes.
5.Sainchi
This phulkari is made of dark blue/black ground and embroidered with abstract flowers and diamond fields. The long edges are lined with figures, animals and chequered borders. The human figure is adorned with jewels embroidered with gold thread – silver is avoided. Scenes in the story depict farming, wrestling, games, and dancing.
6.Neelak
Neelak Phulkari has yellow or bright red embroidery on a black or red background. The colour of phulkari is mixed with metal. Derived from Rawalpindi, the Ghunghat Bagh is embroidered on the central edge and can be worn over the head.
7.Til Patra
As its name says, 'Til', this Phulkari embroidery means spreading of seeds.
8.Chamaas
We have all seen fabrics that are both mirrored and embroidered. This is none other than Chama Phulkari. The mirror is sewn or glued to the fabric and the edges are sewn with yellow or grey thread. You can learn this fascinating embroidery by taking an online course in fashion and textiles designing.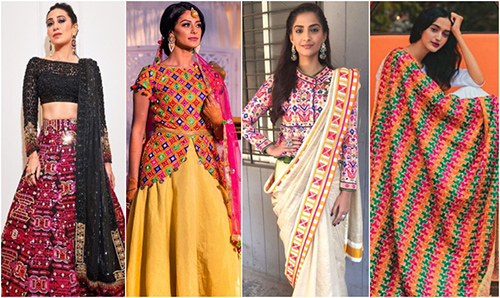 Source: South India Fashion
COURSES OFFERED BY HUNAR ONLINE CLASSES
Embroidery courses develop skills to easily create French knots, spider webs, running stitches, kantha, phulkari, Chikankari, banjara, appliqué and patchwork, smock and ribbon embroidery, and more. Sign up for any course and create your own skill story! Learn how to create different types of beautiful embroidery at home. Embroidery courses offer different types of lessons such as:
Types of Stitching
Indian Stitching
Patchwork Stitching
Western Stitching
Ribbon Stitching
Crochets Stitching
Hand Quilting
As we read about this blog, you now have an idea of Phulkari Embroidery and its styles. If you have skills and want to brush it in embroidery then join us on Hunar Online Courses. Hunar Online Courses offering courses regarding Embroidery Designing and Garment Making. We are always ready to welcome you on our platform. Learn in your own language. Now that you know how to learn about Embroidery Designing Course at home, come and join us as soon as possible and grow in your career and life.
At Hunar Online, you will get access to detailed video lessons and can learn from anywhere. You will get 24/7 faculty support and a chance to learn from the experts in the industry. Also, watch our trial classes and get a glimpse of our courses. You can start learning your favourite course by downloading the app.
Also Read: Know the Various Types of Indian Embroidery
So, what are you waiting for? Join Hunar Online Courses and do what you always wanted to do.