Home is a place where we forget all the things that are burdening us and relax after a long day. So, it is natural that your personal space should give you a relaxing aura and mental peace with the help of home décor. Now-a-days, people are trying to make their home a living paradise. The best way to do so is by adding plants to your home interiors. Plants improve the overall aura of your home and make the surrounding fresh and alive.
It doesn't matter if your home is blessed with tons of square footage, you can easily incorporate some greenery in your home. It adds life to your home and promotes healthy living. Adding plants indoors have many benefits like promoting a positive mood, purifying the air, and makes you feel connected to nature.
Interior designers have brought this concept of indoor plants recently and it is also loved by many people. In the modern days, decorating your home interior with plants has become a fashion trend. When you glance over the internet about the latest plant decorations and ideas to decorate your home interior with plants you can see many fancy plant holders and pots and a variety of plants. The special quality about the plants that are used for interior designing are low maintenance and does not require a lot of caring and pampering. Therefore, you don't need to put in some extra hours to take care of your plants.
There are a variety of plants that are used to decorate the interiors of a house. Now let's look at the different types of plants that you can choose for your home interior.
1. ZZ Plant for Home Décor
ZZ plant is best for decorating your home interior, if you live alone and are a working professional. These plants don't require much attention and care and can grow in a healthy way on their own. This plant requires less water, so it is perfect for you if you tend to forget things. Another best thing about this plant is that it will grow nicely in bright and indirect light, but can thrive in low light as well. If your home doesn't have a space for direct sunlight or a bright spot, then you can put it in any corner with low light. This plant is perfect for your living room as it gives a refreshing aura to the surrounding and it can work as a charm on your guests.
Image Source- Desk Plants
2. Snake Plant
The snake plant is one such plant that does not require constant watering or sunlight. This plant is small in size and also looks stylish. As the name of the plant suggests, the snake plant appears to be like the skin of a snake. One of the main reasons that this plant is popularly used in home interior décor is that it helps in purifying the air. The snake plant removes any toxins that are present in the air. If your home is situated near a street and you feel the air is polluted, you can place this plant in various rooms. A medium sized plant holder can be used to keep these plants at various spots in your home.
3.Golden Pothos
If you have seen a small, lemon green colour plant planted in anyone's house so far, it was probably the golden pothos. This is a mini plant that is becoming very popular for home interior décor. This type of plant is very easily available in any nursery or even a home décor store. The best part about this plant is that it can be placed in an area where there is very low sunlight. You can place these small plants next to your bedroom window or balcony and watch it grow happily. The colour of this plant is extremely fresh to look at and can instantly fix your mood when you walk into the room after having a bad day. This kind of plant can also be placed in your kitchen, if you wish to make your kitchen look more stylish.
4. Dracaena for Home Décor
If you are living a very busy life and at the same time love to have plants around you then dracaena is the best option for you. It is an easy going and low maintenance plant. These plants can easily adapt to different environments and don't require direct sunlight. They can deal with indoor temperatures and different seasons very easily. These plants are incredible and easy to maintain. You can place them in your bedroom or your living room and it will go well with the surroundings.
5. Spider Plant
If you want to give an exotic and jungle vibe to your home then nothing can beat the beauty of a spider plant. These plants don't need direct sunlight but they must be placed in a bright place. They are perfect for rooms that have big windows. It is a natural air purifier and can also be placed in your bedroom. You can gift it to your friends as they can be a nice housewarming gift.
6. English Ivy
The English Ivy is an extremely stylish looking plant that is of small size and is perfect for home interior décor. The only negative about using this plant is that they need bright light and hence can only be placed near a window or a balcony. That being said, this plant is extremely cute, and the leaves have a unique shape. Since the size of this plant is small, you can place them in plant holders and hang them directly next to a window. You can also place this plant in a decorated glass water bottle to make it look even prettier. This plant is sure to catch the attention of visitors and will make your room look clean, green and aesthetic.
Image Source- Pepperfry
7.Peperomia
The peperomia is similar to golden pothos except the fact that it is greener in colour and also denser. These plants are very popular for home interior décor and they come in almost 1000 varieties! The plants do not grow more than 18 inches in size and therefore are perfect for any small space inside of your home.
The best place to keep this plant is on your showcase or tea-table in a way that it can be easily seen as soon as you enter the house. These plants are also very friendly when it comes to children or pets. If you are looking to redecorate your child's bedroom, you can place these plants in your old kid's toy truck. You can also place this plant in small utensils and place them in your kitchen. So, if you are looking to instantly add plants to your home interior décor, then the peperomia is a go-to choice.
Image Source- Gardening Know How
8. Monstera Deliciosa
These are one of the trendiest plants that everybody likes to keep in their homes because of their eye-catching look. During the warmer seasons, you can expect to see a new leaf every week. It is also one of the best plants for the beginners because it can be watered every once or twice a week. You don't need to find a place that receives perfect sunlight, it can be placed in the areas that receive less or indirect sunlight. These plants also help in reducing the pollutants from the air and purify them naturally.
Image Source- Miracle-Gro
You can design the interior of your home by using different planters. If you are a creative person you can also recycle various elements and make beautiful planters for home interior décor. Home interiors also look more serene and bring about a calm mood when you use different shapes and sizes of plants. Incorporating plants in your home interior décor is an idea that will elevate the look of your home at a very affordable price. There are a number of materials which are already available at your home that you can use to create designer plants. These materials will help in refining your home interior décor without having to pay a heavy price. Without going harsh on your pocket, you can create designer pots and planters for your home.
Let's have a look at the different planters and pots that you can create at your home using your creativity.
1.Plastic or Glass Water Bottles
You must have thought at least once in your life about turning an old water bottle to a decorative flower pot. There are many ways to decorate a water bottle and turn it into a beautiful plant holder. Drinking water from old plastic water bottles can be harmful but using these bottles to make beautiful plants for your home is completely harmless. There are many different ways in which you can cut plastic water bottles and plant seeds in them. One way would be to cut out the head of the bottle, fill the bottom half with soil and tie two ropes on the edges so you could hang the plant anywhere.
Another way would be to cut out half a piece of plastic from one edge of the bottle, hold it horizontally and tie two ropes at the head and the bottom of the bottle. You could also paint the bottles with bright designs on the outside to make them look more beautiful. Not just plastic bottles, using old glass bottles for interior gardening is also a great idea for home décor. Glass bottles look more sophisticated and classier when compared to regular plastic bottles. These can be placed near your bedroom or kitchen windows.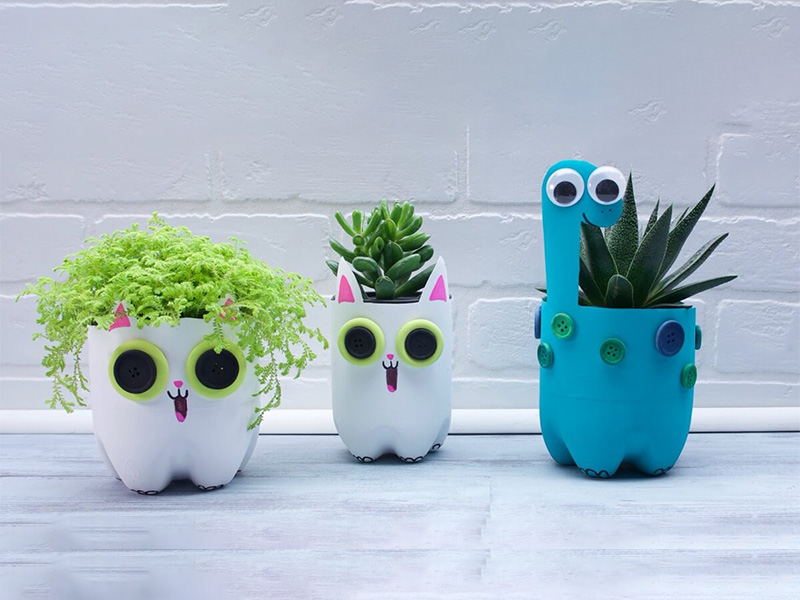 Image Source- Super Simple
2. Décor Your Home with Old Shoes or Heels
This idea may seem a bit weird but the result is fabulous and you can trust the process. Using your old shoes or heels to plant small saplings in another new trend that is being followed for home gardening. Shoes have enough space to fill them with a good amount of soil. You have to make sure that you do not use shoes that are made out of cloth or fabric. Cloth or fabric-based shoes will absorb all water and might make your plant look messy. You can use these shoe plants as elegant showpieces on your shoe stand or even near your bedroom window. You can plant creepers like money plants in these old shoes and they will keep growing for a long time.
3. Aluminum Utensils or Metal Pots
With the changing trends, people have switched to stainless steel cooking pots and utensils and the other post and utensils are just lying in the storage somewhere. You can now use these old utensils and convert them into perfect antique looking pots for your interior home décor. Aluminum utensils have an old and rustic look and can make the best alternative pots for your home style gardening.
Old metal utensils are strong and can also be used to plant medium size saplings or any small flower bearing plants. You can use these old metal utensils to plant seeds like coriander, curry leaves and green chili. These plants will not only serve as beautiful décor for your home interior, they will also be a source of fresh produce that you can use while cooking! You can place these plants near your kitchen window or in your kitchen balcony, if you have one.
4.Old Coffee Mugs and Cups
Using old coffee mugs to plant your seedlings is the best home décor idea if you are looking to redecorate your kitchen. These mugs are strong and durable and can hold enough soil in them. If you are planning to replace your old coffee mugs, don't discard them, use them to create a mini plant corner in your kitchen instead. You can also paint these cups using acrylic colors to add more colors to your kitchen.
Try and use different patterns like polka dots or line designs for different mugs to create a contrast. You can use mustard seeds, fenugreek (methi) seeds or any other small seeds that will grow easily and also will not require a lot of sunlight or water to grow. You can also plant air plants in these mugs. Air plants are the type of plants that do not need any soil to survive and are exclusively used in home interior design.
5. Kids Old Toys for Home Décor
Using old kids toys like cars and trucks is another great home interior décor idea. Planting these toys is not only easy but it also looks extremely cute. Keep in mind that these toys can only hold extremely small saplings and planting bigger plants in them would be a huge blunder. Since these toys are light and small, they cannot hold a lot of soil and also won't be able to withstand too much weight. If you have kids at home this is the perfect home interior plant that can be used to decorate your kids' room. You can put these toy planters on your showcase or in your balcony beside your regular pots. These little planters will surely attract some attention whenever you have any guests coming over to your house.
Image Source- hello, Wonderful
People assume that Interior Designing is very tough but that is not true. To master this skill, you just need to be consistent. Hunar Online Courses offers a course where you can learn home decor and use your creative skills and create beautiful home interiors. You can enrol in our online courses. It has easy video classes which are accessible every time and you can learn from anywhere. You also get 24/7 faculty support which will help you clear your doubts.
So, what are you waiting for? Join Hunar Online's course and start learning to create beautiful home interiors from the best in this industry! Enrol now to start your journey towards a successful career!