Simple Makeup for a Party is better than carrying heavy makeup. If you love to do makeup and want to know a simple tutorial for party makeup, then this blog is for you. Makeup is the art of enhancing your beauty and making you shine. You may not be able to go to the salon because you may not have time to go to the makeup studio or call the makeup artist. In Hunar App, you will learn various makeup and skin care routines. This course contains Bridal Makeup, Party Makeup, Office looks, Casual Makeup Looks, Light Makeup Looks, Daily Looks and so much more. Let's start doing simple makeup for party
Things you will need in Simple Party Makeup
Moisturiser
Face Primer
CC or BB Cream
Foundation
Concealer
Face Powder
Mascara
Eyeliner
Eyebrow Pencil
Kajal or Kohl
Blush
Lip Balm
Lipstick that matched with your outfit.
Different types and sizes of Makeup Brush
Makeup Blender
Follow these Steps to get ready with Simple Makeup for Party
Apply moisturiser to clean your face.
Always try to use a light moisturiser. For oily skin, use a gel-based moisturiser.
Absorbs quickly and provides a clean, smooth base.
Apply a foundation that matches your skin tone. If you're not sure, choose a foundation with a lighter shade.
Use your fingers to blend onto cheeks, nose, forehead and chin.
Grab your concealer and blender and blend well. Think outside and inside corners.
Always apply concealer from upside to downside, as in a triangular shape.
Take a Face Powder and spread it with a large powder brush.
It will give you a perfect shine.
Start putting eyeshadow with a flat eye brush.
Set a thin layer of translucent powder.
Lift the upper eyelid with one hand and apply while looking in the mirror with the other hand.
Curl your lashes upward. From down to up. It is necessary for looking graceful eyeliner.
Point the tip of the brush toward the outer corner of the eye and apply to the upper and lower eyelashes. A single coat is enough for this look.
Now turn for Blush.
Use loose powder and Dab the blush and blend upwards toward the edges.
Try cream blush for a natural glow that blends easily.
Now the final step of lip makeup.
Apply a thin layer of lip balm.
Extra Tips from our side
Keep these tips in my mind while doing simple makeup for party
Never Use Expired Makeup Products.
Update Your Palette with Trending Colours.
Keep Your Makeup Palette Always Neat and Clean.
Customised Your Makeup Kit as per Your Client's Requirement.
Always Buy only Branded and Herbal Makeup Products.
Never try to copy any specific and famous makeup artist.
Always apply makeup on a clear skin.
Use face cleanser or face wash, as per your skin choice.
Remove your makeup every time before going to bed.
Never wash your face with hot water.
Always keep in mind to moisturise your lips every day.
Don't be harsh on your skin.
Hydrate Your Skin with water.
PARTY MAKEUP COURSE BY HUNAR ONLINE
Hunar Online Courses are providing, all in one makeup artist and beautician courses. Here you can learn all types of makeup and new skills. It will not only give new skills in your resume but also provide you with a government recognized certificate. Among these, we are also offering short term online courses in Makeup. Our experts are always ready to provide comprehensive support. You'll have access to the nation's best-choice experts who will guide you through everything from the intricacies of party makeup, to how to prepare and present in a very rigorous manner. If you have any problems or questions, it is always available to our experts.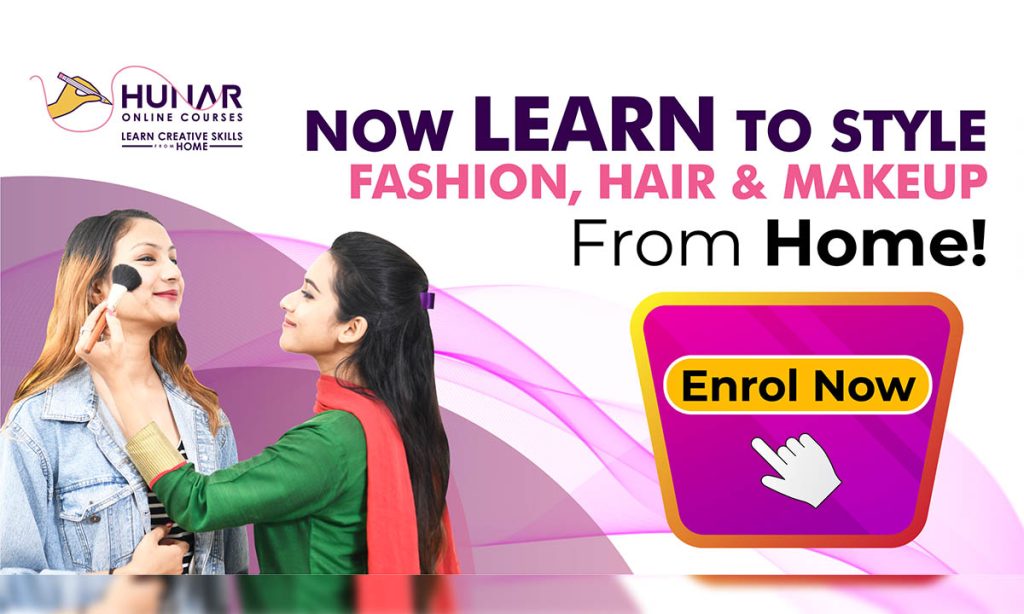 After reading this blog, you can flaunt yourself as a party star and also can choose your career in the flow you want. Apart from the above, our online party makeup course has lots of simple makeup for party and professional at-home makeup course lessons. We are always ready to welcome you to our platform. Learn in your own language. Now that you know how to learn at home through professional makeup courses, join us as soon as possible to start growing your career and life.
Also Read: PARTY MAKEUP: TIPS AND TRICKS
At Hunar Online, you will get access to detailed video lessons and can learn from anywhere. You will get 24/7 faculty support and a chance to learn from the experts in the industry. You can also watch our trial classes and get a glimpse of our courses. You can start learning your favourite course by downloading the app. So, what are you waiting for? Join Hunar Online Courses and do what you always wanted to do.