The season of weddings and festivals is almost here and the one thing that is always a part of this is 'jewellery'! The thing to keep in mind about the jewellery in the festive season is- latest jewellery trends. Be it clothing or jewellery, fashion matters a lot. And if the latest jewellery trends are flaunted along with clothes and accessories, then they add shine to your beauty! In this blog, we have some new and popular jewellery designs, which can give you a unique look and can also help in enhancing your beauty. Let's see what kind of jewellery is trending this year 2022.
Heavy or Colourful Choker
Choker is a short neck piece that comes with a band. It looks modern, beautiful and attractive. A Colourful Choker is a beautiful necklace with a combination of colours. These days colourful and heavy chokers are quite famous for occasions. It is available with all type of metals like, kundan, diamond, silver, gold, etc. It can be worn with any garment. It looks attractive and it is also easy to wear around the neck. Also, its maintenance is easy.
Source: Pink Villa
Chandelier Earrings
Chandelier Earrings are long, dangling earrings, usually studded with gems, crystals, pearls, etc. This earring has always been in trend. There are many styles available in this. It is beautiful, shiny and dense to look at. Women like to wear it on any special occasion or festival. It has many types like, Boho, Vintage, Swarovski, etc. The length of this type of earring is generally from the ear hole to the shoulder and is found in different designs. There are many variations in these. These will be easily visible in the market including traditional, desi, contemporary and modern styles.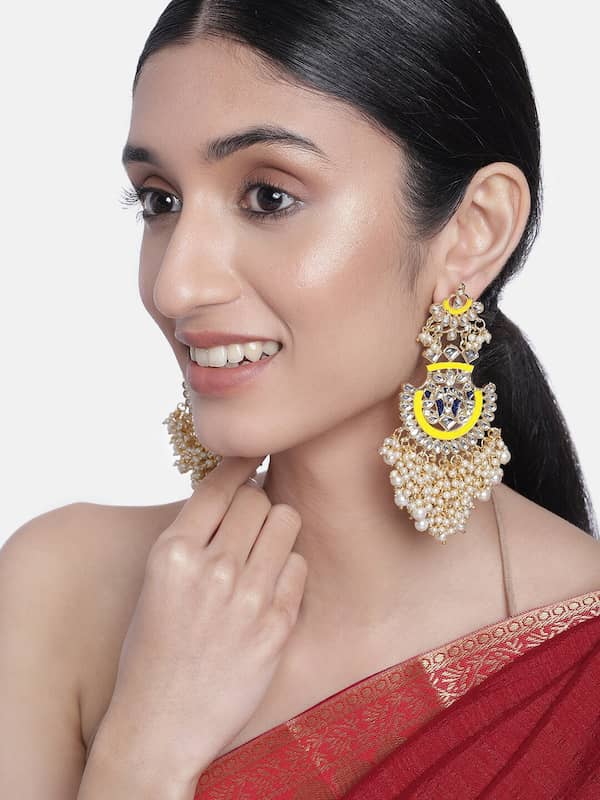 Source: Myntra
Jadau Necklace
All jadau jewellery is decorated with Meenakari work on the back. A full jewellery set may take about 2-3 months. Jadau jewellery is ONLY made in pure gold, 22k or nothing more and nothing less. And that also makes it a pretty expensive form of jewellery. The name Jadau is derived from the colloquial word "jad", meaning combination. It is commonly used with Kundan, Polki and Meenakari jewellery. The jewellery design is done by a special group of craftsmen called chiterias, with the carving and use of different types of gold, done by the watch.
Source: Pinterest
Bold Rings
The ring is a beautiful jewel, which is worn on the fingers. It is a kind of ring that is tied in a circle around one finger. As far as the bold ring is concerned, it has been a part of the ancient tradition of India. It is also known as the Rajput Ring. This is a big size ring studded with stones and gems, which was earlier worn by the king and queen. Nowadays, brides use it in marriage or any ceremony.
Source: fcity.in
Peshwai Nath-
Peshwai Jewelries has been a part of the Maratha Empire. Peshwai Nath is a kind of Maharashtrian jewel, but nowadays people from all walks of life like to wear it. Its shape is like a bow, to which a thorn is attached. This Nath is also found in artificial jewellery including gold, and silver. Nowadays this Nath is in fashion and women wear it on any occasion. This trend has increased with some Bollywood films. Priyanka Chopra wore it in Bajirao Mastani, after that Nath came into the discussion.
Source: inchemco.vn
HUNAR ONLINE JEWELLERY DESIGNING COURSE
Perfection needs practice, and Practice needs guidance. Without guidance it is quite difficult to enhance your skills and beat your competitor. In Hunar Courses, we are providing a full course regarding Handmade Jewellery Design. Here, in our online platform of Hunar Courses, you will find an option to choose in between short time courses and full time courses.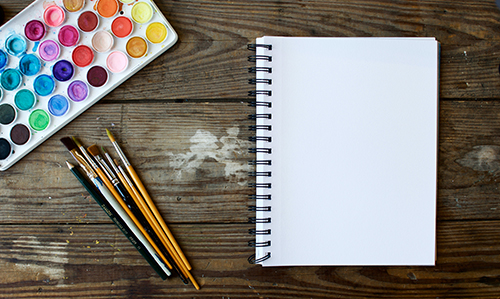 BECOME A JEWELLERY DESIGNER
Now-a-days, the latest jewellery trends designing has a separate career.There are so many opportunities in the latest jewellery trends. Professional stylists get highly paid by the employer. So many big brands are hiring jewellery stylists for their brand's marketing and advertising. This can give you a highly paid employment in a reputable firm. High career needs perfection and experience. Also, you can flaunt your creativity yourself by online and offline together. You can own your Jewellery Shop or start your Handmade Jewellery Design Studio or get a job in any designing institute.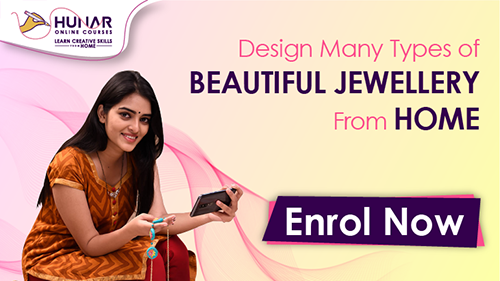 Apart from the above, there are many ways to learn the latest jewellery trends at your home, in a couple of months. Hunar Online Courses offers Jewellery Designing Courses at home. We are always ready to welcome you to our platform. Learn in your language. Now that you know how to learn about the latest jewellery trends at home, draw all your creativity together and colour them on the pages of your wardrobe.
At Hunar Online, you will get access to detailed video lessons and can learn from anywhere. You will get 24/7 faculty support and a chance to learn from the experts in the industry. Also, watch our trial classes and get a glimpse of our courses. You can start learning your favourite course by downloading the app.
So, what are you waiting for? Join Hunar Online Courses and do what you always wanted to do.