India is known for its amazing jewellery designs all around the world. Because of the rich culture and heritage, Indian designs are loved by people no matter where they come from. Jewellery designing in India is practiced in different states and varies vastly from one state to another. People from different parts of the country are used to their traditional jewellery and will always pass it on from one generation to another. North Indian jewellery is very famous among all of India and is used for all festive occasions.
North Indian jewellery designing is heavily inspired by the Mughals and the styles that they introduced in our country. North Indian jewellery designing is practiced more prominently in the states of Rajasthan, UP, Gujarat and also Madhya Pradesh. Most of the jewellery designs are inspired by the royal jewellery that was worn by the Kings and Queens when they ruled this part of the country. Indians love to live life king size, which is also how they like their jewellery. Jewellery designing in the North is typically heavy. Let us take a look at some types of jewellery pieces and types of jewellery designs that come from North India.
Image Source: Times of India
Types of Jewellery Worn in North India
1.The Maang Tika
This is one jewellery piece that is worn in almost all parts of North India. It is worn to adorn your forehead and makes one look absolutely stunning. The culture of wearing a maang tika is more important in the north when compared to the south. Jewellery designing of maang tikas can be heavy, with a lot of embedded jewels or also light and delicate. Maang tikas are generally worn along the hair partition of a woman.
2.Nose Rings
Especially in the state of Rajasthan, nose rings are a big hit. Although this type of jewellery is worn almost everywhere, North Indians like to keep it huge and grand. There are a few women who wear permanent nose rings in the form of little stones. When worn for special occasions such as weddings or festivals, nose rings are big and come in many different varieties.
3.Jhumkas
Jhumkas cannot be seen as any other type of earring because they have a unique jewellery designing involved. From the olden days, the designs of jhumkas have evolved a lot. Women love to own different pairs of jhumkas and flaunt them on a daily basis. The jhumka culture is more prominent in the North when compared to the lower part of India. The best jhumkas can be found in Gujarat, UP and also Delhi.
4.Kangan
Kangans can be seen as bangles but there is a difference between the two, while bangles are usually delicate and thin, kangans are very thick and are heavily adorned with stones and jewels. Kangans are considered to be extremely auspicious for women. The jewellery designing of a pair of Kangans varies from one state to another. People who often travel to the North, buy their Kangans from there to keep their jewellery wardrobe updated.
Types of Jewellery Designs Famous in North India
1.Jadau
The word Jadau means implant. Just like the name suggests, this type of jewellery designing is where stones and pearls are implanted deep inside the metal. There is a heavy use of different kinds of pearls and colourful stones when it comes to the jadau type of jewellery. The Mughals wore this type of jewellery very commonly and this is what inspired the Indian culture to adopt it and make it a part of our own. The Jadau jewellery type can still be seen very commonly among some of the royal families that live in North India even today.
Image Source: zevaremporium.com
2.Kundan
Kundan jewellery is the most famous type of Indian jewellery known all across the world. The jewellery designing used in Kundan jewellery is very simple but the patterns are what make it look extremely magnificent. Kundans are nothing but colourful stones that are placed intricately on finished jewellery pieces to give them a complete look. You can see Kundan jewellery being made with pure metals like gold and also with other artificial metals. The states of Rajasthan and UP are very well known for the type of Kundan jewellery available there.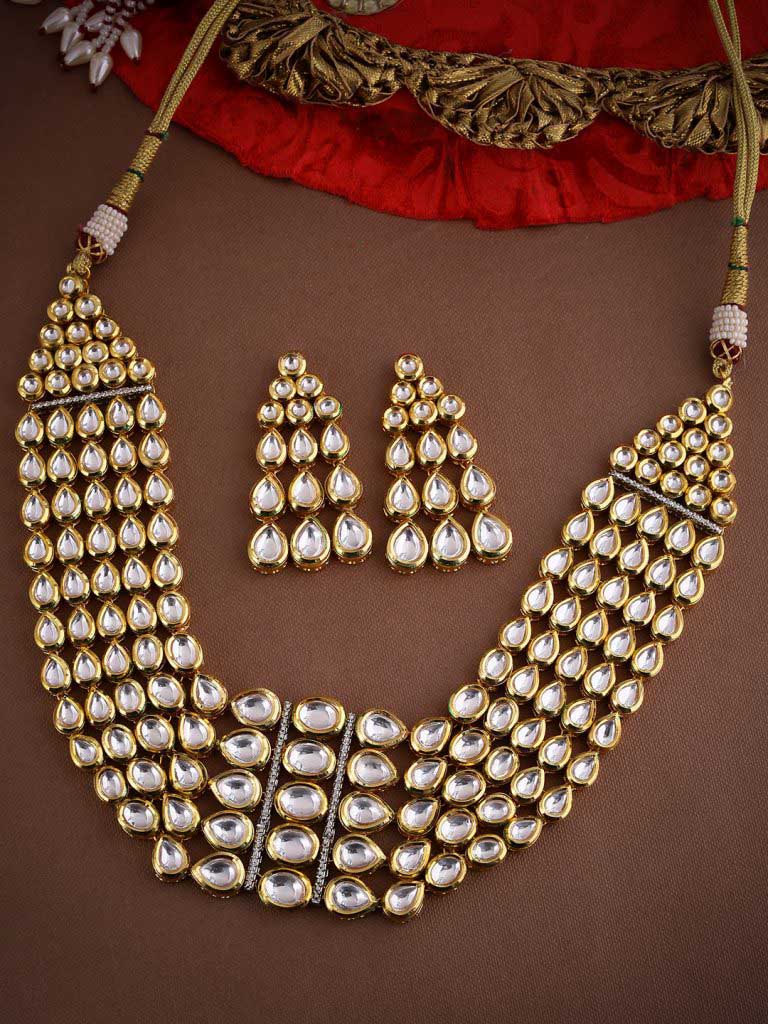 Image Source: Jewellerypedia
3.Meenakari
Raja Maan Singh of Jaipur is the reason that Meenakari jewellery designing was made popular in the country. Coming from the state of Rajasthan, this type of jewellery designing is very intricate and involves creating beautiful patterns. North Indian brides love to wear this style of jewellery for their wedding because it is known to give a royal look. Meenakari jewellery is mostly heavy and adorned with a lot of colourful stones. Many people travel to the state of Rajasthan just to buy this type of jewellery and add it to their jewellery collection.
Image Source: amazon.in
If you are someone who has a deep love for Indian jewellery and want to learn how to design or make it, you can join a jewellery designing course. At Hunar Online Courses we provide certified jewellery making and jewellery designing courses. You can learn how to make different types of jewellery such as gold, rose-gold and also diamond. With the help of this course, you can prepare yourself to build a career in the field of jewellery making which is very popular these days. Hunar Online Courses is a platform that offers a wide range of courses in the field of fashion designing and has enabled many women across India to start their own business. At Hunar Online, you will get access to detailed video lessons and can learn from anywhere. You will get 24/7 faculty support and a chance to learn from the experts of the industry.
So, what are you waiting for? Join Hunar Online Courses and start paving a new path to your career.