Fit & Stylish Bollywood Diva, Shilpa Shetty gives all of us major fitness goals but apart from her fitness, her beauty has also attracted many hearts. Hunar Online Courses offering different types of makeup training courses. Here, we are sharing seven makeup looks inspired by Shilpa Shetty. You can also try for yourself and get a radiant look in a celebrity style.
Basic & Natural Makeup Look
Shilpa Shetty shared her natural makeup look on her Instagram profile post. If you are searching for a simple makeup look, then here is the answer. Her no makeup look is best for a festival look. Dark pink lipstick with tinted cheeks adding a natural glow on her face. Broad eyebrow gives a beautiful face look. For this type of Shilpa Shetty Looks, you need these following makeup products for natural makeup look-
Face Primer
CC or BB Cream
Face Powder
Mascara
Eyeliner
Eyebrow Pencil
Lipstick that matched with your outfit.
Source: Instagram
Bold Eyeliner With a High Ponytail
This makeup look is best for a night party or your Saturday night party look. High contouring with bold eyeliner gives you a high contrast look. She did style her look with a green base. It can be best for the theme look. She wore a green dress with a leaf style neck styled with green earrings and a ring with green gem. You can also adopt this look. Also you have options to choose your eyeshadow palette with black, blue or as per your apparel colour. You can use dark red shade lipstick with bold eyeliner for a dramatic look. You also adopt her hair style like she made a high ponytail.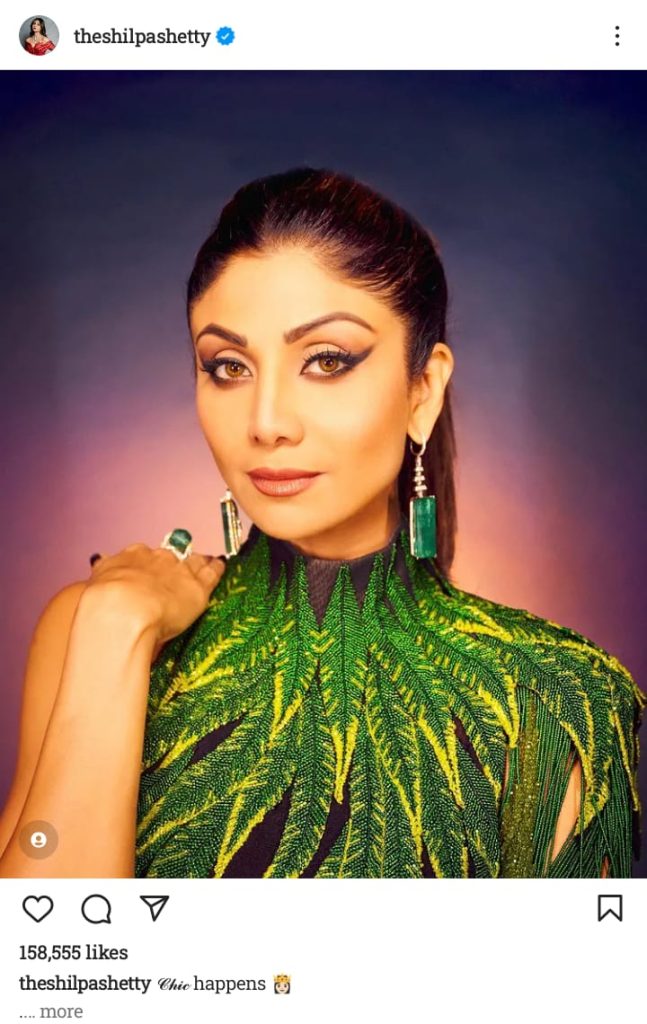 Source: Instagram
Glittery Look with Sparkle Eyeliner
As like Shilpa Shetty, if you also have big eyes, then you can go for sparkled eyeliner. After putting on the two layers of eyeliner, just pump it up your eyelashes. Use a lashes curler and do it for at least 4 to 5 times. Tada! Your eyes are ready to shine. Here, she added a lip colour with fuschia pink. And if you notice, you will see those multicolor eye lines that go with her dress. It can give you an idea that you have an option to choose your eyeshadow palette as per your outfit colour. Apart from her look, you can do a high ponytail or a braid.
Source: Instagram
Winged Eyeliner With Sharp Contouring
Winged eyeliner always exists in makeup trends. They also go well with big eyes. Put a double layer of eyeliner for extra shine. Keep your eyeshadow palette light in colour, as you can see in her looks. Contouring jawline, nose, forehead and cheekbones will give you sharp face features. Contouring is used to provide the right shape or an outline that can go with your face makeup.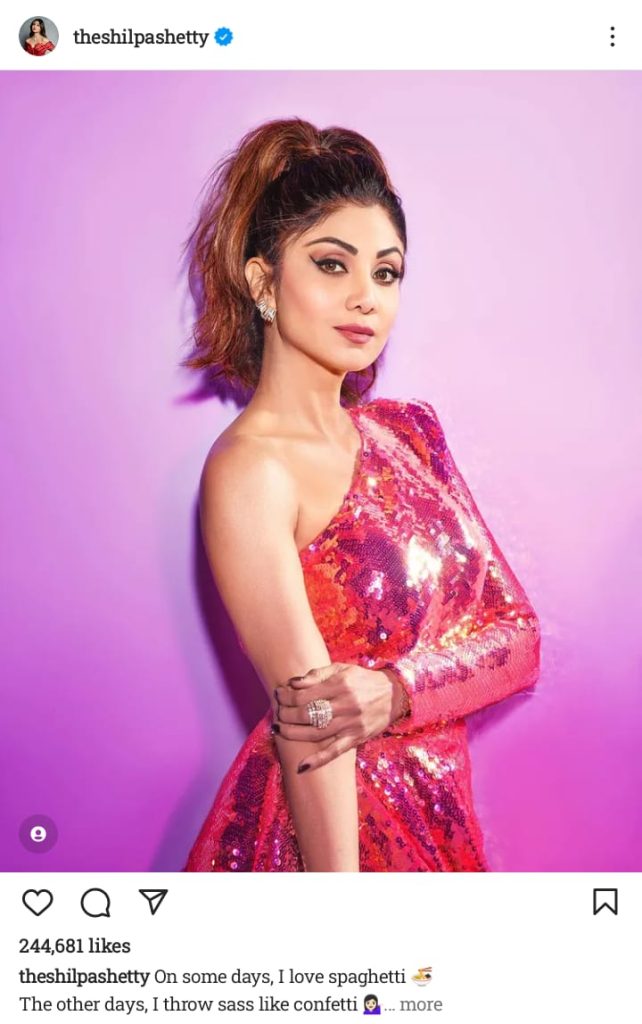 Source: Instagram
Purple Monochrome Look
Shilpa Shetty's complete purple look is so elegant and bold. This monochromatic style is so popular these days. If your full face makeup like eye makeup, lip colour and highlighter all are in the same colour palette, then it will be a monochromatic look. Here, you can see, in her look, from eyeshadow, cheeks to lip colour everything is the same in shade. Purple is a colour of joy and fashion. But sometimes monochrome does not look good, so choose this look wisely and according to the purposes.
Source: Instagram
All Red Makeup Look
Wearing red lipstick with the red dress may be a classic combination, but you've got to be confident to pull it off. If you're preparing for a nighttime party, you'll go along with this bold look. Start with a foundation base and use a really light blush on the apples of your cheeks. You'll do your eyes with bold eyeliner. Don't put on dark eyeshadow. Wear the identical red lipstick, as your dress or a minimum of the same family and warmth. Add it with a lip gloss.
Source: Instagram
Classic Bollywood Makeup Look
This can go well with a professional look. Combination of red and black is an evergreen combo. Either it's about your outfit, your makeup or your looks, no one can beat this combo. For this makeup look, always use a dark shade of red lipstick. As you can choose between apple red, carmine red or bright red. Like her, a tight hair upside down bun can give your face a broad or bold look.
Source: News18
So, now we have shared so many makeup looks of B-Town Actress Shilpa Shetty. Pickup this blog and start flaunting yourself. In Hunar Online, We are always ready to welcome you on our platform. Learn in your own language. Now that you know how to learn about Shilpa Shetty's various looks, now draw all your creativity together and get your vanity ready with these looks for your creativity.
At Hunar Online, you will get access to detailed video lessons and can learn from anywhere. You will get 24/7 faculty support and a chance to learn from the experts in the industry. Also watch our trial classes and get a glimpse of our courses. You can start learning your favourite course by downloading the app.
So, what are you waiting for? Join Hunar Online Courses and do what you always wanted to do.