What a glorious age to live in and with a certified makeup artist course, you will see exactly why.
Some certified makeup artist courses that students can consider pursuing are:
B.A in Makeup and Hair Design
B.A in Hair, Makeup and Prosthetics for Performance
Certificate in Fashion Stylist and Communication
Diploma in Fashion Stylist and Communication
Master of Arts in Fashion Styling, Photography and Film
Master of Arts in Creative Direction for Fashion and Beauty
Bachelor of Fine Arts
Professional Makeup Artist Certificate Courses – India
To become a professional makeup artist in India, students can consider pursuing professional makeup artist certificate courses from the top colleges in India or opt for an online course like the one offered by Hunar Online and learn from home, anytime and anywhere!
Makeup for Large Pores
Many women have large pores over their entire face or are commonly concentrated on a certain facial area such as the cheeks, chin, nose or forehead. It is essential to keep a good skincare routine including cleansing, toning, exfoliating and moisturising. Always make sure that you take good care of your skin before making an attempt to cover the problem areas with makeup. Through makeup artist training, you will get to see the magic of makeup that comes into play when even with the most diligent skincare, the pores may still appear to be more noticeable than a woman likes.
Types of Makeup for Large Pores
To minimise the appearance of pores, two common types of makeup are designed: foundations and concealers. Though other makeup products may not be designed for large pores they deliver smooth and significant coverage that downsizes the appearance of the pores.
Pore Concealers
Pore concealers are either obtainable in translucent or coloured formulas to match your skin tone. Several pore concealers work by temporarily filling in the pore cavity, so according to makeup artist training, it is essential to make sure that you clean off your makeup at the end of the day.
1. Concealers like Lakme Absolute White Intense Liquid Concealer and Lakme Absolute White Intense SPF 20 Concealer Stick will leave you spoilt for choice when it comes to concealers for oily skin.
2. Maybelline Dream Mousse Concealer is an oil-free makeup product available in various shades for you to pick one according to your need.
3. Colorbar Full Cover Makeup Stick or Colorbar Full Cover Concealer will provide you full coverage and natural finish while masking imperfections, dark circles and blemishes.
4. Revlon ColorStay Concealer is equipped with time-release technology that balances imperfections and gives flawless looking skin for up to 24 hours.
5. Sugar Cosmetics Magic Wand Waterproof concealer is a reliable product for oily skin as it has a waterproof formula and provides full coverage that lasts for up to 8 hours.
Pore Minimising Foundations
According to professional makeup artist certificate courses, to reduce the appearance of the pores, foundations for large pores are available on the market. An excess of oil causes the pores to look larger and so it is advisable to choose oil-free or oil-controlling foundations if you have oily skin. For women with large pores, it is often recommended to use cream to powder foundations as these provide better coverage than the liquid variety. To cover pores, many women have also had success using mineral makeup foundations.
1. Maybelline Fit Me Matte + Poreless Foundation has micro-powders that absorb excess oil and reduce the appearance of large pores. Firstly, this drugstore foundation is available in 40 impressive shades. They suit different Indian skin tones and provides buildable coverage that can last the whole day without looking greasy.
2. Revlon Nearly Naked Makeup foundation has a nourishing formula that reduces the appearance of large pores. It has an efficient formula that offers sun protection. Its lightweight formulation helps maintain skin texture and tone.
3. Swiss Beauty High Coverage Waterproof Foundation is silky and it blends effortlessly, providing a breathable film that minimises large pores. This drugstore foundation is water-based and results in smoother and brighter skin.
Makeup Application Tips for Large Pores as Suggested in Makeup Artist Training Programs
Some simple tricks can make a big difference to help reduce the appearance of enlarged pores.
Splash your face with cold water or run an ice cube lightly over the skin, after cleansing. This process will help to temporarily shrink the pores and makeup is less likely to settle into them.
Before you apply makeup, make sure to use a pore-minimising or refining lotion. Many brands that sell these lotions can help reduce pore size and protect the skin from debris and clogging irritants. Biotique, Lakme, L'oreal Paris, Lotus, Maybelline and many other brands manufacture these pore-minimising lotions.
According to professional makeup artist certificate courses, you can also apply a makeup primer as a base before your makeup application. It is generally found that a quality primer reduces the appearance of pores and they can be applied with makeup as usual without any concerns over the pores. A base or makeup primer is applied like a moisturiser and it simply delivers a smooth, protective surface on which the makeup can be applied. The primer also gives long-lasting makeup and helps the makeup stay in place.
Use a small amount when applying foundation, adding coverage slowly as needed. Too much makeup can draw attention to the pores instead of disguising them.
For those with large pores, makeup artist training programs suggest that it is best to apply foundation with a sponge. To avoid bacteria build-up, it is advisable to change or wash sponges as often as possible.
To keep the pores minimised, always apply the foundation in downward strokes.
source: youtube
Complete your makeup and set your skin by gently pressing with powder.
Since an excess of oil from the skin can often make the pores appear larger, make sure to keep blotting papers inside your purse and gently blot recurrently throughout the day to keep your makeup look fresh and active.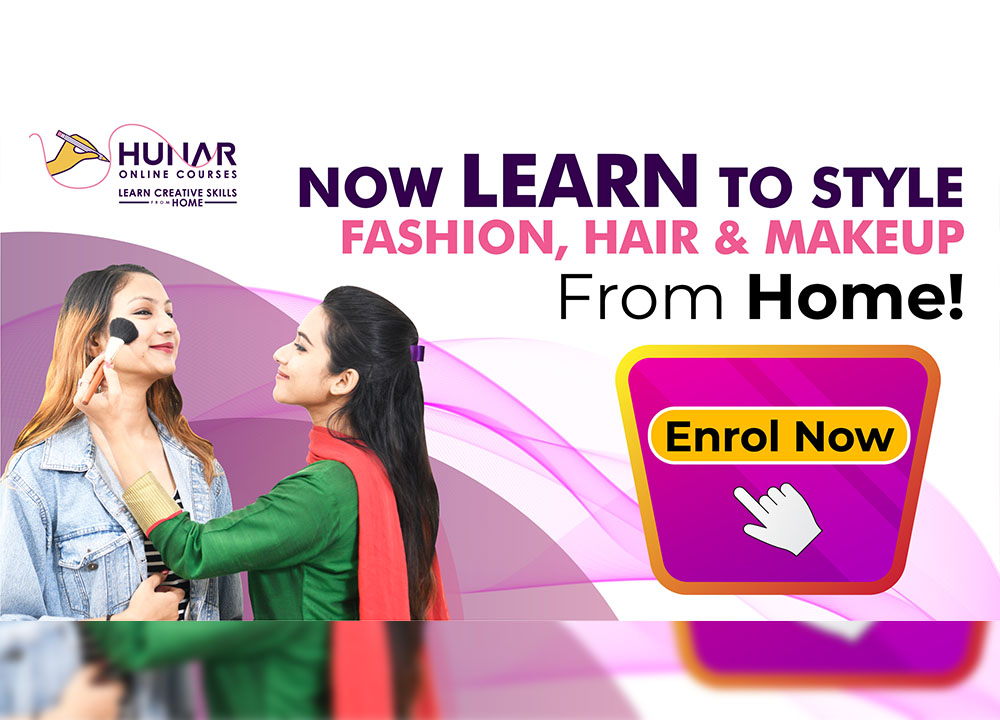 Let's put those makeup brushes to the test! Now that you know how to reduce large pores with the help of certified makeup artist courses, be ready to take your makeup skills to the next level.
Also Read: What Should Your Makeup Kit Include?
At Hunar Online, you will get access to detailed video lessons and can learn from anywhere. You will get 24/7 faculty support and a chance to learn from the experts in the industry. Also, watch our trial classes and get a glimpse of our courses. You can start learning your favourite course by downloading the app.
So, what are you waiting for? Join Hunar Online Courses and do what you always wanted to do.