Tie-Dye fashion is becoming increasingly famous today among everyone. You can see a lot of fashion brands selling clothes that have been designed using the Tie-Dye technique. This technique is a very old technique in textile designing but is becoming popular only now. The reason that many people are liking this method of textile designing is that garments can also be made at home using this technique. Although this technique is very simple, you still need to do a fabric designing course in order to understand it correctly.
The best part about using Tie-Dye is that you do not need a lot of materials to create designs on the fabric. All you need is plain fabrics, the right colours and some threads. Other textile designing methods require the use of heavy materials and cannot be easily done from home. If you are someone who loves to create your own fashion and make clothes for yourself and your family, then you should defiantly try the Tie-Dye technique. Many people feel that you can only create specific types of designs using this technique but the truth is that there is a variety of designs and techniques that can help you in making a variety of clothes. Let us look at some pieces of garments that can be made using this method.
Tie-Dye Textile Designing Fabrics that you Can Make at Home
1. T-shirts
The most common types of garments that are made using the Tie-Dye technique are t-shirts. Many men and women can be seen wearing a Tie-Dye t-shirt these days. Most people use a white colour t-shirt and then colour it using multiple techniques. But there is a lot you can do using just this textile designing technique. You can also use light-coloured t-shirts like blue, pink, yellow etc. and then colour them. Different fabric designs can be made on these t-shirts. You can pair up this Tie-Dye t-shirt with a denim and some shoes and you are good to go. In the summers, you can also pair this t-shirt with a pair of solid colour shorts and you will look completely summer ready!
Image source: Shpock
2. Bed Sheets or Tapestry
A tapestry is a decorative piece of cloth that is used to decorate walls. These are mostly made using boho fabric designing techniques. You can use different Tie-Dye methods to make bedsheets and tapestries that can be used in home décor. You can choose colours for your bedsheets that are similar to the colours of your walls to create a nice contrast. Generally, people do not like to use light-coloured bedsheets in their bedrooms since they get dirty very easily. Using the reverse Tie-Dye textile designing technique you can make dark-coloured bedsheets. This way you will have trendy bedsheets that look cool and at the same time do not get dirty.
Image source: Pinterest
3. Jackets
If you want to create the perfect winter look for yourself, you can make jackets using the Tie-Dye method. You can buy affordable light-coloured jackets and then colour them using this famous fabric designing technique. Many people also like to buy plain white jackets and then colour them using the Tie-Dye technique. For a complete winter look, you can pair this jacket with a pair of jeans and white sneakers. The best part is that you can make similar looking jackets for your entire family using this technique. If you have kids, you can also make smaller size jackets. Your kids will look extremely adorable wearing this special fabric design and are sure to get a lot of love from people around.
Image source: Farfetch
4. Napkins
Napkins are generally very small when compared to all the other garments. This is why they are very easy to colour using the Tie-Dye fabric designing technique. All you need to do is tie the napkin in specific places and then put them in boiling dye. The next time you have guests coming over to your house, you can give them these designer napkins that will surely catch their attention. You can also use the same technique to make hand kerchiefs.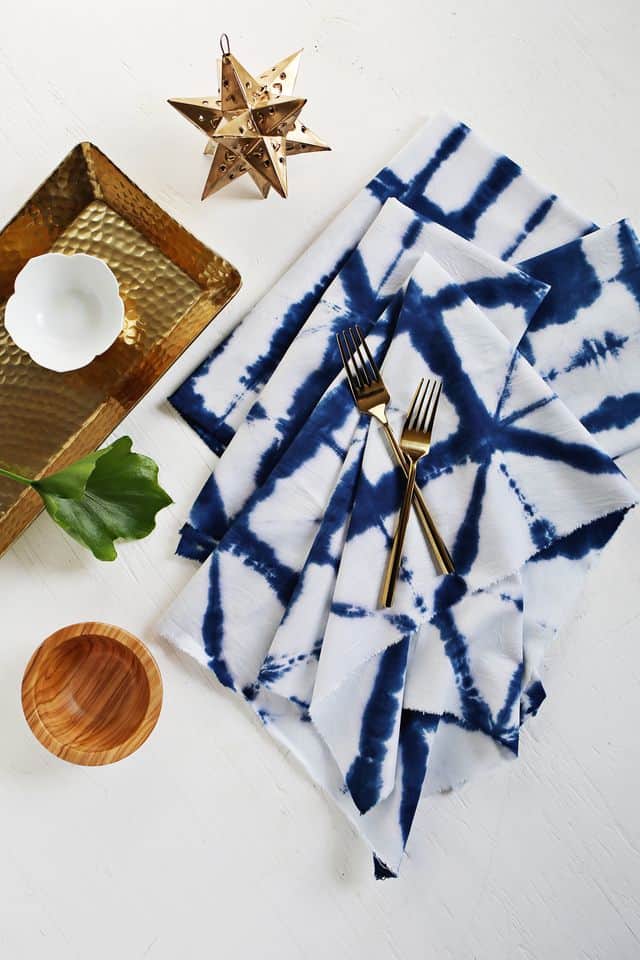 Image source: A beautiful mess
5. Textile Designing Pants
Not many people like the idea of making pants using the Tie-dye technique but the truth is that they look really good. You obviously can't use this textile designing technique on jeans or dark-coloured pants. The best way to do it is to use the Tie-Dye method on light-coloured pajamas or white coloured palazzos to create an amazing look. You can also make patialas and kurtas using this technique to create a unique looking Indian look. You can pair this outfit with a pair of jhumkaas to make it look even more Indian. Many unique fabric designs can be created using the famous Tie-dye technique.
Image source: Pinterest
Some of the types of patterns that you can use while using this textile designing technique are:
Crumble Tie-Dye
Shibori Tie-Dye
Sunbusrt Tie-Dye
Stripes Tie-Dye
Spiral Tie-Dye
Bullseye Tie-Dye
One Colour Spiral Tie-Dye
If you are interested in learning more such textile designing techniques, you can enrol with Hunar Online. At Hunar Online Courses we provide certified fabric designing courses. You can learn how to make different types of fabrics from home. With the help of this course, you can prepare yourself to build a career in the field of fabric designing which is very popular these days. Hunar Online Courses is a platform that offers a wide range of courses in the field of fashion designing and has enabled many women across India to start their own business. At Hunar Online, you will get access to detailed video lessons and can learn from anywhere. You will get 24/7 faculty support and a chance to learn from the experts of the industry.
So, what are you waiting for? Join Hunar Online Courses and start paving a new path to your career.