You must have heard a lot about homemade cakes and also seen them on the internet. Nowadays people are making different types of cakes and also doing experiments with cakes. Today we will also give you information about different types of cakes and will also tell you how to make cake at home? Don't skip this blog to know the recipe. Follow us step by step and get a fantastic taste at home! Okay, Let's Baking-
LEMON RASPBERRY CAKE
Ingredients:
Lemon- 1
Raspberry- Half Cup
Butter- 500 gm
Curd- 1 Cup
Eggs- 3
All purpose flour- 2 Cups
Baking Soda- ½ tablespoon
Baking Powder- 2 tablespoon
Icing Sugar- 1 Cup
Salt- 1 tablespoon
Vanilla Extract- 1 tablespoon
For Whipped Cream
Cornstarch- 1tablespoon
Heavy Cream- 4 Cup
Dark Chocolate- 150 gm
Sugar- 40 gm
Fresh Cherries- 8 to 10
Baking Method:
Set your microwave oven for preheating at 350 degrees F. Put a baking rack on it and start preheating.
We will prepare the batter, while the oven is preheated.
Take a bowl for making batter.
Add butter and beat it for 1 minute.
Add Sugar with lemon and beat it again for 2 to 4 minutes.
Add egg one by one and beat it gradually.
Butter batter is ready
Put two cups of all-purpose flour and add baking powder, baking soda and salt together.
Mix butter batter in it.
Pour some lemon juice drops and blend it properly.
Now, Cake Batter is ready.
Take a 9 inch baking pan and spread butter paper. You can also grease it with vegetable oil.
Pour it with Cake Batter.
Put the pan under the microwave oven and leave it to bake.
Wait for 30 to 35 minutes.
Once it is done, check it with a toothpick.
Remove baked Cake from the pan and let it cool for about 1 hour.
FROSTING
Place powdered sugar and butter in a medium bowl and beat with a spoon or electric mixer on low speed.
Stir in vanilla and 1 tablespoon milk.Gradually add the rest of the milk to keep the frosting smooth and spreadable.
If the glaze is too thick, add a few drops of milk and whisk.
If the icing is too thin, add a little powdered sugar and whisk.
Liberally frost a 13×9-inch cake, or stuff and frost a two-layer 8- or 9-inch cake.
Soften the butter at room temperature and mix with powdered sugar until smooth.
Use real vanilla. We do not recommend counterfeit products. If you can find vanilla bean paste, it's worth the investment.
Adding vanilla can reduce the amount of sugar in a recipe, as vanilla's role is not only to add flavour, but also to increase the sweetness of sugar.
BAKE WITH HUNAR
In this online baking course, we are providing you 4 types of baking course classes: –
1. All in one Baking Courses – With our online baking courses, you get a chance to learn a lot of things like bread, cookies, chocolate, etc. sitting at home. Now you will get all these courses on just one platform at your home.
2. All in one Cake Making Course – In this online cake-making course, you learn cake making as well as cake presentation.
3. Short Baking Course – This online baking course covers small elements that go a long way in baking and cake making.
4. Short Cake Making Course – You will learn to make different types of cakes sitting at home like Black Forest Cake, Strawberry Cake, Chocolate Cake, Vanilla Cake, etc.
5. Chocolate Making Course Online – Through this course, you will be taught how to make chocolates from a chocolate base, use them in cakes, or sell them independently.
Benefits of Hunar Courses
Let's see the Merits of this Baking and Cake Making Course-
This course will be beneficial for all those women who want to make a career in baking. They will get a great platform with the best teachers.
Here you can easily learn to make all the things found in the bakery shop.
After this course, you will be ready to open your own bakery shop or you can join as a pastry chef in some leading restaurant.
This online baking course is designed to make women self-reliant and boost their confidence along with skill education. You will get all these facilities sitting at home.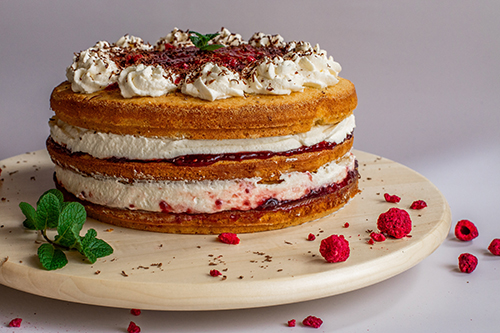 After reading this blog, you will be able to choose your look and bake this delicious raspberry cake. Apart from the above, there are so many types of tutorials regarding how to make cake at home. You will get proper guidance in our All in One Baking Course at home. We are always ready to welcome you on our platform. Learn in your own language. Now that you know how to learn about the Baking and Cake Making Course at home, come and join us as soon as possible and grow in your career and life.
At Hunar Online, you will get access to detailed video lessons and can learn from anywhere. You will get 24/7 faculty support and a chance to learn from the experts in the industry. You can also watch our trial classes and get a glimpse of our courses. You can start learning your favourite course by downloading the app.
Also Read: Why Learn Baking Courses Online?- Benefits and Scope
So, what are you waiting for? Join Hunar Online Courses and do what you always wanted to do.