The beauty you find on the banks of the Krishna River, the lovely designs and architecture of temples and the lovely waterfront gardens are some of the major attractions, which prove that Vijayawada is indeed one of the most beautiful cities in India.
Vijayawada has some of the most beautiful temples with intricate architecture. The designs are so attractive that these are even engraved in jewellery, popularly known as the temple jewellery. Temple jewellery is very popular in the South Indian states. These jewellery have their own unique charm and beauty and no woman can resist it. The intricate jewellery design of temple jewellery is something to die for. Every woman wants to own at least one piece of it in her collection. They are generally worn on special occasions with traditional outfits.
Now, with our Fashion Designing Course in Vijayawada, you can learn to make these beautiful pieces from home. These courses will help you learn all about designing and creating some striking temple jewellery. You can create beautiful designer jewellery online.
In the South Indian states, temple jewellery is mostly worn by the brides. The majestic beauty and elegance of temple jewellery design makes a bride look super gorgeous for her big day. From polki to kundan jewellery designs you can find a wide variety in temple jewellery designs. Gradually, the jewellery design of temple jewellery is being adopted by the North Indian brides too. Temple jewellery can take many forms like chokers, longer necklaces, earrings, jhumkas, rings and much more. Here are 3 of the many designs of temple jewellery that you'll learn to illustrate through our Online Fashion Designing Course in Vijayawada. Check them out
1. Vaddanam
Vaddanam is another name for kamarbandh, which is a part of bridal jewellery. It is a traditional long and elegant chain like jewellery which is worn around the waist. Vadannam is also known as Vadiyanam and is an important piece of jewellery for South Indian brides. Traditionally, a Vadannam had Goddess Lakshmi in the centre seated on a lotus flower. Today it is available in various designs and styles with ruby, emeralds and various other precious gemstones. If you want to make your own Vadannam designs, you can do so through our online Fashion classes in Vijayawada.
2. Nakshi Pendants
The beautiful pendants that are engraved with sculptures of Gods and deities are known as the Nakshi pendants. Our online Fashion courses with certificates in Vijayawada will teach you to sketch some artistic drawings of these jewellery pieces.
3. Coin Accessories
Coin accessories are another attractive type of temple jewellery that are usually worn during festive seasons. Our best online Fashion Design courses in Vijayawada will teach you to design some striking pieces of coin jewellery anytime, anywhere.
4. Bangles
Bangles are known by different names in South India like valayal in Tamil Nadu, gajju in Telugu and bale in Kannada. Bangles are also available in temple jewellery design and are a must have bridal jewellery for South Indian women. Bangles in temple jewellery design are usually heavy and goes best with a Kanjeevaram Silk or any other silk saree. You can either style it as a statement jewellery by wearing one bangle in each hand or you can pair it up with various thin bangles as per your choice.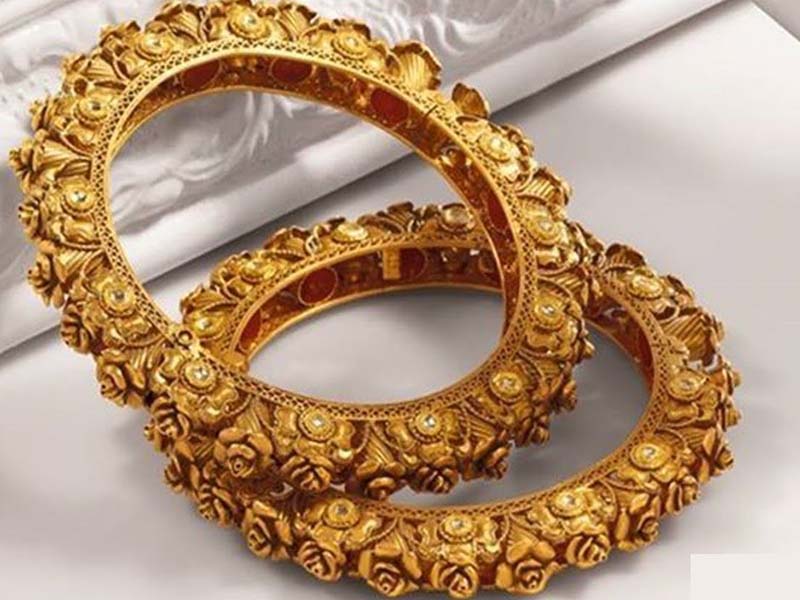 Image Source- YouTube
5. Jhumkas
Jhumkas are not only great for the brides but anyone can wear them on special occasions. These jhumkas are available in the shape of chand bali or bell shaped designs. Since it is inspired by the architecture of temples and Indian Gods and Goddesses, it can be heavier in weight.
Image Source- Pinterest
Just like these, there are many other interesting designs of temple jewellery that you can learn to sketch with our creative courses.
If you are someone who is a big fan of temple jewellery then now is the time for you to start learning how to create good jewellery designs. People assume that Jewellery Designing is very tough but that is not true. To master this skill, you just need to be consistent. Hunar Online Courses offers a Jewellery Making and Jewellery Designing Course where you can use your creative skills and create different types of designer jewellery for you and your family. You can enrol in our Online Jewellery Designing Courses. It has easy video classes which are accessible every time and you can learn from anywhere. You also get 24/7 faculty support which will help you clear your doubts.
So, what are you waiting for? Join Hunar Online's Jewellery Designing Courseand start learning to create different designs of jewellery for you and your family from the best in this industry! Enrol now to start your journey towards a successful career! Enrol in your favourite government-recognised course today and get certified by NSDC.