Women in India are crazy about gold! In every household of India, you will find at least one piece of gold jewellery owned by women. Gold jewellery has been in trend since a long time. In the royal period, gold jewellery was only owned by the royals. But in the present times, it can be found in every common household. The gold jewellery designs may have changed from the past to the present, but the love for gold jewellery is still the same.
Women are famous admirers of jewellery. Every outfit and occasion demand wearing a different piece of jewellery that needs to be styled according to the dress. Women tend to keep up with the changing trends and with the increase in demand, fashion designers are also expected to keep up with the changing style. With the popularity of gold jewellery many fashion designing institutes introduced jewellery design courses that teach students about the latest gold jewellery designs. There are several online jewellery design courses, through which students can learn jewellery designing from home.
Here are some pieces of jewellery that you can learn to design from home. Let's have a look at them one by one.
1.Pendant
A pendant is a simple yet elegant piece of jewellery that a woman can own. A gold pendant can add beauty to any outfit and to the person who wears it. It is very common and can be owned by every woman irrespective of their age. A gold pendant can be worn on any occasion and you are sure to attract some attention. A pendant generally comes with a matching set of earrings, which are equally light in weighted. You can easily learn to design a pendant from home with our online jewellery designing course.
Image Source- Kanhai Jewels
2.Necklace
A gold necklace can be huge and grand-looking, gold and royalty goes hand in hand. Gold jewellery designs reflect class and heritage. A necklace made of gold can be worn on special occasions like weddings or festivals. It is generally heavy and it requires special care and attention. You can easily learn to design a gold necklace from your home through our online jewellery designing course and watch your creativity come to life.
Image Source- The Secret Label
3.Earrings
Earrings are one of the most important parts of women's jewellery collection. And when you think of trendy jewellery, the first thing that comes to your mind is earrings. Gold earrings are always classy and give the wearer a distinct look. Gold earrings can go with almost any kind of dress. They can be in the form of suds, trinkets, jhumkas, etc. Earrings form an important part of any jewellery collection and jhumkas are always in fashion. You can learn to design the earrings of your own choice from your home with our online jewellery designing course.
Image Source- Mirraw
Also Read: Types of Jewellery Designs You Can Learn to Create from Home!
4.Finger Rings
Finger rings are one of the most important accessories that are used to adorn the fingers of women. Right from our childhood we have always seen people wear finger rings. Rings can be worn in any finger. A finger ring can be worn in various ways and for various occasions like birthdays, engagement parties, weddings, fashion statements or even for daily use. A ring made up of gold has its own charm and it comes in innumerable patterns and designs. Now, designing a finger ring from your home has become easy. Join our jewellery designing course and learn to design finger rings.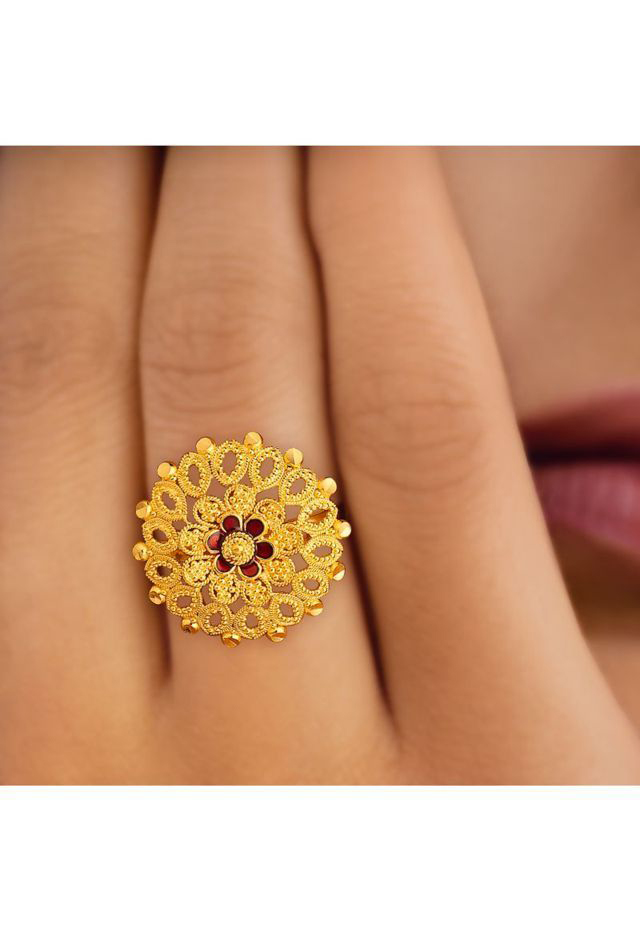 Image Source- Pinterest
5.Bangles
Bangles are the most elegant pieces of jewellery worn in hands. Bangles can make your hands look beautiful effortlessly. They are worn on special occasions and women of all age groups wear them. Gold bangles are alluring and can make the person look different from the crowd. They come in different patterns and designs and you have a variety of options to choose from.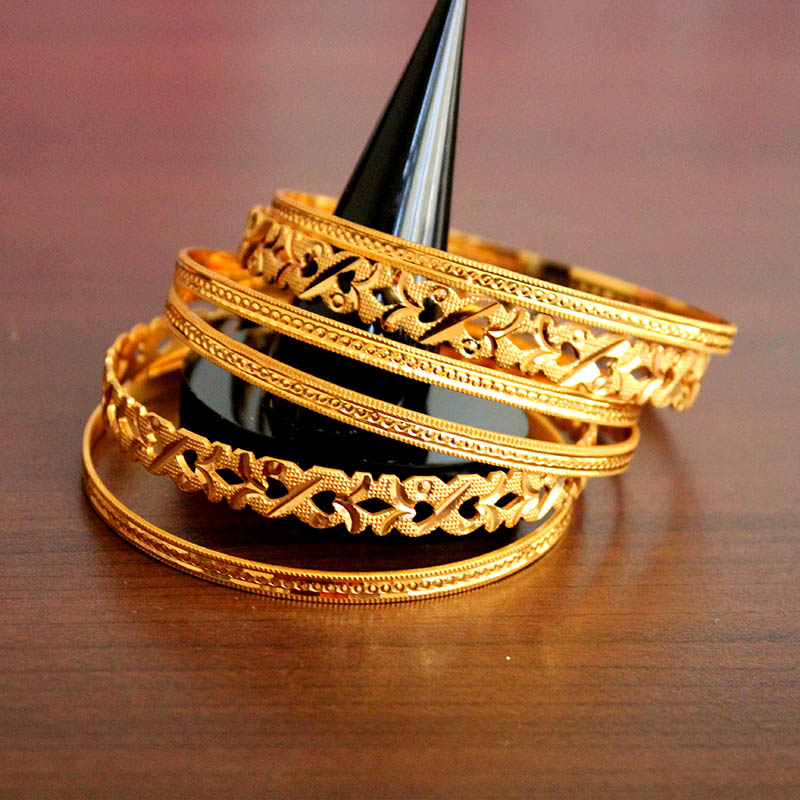 Image Source- kaurz crown
6.Bracelets
Gold bracelets come in various designs and patterns and are perfectly delicate for arms. They are so much in trend that they can be worn to any party, festival or even for fun. Golden bracelets never tend to go out of fashion.
Image Source- Senco Gold
This is about the different types of gold jewellery that you can learn to design from home. But do you know how the jewellery gets its gold colour?
They are divided into different categories on the following basis:
1.Gold Plated Jewellery
Gold plating is the most common and cost-effective technique which is being followed from ages. It is the process of coating the base metal with gold with the help of an electroplating solution. The base metal is generally some cheap metal like copper, nickel, aluminum, etc. The density of electroplating differs with the price and the gold from this gold plated jewellery tends to wear off quickly. Most jewellery is electroplated with 0.5 micron and can go upto 2 micron.
2.Gold Vermeil Jewellery
Gold vermeil jewellery is quite similar to gold plated jewellery. The base metal in this type of jewellery must be silver and the minimum thickness of micron must be 2.5. Gold vermeil jewellery is very popular among customers because it is cheaper, and the gold does not come off easily.
3.Gold Filled Jewellery
Gold filled jewellery is not simply covered with a thin layer of gold like gold plated and gold vermeil jewellery. It is created with a thick sheet of gold which ensures that the gold is permanently bonded with the base metal. Gold filled jewellery lasts for a long time.
Image Source- cleanipedia.com
Now you can learn to design your favourite jewellery from home with our jewellery designing course. At Hunar Online, you will get easy video classes that are accessible anytime and you can learn from anywhere. You will get 24/7 faculty support and a chance to learn from the experts of the industry.
So, what are you waiting for? Join Hunar Online Courses and start paving a new path for your career.