Saree is an Indian Attire, which embraces the beauty of the wearer. It has many types and methods of wearing saree. Here, we are talking about the beauty of wearing saree with the latest saree fashion. Wondering how to learn about the Latest Saree Fashion from home? Start with us and keep practising. Keep your eye on the latest saree fashion trends.
Explore Latest Saree Fashion in Trends
The very first and necessary thing is to know about the trends. Trends elaborate fashion in a new way. Fashion trends change year to year and come back also. We should keep an eye on this latest saree fashion. Let's talk about the fascinating and ongoing latest saree fashion in trends-
Options in Silk Sarees– Nowadays, Silk is in a trend of latest saree fashion. These days celebrities also flaunt them in different types of silk attire. Explore Silk in the way you want to embrace.
Fascinating Embroidery Saree– Embroidery has a different side in latest saree fashion. It's always in a huge demand at the time of festivals, special occasions, wedding celebrations and so on. Two types of embroidery can be seen generally, like handloom and printed.
Floral Prints– Floral Prints are evergreen. If you don't have a specific choice of saree, you can go for a floral.
Net Prints– Market is full of Net fabric and net prints. You can explore online or offline as per your comfort. You can take help from any fashion stylist. Net fabric is easy to carry and you can flaunt yourself in the latest saree fashion.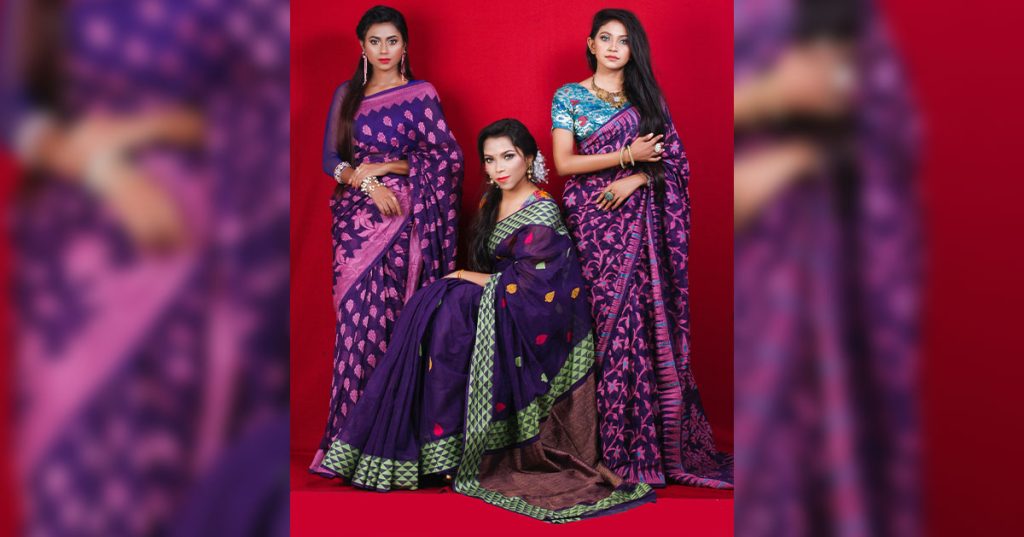 How to Learn About the Latest Saree Fashion at Home?
Choose the right look with the latest saree fashion
Confused about what and how to wear? Here is the answer. Picking wrong attire for an occasion presents negative perceptions of yours. So, it is always necessary to choose the right one. It not only gives an additional star to your beauty but also boosts your confidence. But the question is- Who will come to guide us? How will you know? So, below are tips that can help you and enhance your beauty, as per latest saree fashion: –
Try to wear Monochrome, when you have limited options.
Always Choose Colour as per occasions.
Use light colours for daylight.
Always follow ongoing trends.
Try Experiments but in a positive sense.
Always Choose attire which makes you feel happy and comfortable.
How to Learn About the Latest Saree Fashion at Home?
Learn to Style: Now, after choosing the correct attire; the second question is about Styling. How to style a saree in the latest saree fashion. We are giving you some tips, which can help you to know more about styling.
Brush Your Skills- To brush and enlarge your skills, you need to practise daily. Learn to get new things and stay updated from your side. Try to learn from the mistakes you have made.
Learn from any professional Stylist- If you are not able to style saree according to the latest saree fashion, then you have a choice of professional stylist. Many professional style artists are available online or offline. You can choose your own, as per your convenience and comfort.
Always carry additional tips- Always follow the right tips. So many websites, video tutorials giving free styling tips online and even free. Try to keep it in your purse of styling.
Learn beyond Education- This can help you to go into the new world of styling, which is beyond traditional education. This will help you see things from their perspective too, so that you are in a strong position to make compromises, meet demands and know where things get held up.
Use Colour combination- Learn to choose the right colours. Try to combine your saree colour with matching blouses. Right colour combination is one of the perfect ways of styling.
Choose the right Saree fabric- It is important to choose the correct fabric according to the occasion and weather as well. Wrong choice of fabric makes you feel uncomfortable or misfit.
How to Learn About the Latest Saree Fashion at Home?
Become a Saree Stylist
Along with the learning, anyone can become a saree stylish with the help of the latest saree fashion. You can own your Styling Studio or get a job in a fashion institute. Nowadays, styling has a separate career. Professional stylists get highly paid by the employer. So many big brands are hiring fashion or Saree Stylists for their brand's marketing and advertising. This can give you a highly paid employment in a reputable firm. High career needs perfection and experience. Also, you can flaunt your creativity yourself by online and offline together.
Apart from the above, there are so many ways to learn the latest saree fashion at home, in a couple of months. We are always ready to welcome you on our platform. Learn in your own language. Now that you know how to learn about the latest fashion saree at home, draw all your creativity together and colour them on the pages of your wardrobe.
Also Read: A Guide to the Different Types of Fashion Designing Courses
At Hunar Online, you will get access to detailed video lessons and can learn from anywhere. You will get 24/7 faculty support and a chance to learn from the experts in the industry. Also, watch our trial classes and get a glimpse of our courses. You can start learning your favourite course by downloading the app. So, what are you waiting for? Join Hunar Online Courses and do what you always wanted to do