Even in today's rapidly changing world, our passion for national costumes remains unchanged. So, who doesn't want to get ready for Holi, RakshaBandhan, Teej, Eid, Diwali, and Navratri and get amazing #OOTD images on social media? These types of fabric painting design cloth also help us stay in touch with our traditional roots and maintain a style statement. Today, there are many options for colours, cuts, fabrics, styles and silhouettes. Think of the gorgeous collection of fabrics we have at our disposal: brocade, silk, taffeta, crepe, chiffon. The numerous traditional embroidery and embellishments on these fabrics recall the rich heritage of antiquity and today bring a royal touch to the outfit. Make it unique and sensual.
5 TYPES OF FABRIC PAINTING DESIGN CLOTH THAT CAN PERFECT MATCH FOR FESTIVE WEAR
Fabric painting in simple fabric painting designs is the application of special colours to fabric. Any fabric can be painted, but tightly woven natural fabrics such as cotton and silk are the easiest to embellish when the craftsman tries to create an image. By applying colour to fabric, you can create a variety of looks, some of which are more common. When painting, fabrics, whether wet or dry, give different results. Colour properties also vary from opaque to translucent to shimmery. Techniques and tools range from very simple to incredibly complex. Here are the five different types of fabric painting design cloth that you must have for your festive look: –
COTTON
Cotton is the most preferred fabric texture. This type of fabric is given priority everywhere from saris to suits. Not only women but also men love cotton. Cotton is the best and easy fabric for cloth fabric painting design.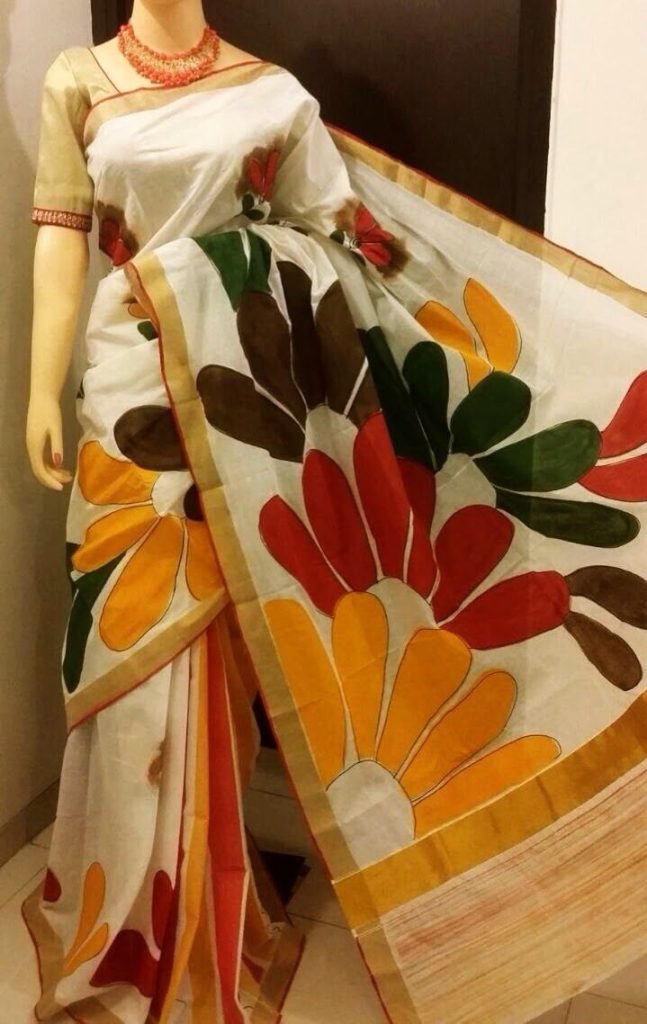 Source: Pinterest
SILK
Silk is a royal texture that looks ravish and classy. Silk sarees like organza or Chanderi look amazing with fabric painting design.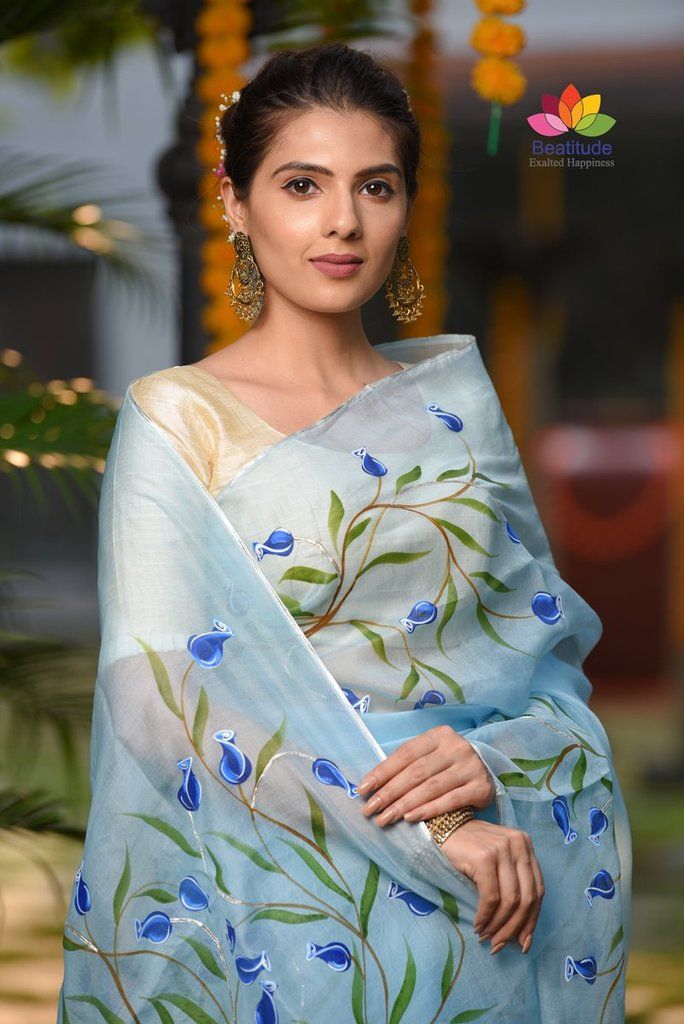 Source: Pinterest
CHIFFON
Chiffon Sarees are lightweight fabric that flatters your curves beautifully. Premium materials ensure a comfortable fit. It is as light as a curtain, so it's easy to use. A chiffon saree that can be worn all year round.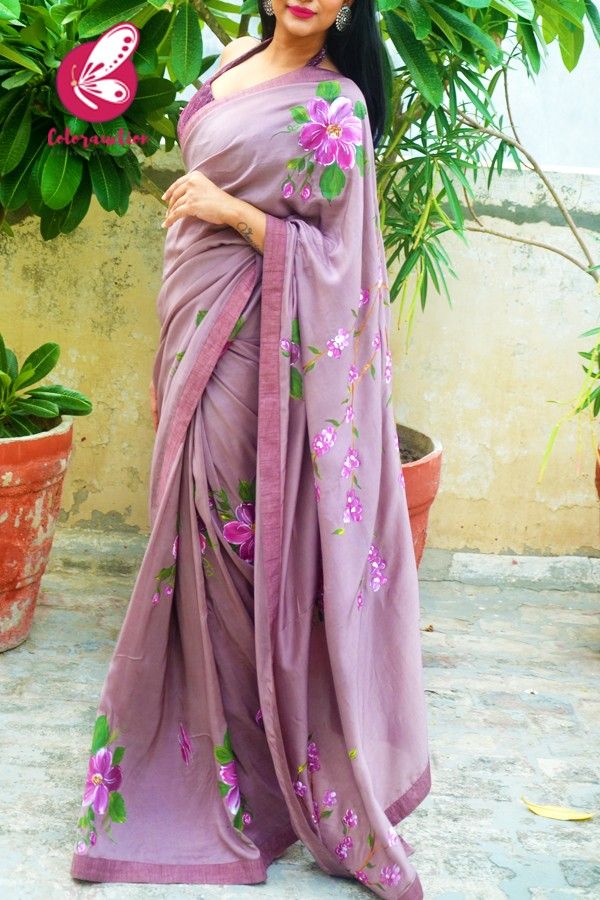 Source: Pinterest
VELVET
Velvet Sarees are the best in Indian wear, especially in winter weddings. It not only gives a beautiful touch but also flaunts in different styles like ruffle, printed, plain and so on.
Source: Pinterest
GEORGETTE
Georgette Sarees are the best for all seasons. It is light in weight and easy to carry. Georgette is made from hard-twisted yarn. The characteristic ruffles on the surface are made by alternating S and Z threads in the warp and weft. Plain and printed georgettes are used for blouses, dresses, evening dresses, sarees and trimmings.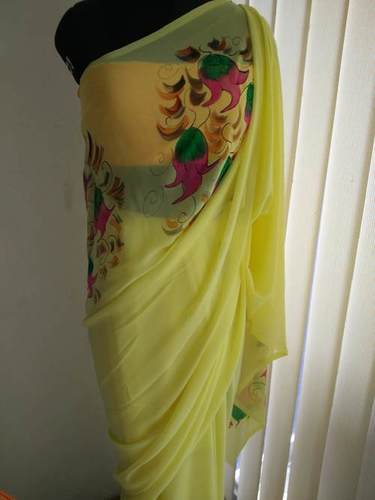 Source: Trade India
HUNAR ONLINE FABRIC DESIGNING COURSE
The cornerstone of the fabric designing courses is to teach fabric printing online. Here, you will learn how to cut, design, print and paint fabrics to make lovely and fashionable garments. It features a wide range of styles, including formal wear, men's casual wear to create various men's garments, saree blouses to create beautiful ethnic wear, Indian dresses to create stunning western wear, and saree blouses. Modern techniques are used to make adorable baby garments and fashionable children's clothing. Join us now and learn more about fabric painting and design cloth. Our experts are always ready to support you by 24*7. Following are the features of Hunar Online Fabric Designing Course: –
Fabric Designing Course consists of-
Dyeing & Printing
Natural Dyeing
Indian Hand Painting
Hunar online platform is providing an online video course regarding Indian fabric designing and fashion designing. Our expert will guide you with each and every nuance for fashion and styling illustration. We are always ready to welcome you to our platform. Learn in your language. Get support to start your own business. Now that you know how to manage and look good for the winter fashion women at home, draw all your creativity together and colour them on the pages of your wardrobe. Register now to grab special discounts and additional benefits.
At Hunar Online, you will get access to detailed video lessons and can learn from anywhere. You will get 24/7 faculty support and a chance to learn from the experts in the industry. You can also watch our trial classes and get a glimpse of our courses. You can start learning your favourite course by downloading the app.
So, what are you waiting for? Join Hunar Online Courses and do what you always wanted to do.