Indian embroidery designs draws inspiration from everywhere and never ceases to amaze us with its wonderful designs and patterns. The embroidery designs of India are truly a breath-taking art form that date back to over a hundred years. Indian embroidery designs have come a long way since then and have changed with the modern trends. Embroidery has managed to remain elegant and sophisticated over time. The designs include the dot, the circle, the square, the triangle, etc.
What is embroidery designing? It is the act of decorating a piece of fabric using a needle and thread. This can turn any fabric into a beautiful piece of clothing. Embroidery can be done on any type of fabric and make them look attractive. Fashion always keeps changing, but the Indian embroidery designs have managed to maintain a place in the fashion industry throughout all the changing scenarios.
Indian embroidery designs are known for their elegance and sophistication.. Many fashion designing institutes have given a whole new outlook to the embroidery designs through their embroidery courses. With the use of embroidery you can decorate fabrics as well as home décor items.
The Famous Indian Embroidery Designs
There are a variety of embroidery techniques in India to create designs on fabric and each technique has a special quality. Most of the Indian embroidery designs consist of flowers and leaves, which means that ancient Indian used to draw their inspiration from 'Mother Nature'. Let us have a look at the different embroidery styles from India.
1.Phulkari
The literal translation of phulkari is 'flower work'. This embroidery style originated in Iran where it is known as 'Gulkari'. Phulkari is more common in the states of Punjab, Haryana and Gujarat. It is believed that it entered India with the Jat immigrants. The motifs created through this style represent the values of Punjab. It is mostly practiced by the rural women of Punjab and Haryana.
There is a reference of Phulkari in the Vedas, the Mahabharat, the Guru Granth Sahib and the folk songs of Punjab. There is a common belief that Phulkari embroidery has been popular since the 15th century. In the present times, artists also have the freedom of creativity. Phulkari is done mostly on Khadi, which is a dull looking cloth and Phulkari embroidery designs make it look colourful and vibrant. This style can be found on dupattas, shawls, kurtis, etc. It can also be used to make keychain holders and tab covers.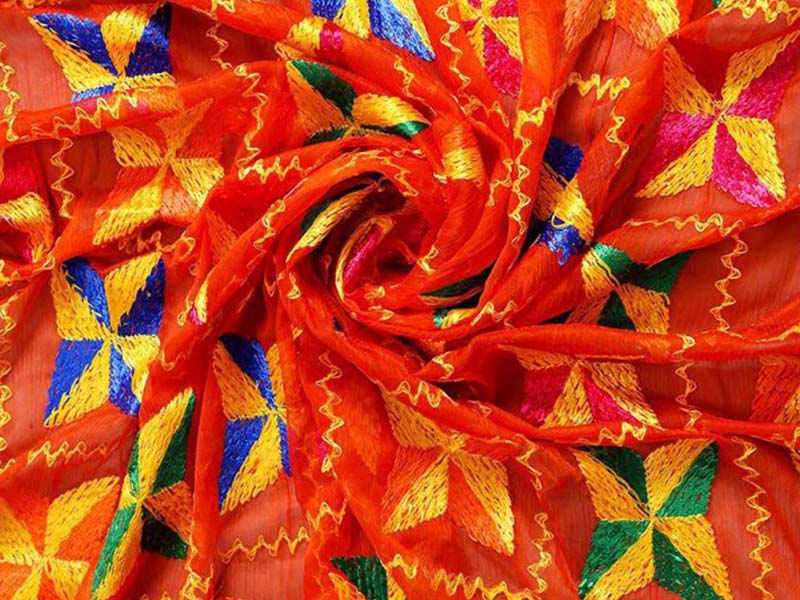 Image Sources- Snapdeal
2.Chikankari
Chikankari also known as Chikan, originated in the Mughal era, by Nur Jahan, the wife of Emperor Jahangir. The roots of chikankari embroidery can be found in Lucknow, Uttar Pradesh. Initially it was done with white thread on white fabric but today it is done on every type of fabric using colourful threads. Chikan embroidery on silk was founded in Lucknow.
This embroidery technique requires lots of patience, skill and hard work. The artisan generally creates a motif of animals or flowers like the lotus, the lily, etc. You can see chikan embroidery designs on sarees, salwar suits, lehenga, palazzo and many other types of garments. Not only clothes but many home décor items are also decorated using the chikan embroidery like curtains, table runners, etc. There are around 40 different types of stitches used to make chikan embroidery, out of which 30 are still in practice today.
Image Source- Kusuma
3.Kasuti
Kasuti is a traditional embroidery style which originated in the state of Karnataka. Kasuti work is considered to be very intricate as it consists of patterns like a chariot, a palanquin, lamps, conch shells, etc. This embroidery style requires a lot of patience and is very laborious. In this style, the patterns are stitched without using knots to ensure that both the sides look the same. Kasuti embroidery style is gaining popularity outside the boundaries of its origin state which encourages rural women to showcase their craft. This embroidery style can be found on women's apparel like a stole or a dupatta. Kasuti can also be used to create beautiful cushion covers for your home.
4.Kantha
Kantha is an age-old stitching practice, which is believed to have evolved in Indian states of Bengal and Orissa. It is considered to be the oldest form of embroidery technique in India, the origin of which can be traced back to the pre-Vedic age. The motifs used to make Kantha embroidery are inspired by religion, culture and the lives of women stitching them. The best thing about this embroidery design is that there is no right side or wrong side, you can create motifs on both sides of the fabric. Traditionally, old clothes and sarees were put together and stitched to make a quilt. At present, Kantha embroidery is used on kurtas/kurtis, dupattas, sarees and is even used to make home décor items like cushions, book covers, etc.
Image Source- Paytm Insider
These are a few types of Indian embroidery designs that are most commonly used to create designs on fabric. Many people consider that embroidery designing is hard but that is not the case. In fact you can learn this skill easily at your home through various online classes. You can learn different types of embroidery designs by enrolling in our embroidery courses with Hunar Online Courses. At Hunar Online, you will get access to easy video classes which are accessible throughout the day and allow you to learn from anywhere. You will get 24/7 faculty support and a chance to learn from the experts of the industry.
So, what are you waiting for? Join Hunar Online Courses and start paving a new path for your career today!