Kantha Embroidery is a trademark of Bengal. Kantha embroidery started from Bihar and Bengal. Where people used to give a new shape by adding old sari, dhoti or torn rags. It was used to make clothes, blankets or beds for babies. It is believed that it was first used during the time of Gautam Buddha. They used to make cloth sheets by adding pieces of clothes thrown by the people.
It started from West Bengal in India, which spread to Bangladesh after partition. But from the point of view of art, this embroidery becomes the identity of India in the whole world.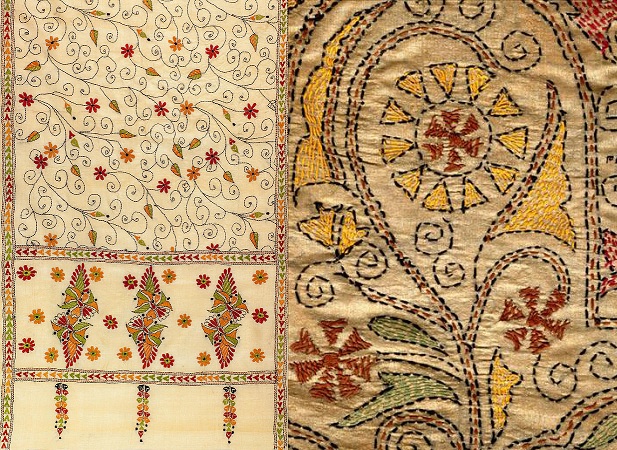 Source: Fashion Buzzer.com
TYPES OF KANTHA EMBROIDERY
BAYTON
Bayton's central motif is the lotus, usually with one hundred petals. Its oldest style of traditional folk design symbolises the unity of all expressions of life. Other common motifs include water bowls, conch shells, Kalka, trees, leaves, flowers, birds, elephants, chariots and people. God Ganesh and Goddess Saraswati and horses are also sometimes seen.
ARSHILATA
Arshilata is used as a wrapper or covering for mirrors, combs and other toiletries. It has a wide border, and the motifs in the centre are lotuses, trees, vines, spirals, inverted triangles, zigzag lines, and scrolls are some of the commonly used motifs as well.
LEP KANTHA
The Lep Kantha is a simple geometric pattern run-stitched with colored thread. Relatively thick quilted wrap padding, layered with numerous saree layers to provide warmth during the winter months. The entire stitching is wavy with simple embroidery.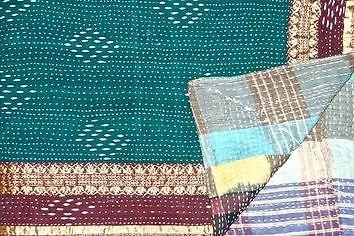 Source: Exporters India
DURJANI
The Durjani/Talia Kantha is a small rectangle with a lotus pattern in the centre and embroidered edges. Make a wallet by folding the 3 corners of the rectangle inwards.
SUJANI
The most popular and prominent kantha is Sujani kantha. The lotus motif with a swirl in the centre is a common motif in Sujani. Other motifs observed include the Ramayana, the Mahabharata, and prancing movements of animals, bees sucking nectar, and processions in motion. The edging sewn on the edges of the rectangular pieces has a geometric design in one colour and another of his colours is more decorative and colourful.
OAAR
Oaar kantha is a rectangular cushion cover with a simple design and decorative borders all over. Usually a simple design such as a tree, leaf, vine, bird or a vertical border liner design forms the basic base, to which all sides of which decorative borders are sewn.
KANTHA RUMAL
Kantha Rumal is nothing more than a handkerchief and is the smallest of all kantha. Plant and animal motifs may also be embroidered, but always with a well-decorated border.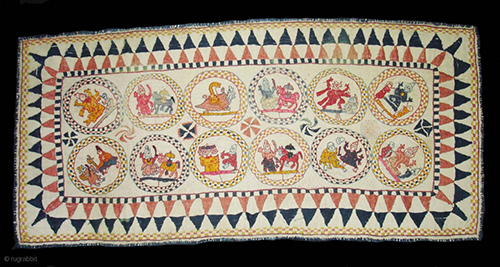 Source: Rug rabbit worldwide
KANTHA MOTIFS
Following are some popular motifs of a kantha embroidery:–
ELEPHANT MOTIF
FISH MOTIF
PEACOCK MOTIF
LOTUS MOTIFS- Lotus design is the main motif, woven in it. Usually, kantha embroidery is known for its lotus motif.
BUTTERFLY MOTIF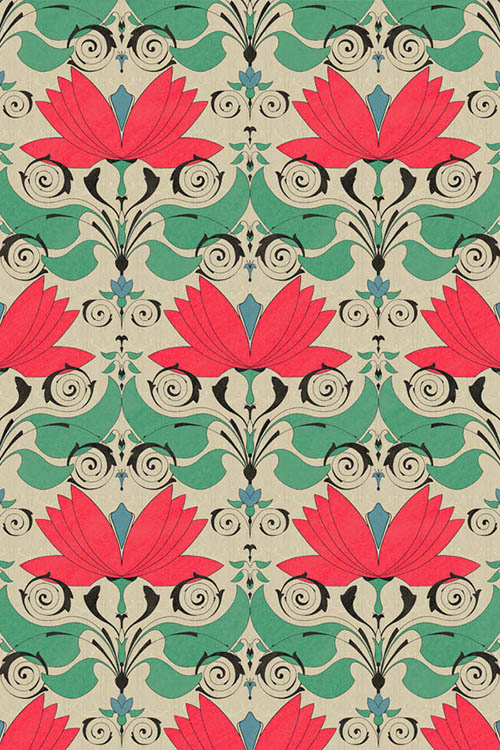 Source: Behance
LEARN KANTHA EMBROIDERY WITH HUNAR ONLINE COURSES
Hunar Online Embroidery Course develops your embroidery skills to easily create French knots, spider webs, running stitches, kantha, phulkari, Chikankari, banjara, appliqué and patchwork, smock, and ribbon embroidery, and more. Enrol in Hunar Embroidery Online Course and start together with your own skill story! Hunar Online is a video platform where everyone can learn and improve their skills. If you have the potential and creativity and want to showcase your career in the creative flow, this is your place. Learn how to create several types of beautiful embroidery at home. We are offering several types of topics in our Embroidery Course, like-
Types of Stitching
Indian Stitching
Patchwork Stitching
Western Stitching
Ribbon Stitching
Crochets Stitching
Hand Quilting
People love to wear classic, vintage and trendy clothes. When we talk about fashion designer qualifications and skills, it refers to diplomas, undergraduate or postgraduate degrees. Wait for fashion or embroidery design? So who are you waiting for? Hunar online courses offer you the chance to grow as a fashion expert and become a highly paid fashion designer! Enrol now for a chance to take courses for top professionals!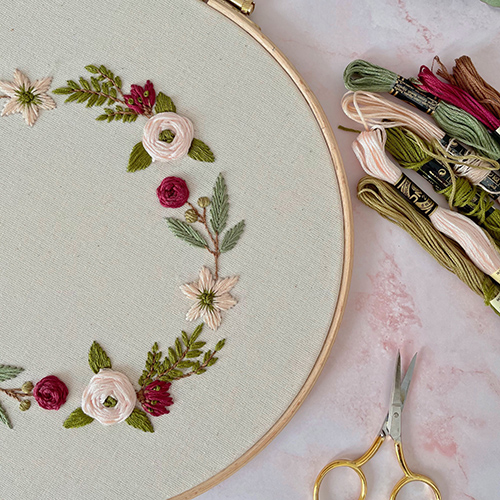 You too can make such a design at your home. For this, you just have to register with Hunar Online Courses. And then you will be able to find the destination whose dream is floating in your eyes. Hunar Online Courses offering courses regarding Embroidery Designing. We are always ready to welcome you on our platform. Learn in your own language. Now that you know how to learn about Embroidery Designing Course at home, come and join us as soon as possible and grow in your career and life.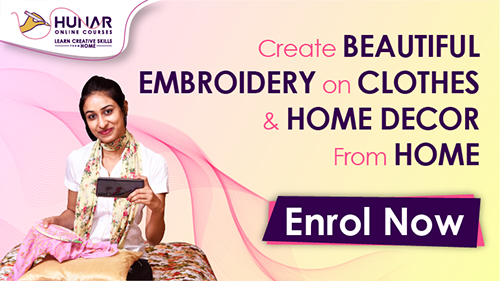 Also Read: Hunar App: A Guide to Embroidery
At Hunar Online, you will get access to detailed video lessons and can learn from anywhere. You will get 24/7 faculty support and a chance to learn from the experts in the industry. Also, you can watch our trial classes and get a glimpse of our courses. You can start learning your favourite course by downloading the app.
So, what are you waiting for? Join Hunar Online Courses and do what you always wanted to do.