The best accessory for a woman to get the best look is none other than jewellery. Indian weddings are all about shine and glitter and jewellery designs add to the beauty of it.
Describing South Indian jewellery as 'ornate' would be accurate, but a gross oversimplification of what it really is. To south Indians, jewellery is deeply rooted in every aspect of their life tradition, religion, rituals, ceremonies, weddings, festivals and is perceived as a status symbol, the abundance and display of which is proportional to one's success in society. South Indian jewellery styles and craftsmanship are traditional, grandiose and distinctive, clearly setting it apart from jewellery styles found in other states of India. Gold plays a central role in South Indian jewellery, followed by diamonds, pearls and kemp stones.
As jewellery can make or break the look of a person, every south Indian bride must have these jewellery designs. Let's have a look at them one by one:
1. Necklaces
Necklaces are one of the most important parts of south Indian bridal jewellery. Bridal look is incomplete without a necklace and there are a variety of designs available for a bride to choose from. Let's have a look at the different types of necklaces:
a) Lakshmi Haar
Lakshmi Haar is a long gold necklace embellished with jewels and the centre piece consists of finely crafted engraving of goddess Lakshmi which is surrounded by peacocks and elephants. The goddess Lakshmi represents wealth and prosperity and is worn by the brides on their big day. When a Lakshmi Haar is made of gold coins it is known as 'Kasu Mala'.
b) Mango Mala
Mango Mala, also known as Manga Malai, comes in different versions. It can be lightweight or heavily studded with gemstones. Mango symbolises love, therefore it is considered as one of the best designs for a south Indian bridal jewellery. It has intricate carvings on it which makes it expensive. You can also find the cheaper version that is according to your budget.
c) Kasu Mala
Kasu Mala is an ancient south Indian ornament and is mandatory for the brides to wear on her big day. Kasu Mala means 'gold coin necklace' as it is made up of gold coins with intricate carvings of goddess Lakshmi on it and they are chorded together in a way that they overlap each other. This jewellery design symbolises good luck and wealth and they are available in different sizes. Short pieces are worn for lighter occasions and ornate long necklaces are worn on special occasions with traditional attires.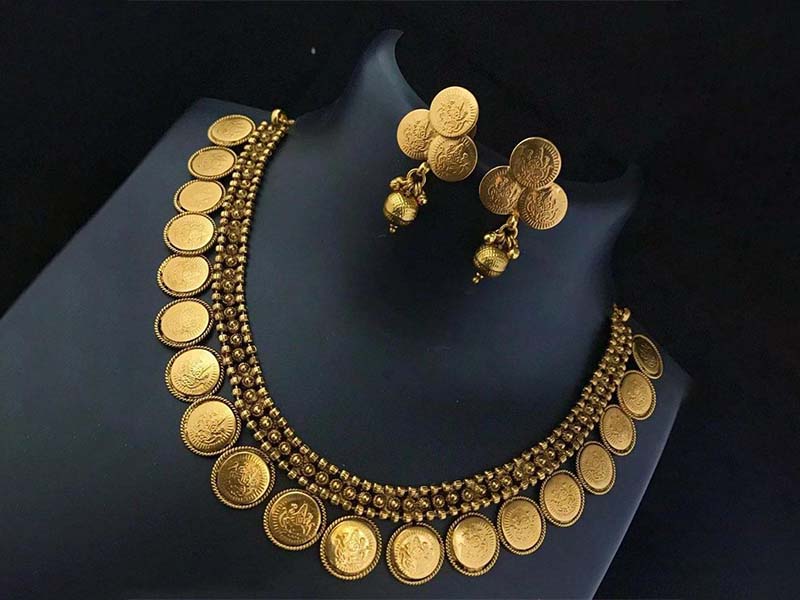 Image Source- Sunny's Fashions
2. Hand Ornaments
Hand ornaments are an important bridal jewellery piece for south Indian brides. Let's have a look at the different types of hand ornaments one by one:
a) Vanki
Vanki symbolises strength and it is an inverted V-shaped armlet made up of gold and embellished with gemstones. Images of goddesses, peacocks, elephants and serpents can be found as common motifs on a vanki. Precious stones such as diamonds, emeralds or rubies are generally used for embellishing it. It is worn during weddings by the brides and can also be worn on special occasions and festivals. You can find gold plated copper vanki at a lower price as the usage of gold and precious stones can make it expensive.
Also Read: Different Types of Indian Jewellery Designs for South Indian Brides
b) Kadas
Kadas are worn by the south Indian brides along with red and green churis and the whole combination signifies fertility. Kadas are thick bangles made from gold and carved with intricate designs and motifs of flowers and animals, which are studded with precious stones like diamonds, emeralds, rubies, sapphires and other such stones. However, thin kadas are worn on a daily basis and the traditional ones are worn on special occasions and festivals.
3. Jadanagam
A unique feature of south Indian jewellery assortment is 'Jadanagam' which is worn by the Indian brides over their braided hair. The back of her head is designed by sun or moon shaped designs and decorated with fresh flowers. Jadanagam is studded with precious stones like sapphires, rubies, diamonds, emeralds and other such stones.
Image Source- Gomystories
4. Oddiyanam
Oddiyanam is a waist belt worn by the south Indian brides to hold their saree in place. It is a symmetrical belt made with gold and heavily studded by jewels such as blue sapphires, emeralds, diamond, rubies and more. The image motifs are peacocks, elephants, birds or the images of Indian goddesses. It is also known as 'Vaddanam' in some parts of south India.
5. Jhumki
All across south India jhumkis are the most loved ear assortments for the brides. It is a symbol of femininity and balance and comes in various shapes and sizes. They are bell-shaped and can be lightly or heavily embellished and you can wear it according to the occasion.
Image Source- Bling Sparkle
There are many online institutes that can teach you jewellery designing courses online. Hunar Online Courses is a learning platform that provides jewellery designing courses. This course will teach you to create a variety of traditional and modern jewellery from home. Hunar Online provides certificates after completing your course that are sure to help you start your own business. For all courses, Hunar Online provides sessions with experts who are available 24/7 to clarify your doubts and help you every step of the way.
So, what are you waiting for? Sign up for a creative course with Hunar Online today.