Jewellery Design Sketch refers to the drafting of any particular jewellery. Jewellery is a part of our daily life. Not only females, but male persons also prefer to wear some jewellery. It increases our beauty and adds joy in our life. There are many kinds of jewellery, available everywhere. Not only gold or diamond but artificial jewellery has its own trends in markets. Due to the increasing trend of customization, many jewellery designers have been successful with selling online. They may also sell jewellery that they have created by hand at local craft and design shows or sell to boutiques.
PERSPECTIVE
Before starting any project, you must have a clear picture in your mind. It is important to be able to understand perspective when creating jewellery design sketches, as this can make or break the final product. Luckily, when drawing jewellery, you only need to use a one-point perspective, which means things won't get too complicated.
Perspectives are an important idea to understand because they affect or hinder your ability to express your design. The good news is that you only need to use the one-point of view when drawing jewellery. That means things don't get too complicated.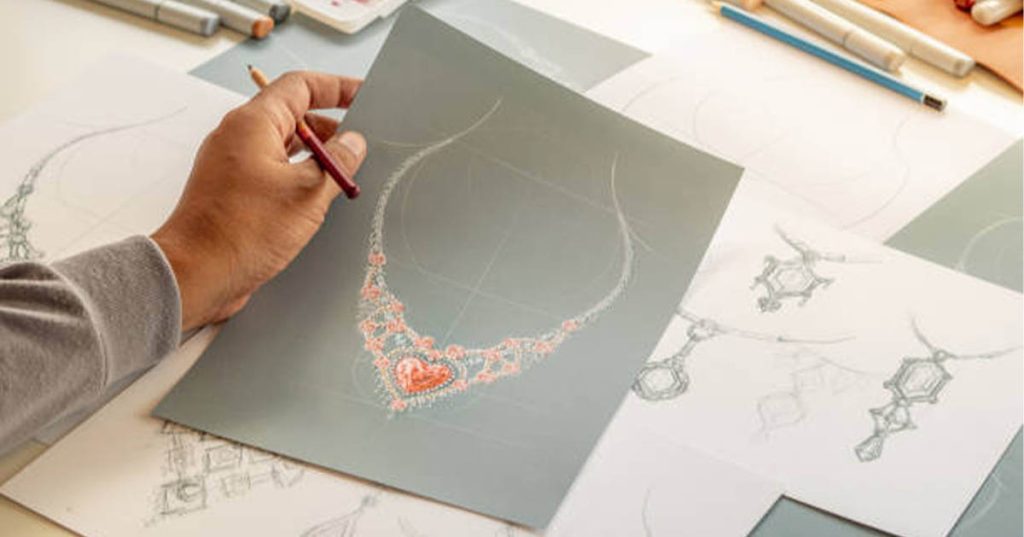 SCALING
The importance of correctly scaling drawings cannot be overemphasised when drawing them. Clips, necklaces, bracelets, and earrings are often drawn in 1:1 scale because they are small objects that fit perfectly on a piece of paper. However, sometimes you may want to adjust the scale, such as to better see small gems or features by drawing a larger piece. Always be careful about the size you use on your drawings, but this is essential for close-up shots.
The same can be said for proportions. If you don't keep the proportions right, the pattern will lose its shape and become a completely different product. Clips, earrings, and necklaces are so small and intricate that even a small change in proportions will make a significant and visible difference for better or worse.
EXECUTION
The practice of jewellery design sketch and decoration changed after the discovery of gems and gem-cutting became more widespread. Drawing your own jewellery designs can be useful in many different situations.
Maybe you're training to be a jewellery designer or you're creating your own craft brand and want to learn how to put your ideas on paper. Or maybe you have a passion for design and jewellery and want to create works of art to decorate your home. Whatever the situation, watching this new series will help you achieve your goals.
CAD DESIGNING IN JEWELLERY SKETCHING
Simply put, CAD is the process of creating a jewellery design on a computer rather than manually creating a 2D drawing on paper. Used in a variety of manufacturing industries, including jewellery. Professional jewellers' computer software like Rhino creates STL design files that transform designs for use on 3D presses and flour mills.
Jewellery design software offers options for adding useful industry-specific components to your design, including Brackets and stones. Design files can also be created by reverse design, which creates a design file that allows you to 3D scan an existing object to create a replica. STL design files are used in 3D printers or milling machines to create physical models by overlaying very fine horizontal layers of material in the exact shape as designed until a fully designed 3D model is formed.
A jeweller waits until the naked flame is hot enough to make the jewellery malleable. This allows him to form links and string them together into a chain. Jewellery designers generate an idea for a new piece of jewellery and then use different techniques to produce it. They can draw their design on paper or use a computer-aided design (CAD) program to create it.
HOW CAN WE SUPPORT YOU
Careers that require the flexibility to work non-traditional hours to make sales during times when most people are not at work. A higher level of security is required for jewellery than for other items sold in salons and stores due to the high value of some pieces of jewellery.
At Hunar Online Courses, we are providing a full course regarding Jewellery Design Sketch. Here, in our online platform of Hunar Courses, you will find an option to choose in between short time courses and full time courses. Practice needs guidance. Without guidance it is quite difficult to enhance your skills and beat your competitor. We have a full team of experts, which guides our students regularly and teaches everything about Jewellery Design Sketch. This can give you a highly paid employment in a reputable firm. There are so many opportunities in Jewellery Design. Professional stylists get highly paid by the employer.
Creating jewellery requires the jewellery designer to collaborate with a smith. This person welds metal chains to bond and strengthen them. Precious metals are materials commonly used to make jewellery. Apart from the above, there are so many ways to learn Jewellery Design Sketch, within a couple of months. We are always ready to welcome you on our platform. Learn in your own language. Now that you know how to learn about Jewellery Design Sketch at home, draw all your creativity together and fill your Jewellery Box out with the stones of your creativity.
Also Read: A Guide on How to Learn Jewellery Designing at Home
At Hunar Online, you will get access to detailed video lessons and can learn from anywhere. You will get 24/7 faculty support and a chance to learn from the experts in the industry. You can also watch our trial classes and get a glimpse of our courses. You can start learning your favourite course by downloading the app.
So, what are you waiting for? Join Hunar Online Courses and do what you always wanted to do.