Embroidery is considered to be a very relaxing hobby and now-a-days the demand for it is also increasing. Many people are taking up their career in embroidery designs and it has also proved to be a promising industry if one is really good in this craft. Embroidery is an intricate art of decorating a simple piece of fabric using different stitching techniques. You can spot embroidery on various materials like cushions, curtains, table clothes and other decorative materials.
With the changing fashion trends, embroidery style has also adapted itself accordingly. Embroidery in India has come a long way and now it has also become an important part of the fashion designing industry. It has been passed on to us since generations and the authenticity of Indian embroidery is still alive. On the other hand, western embroidery designs are more creative. At first it may seem intimidating and tough to learn but once you get a hold of it, you will realise that it is not complex. There are a vast number of stitches and patterns in western embroidery.
Let's have a look at the different types of Indian and western embroidery designs one by one.
1.Chikankari
It is believed that Mughal queen 'Noor Jahan', the wife of Jahangir was the inventor of chikankari style of embroidery. The origin of this popular embroidery design is Lucknow, Uttar Pradesh. The embroidery of chikan on silk is the own innovation of Lucknow. Chikankari style of embroidery involves the use of white thread on white fabric. Any fabric like muslin, silk, cotton and others can be used for this embroidery style. With the changing fashion trend you can get chikan embroidery designs in every colour possible. You can easily spot this embroidery style on fashion garments of women especially kurtis. Creating this embroidery design requires a lot of patience and skill. Usually the artisans depict the motif of nature like flora and fauna.
2. Zardosi
Mughals introduced this embroidery design in India in the late 16th century. It is one of the most opulent forms of Indian embroidery. The word Zardosi is derived from two Persian words, Zar and Dosi. Zar means gold and dosi means embroidery. So this form of embroidery designs makes use of metallic thread to create the intricate designs and patterns. Silk, brocade and velvet fabric use real gold and silver threads . The embroidery design is embellished with pearls and precious stones which makes it affordable only by the rich people. Now-a-days gold coloured plastics make it more affordable for the normal people. You can find this embroidery designs in sarees, lehengas, blouses and more that makes you look extremely glamorous and confident.
Image Source- Pinterest
3. Aari Embroidery
The name of this embroidery design comes from hooked, sharp needles that are used in this technique. The origin of this embroidery design comes from the Mughals and is widely practiced in Rajasthan, Lucknow and Kashmir. Nature inspires the details in the embroidery design and it stands out because of its richness. One can easily maintain this style and therefore people widely use it as it provides comfort with fashion.
4.Banjara Embroidery Designs
Banjara embroidery is a mix of applique with mirrors and beadwork and is practiced by the Lambada gypsy tribe of Andhra Pradesh. For this embroidery design, you can use bright coloured fabrics and cross-stitched motifs. You can include it in both modern as well as traditional garments.
Image Source- Google Arts & Culture
5.Stem Stitch
Stem stitch is a part of western embroidery. It is essential when one is learning hand embroidery. It is one of the pillars of surface embroidery. As the name suggests, you can use it for making stems but apart from it you can also use it to stitch straight and curvy lines and also fill in the gaps.
Also Read : 3 Hand Embroidery Stitches To Create Unique T-Shirt Designs
6.The French Knot
One of the most well-known western embroidery designs is the French knot technique. This technique is simple in the sense that it is easy to execute but the look and feel created by this technique is very fresh. The French knot basically means knotting the fabric in the same spot more than once and creating a thick pattern. You can use different colours of threads for creating patterns like flower bunches, fruit bunches and leaves. Mostly you can use this kind of technique for designing home décor fabrics but a lot can be done if Indian style floral patterns are created using the French knot technique.
7.The Lazy Daisy Embroidery Designs
This embroidery design has the most fun name which perfectly describes the feel created using this embroidery technique. The lazy daisy embroidery technique, as the name suggests, is very loosely done in a way that simple patterns can be created. The designs in this technique are not so closely packed but still give out a beautiful look. The designs created are pleasing to look at and can be made using different colours. You can mostly use the lazy daisy technique on home décor fabrics like curtains, tablecloths etc., but in recent times many Indian fabric designers are using these on fabrics.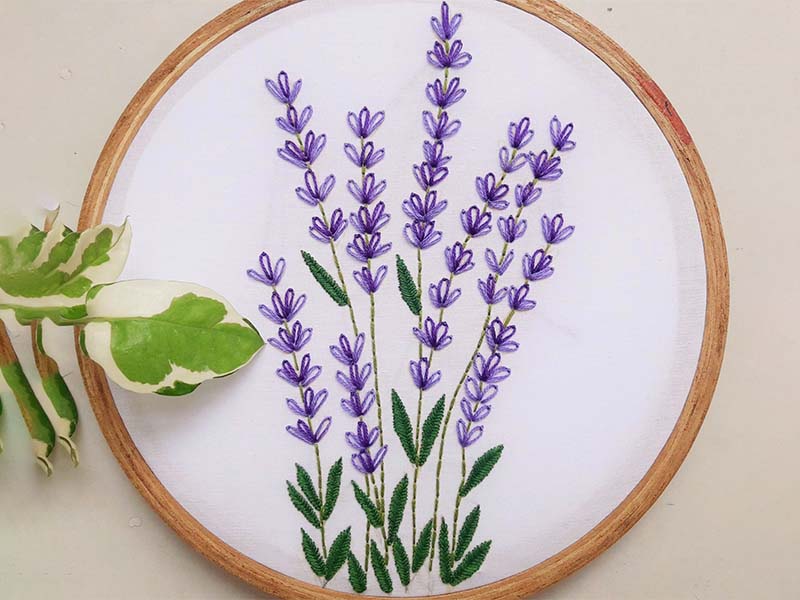 Image Source- Craft with Jayasri
People assume that Embroidery is very tough but that is not true. To master this skill, you just need to be consistent. Hunar Online Courses offers an Embroidery Course where you can use your creative skills and create different designs and much more. You can enrol in our Online Embroidery Courses. It has easy video classes which are accessible every time and you can learn from anywhere. You also get 24/7 faculty support which will help you clear your doubts.
So, what are you waiting for? Join Hunar Online's Embroidery course and start learning to create different designs and so much more from the best in this industry! Enrol now to start your journey towards a successful career!