Covid-19 changed every brand's strategy. Every company had to face adversity during the pandemic. Especially the apparel industry because there were no stores open and outfits became outdated after the lockdown. This is when many brand owners realized that digital mediums can be used to showcase their designs and make sales even during this pandemic. The word 'digital' has now become a prefix for most of the terms, lately. Everything has now become more digital than it was earlier.
Taking this as an opportunity, Hunar Online Courses is now coming to you with a live Digital Fashion Show. The motivation for Hunar Online has always been women empowerment. Keeping the same vision in mind, we are now asking you to join the digital revolution in the world of fashion designing. You can be a part of the audience or participate with your design or do both in this online fashion show. The best part is that all of these can be done from the comfort of your home.
Image Source- Twitter
It does not matter which city or state you belong to as long as you are a fashion lover. This event will be organised for women from all over the country. There will be more than 100 designs created by 100+ women from 100+ cities. Models will wear designs created by you for this online fashion show and walk the ramp to showcase your designs. So, become a part of this virtual fashion show as you will also get to decide the winner for this event.
Why You Should Participate in This Online Fashion Show
There are a lot of advantages to being a designer. You can showcase your talent on platforms like FILMY FASHION. Isn't that THE dream for every fashion designer? As a designer, we all want our designs to be seen and appreciated by as many viewers as possible. Most of us do not find such opportunities as you have to travel a lot to turn this dream into a reality. This pandemic, however, has changed this thought process. Keeping that in mind, we decided to bring the fashion show to your home.
By participating in our online fashion show, you'll get:
1. Experience
The key to being successful in any field is to have experience. This is an opportunity for you to showcase your talent and see where you stand among many other fashion designers. You will be competing with the best designs from all over the country and imagine the joy of winning such a huge show.
2. Bollywood Designs
You will not be creating any random design, which is also not fair to everyone and we all love Bollywood. The industry has defined so many styles and is still setting new fashion trends with every movie release. Also, the Indian audience is not focused just on the lead actors anymore. We keep an eye out for everything. It could be the background music, styling, clothes, songs, location and everything else. If you participate, you will be creating a design inspired by an iconic Bollywood movie.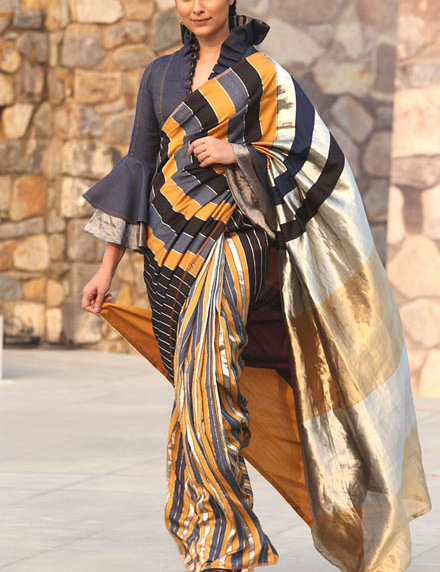 Image Source- Telangana Today
3. Level of Competition
As we said above, you will not be competing in your area or city or even state. This digital fashion show is for all Indian women. You could be from any city; it does not matter as long as you are a fashion lover and love to create outfits by yourself. There will be more than 100 designs styled by more than 100 women (only 1 design can be submitted by 1 woman).
4. Chief Judge
The chief judge for this event is the 4-time national award-winning fashion designer, Neeta Lulla. She is known for designing outfits for epic Bollywood movies like Manikarnika, Bajirao Mastani, Devdas, Jodhaa Akbar, Mohenjo Daro and many others. So, imagine getting reviewed for your designs by Neeta Lulla.
5. Types of Designs
You can style a design for fashion or jewellery and submit it to us. You can choose between the two and showcase the design which you love. These designs could either be an illustration of your thoughts or can be made using actual materials. The submission of your design totally depends on you as both kinds are acceptable to us.
The audience is important for this online fashion show because:
1. Voting
As the audience, you will be the judge of designs which the models will wear during the online fashion show. The fate of designers will be in your hands. You can vote for the design you love and send those designs to the next round. In this next round, on the day of the online fashion show, there will be live voting. This live voting will help us to determine the winner for the event.
2. Learning
You will learn about designing from one of the top fashion designers herself, Neeta Lulla. You may not be a designer but knowledge shared by her during the fashion show can help you to take the right direction so you can also start following your dream. It could be possible that in some other fashion show or our next event itself, you will be our winner.
3. Watching the Models
Another exciting opportunity is to learn the ramp walk. You may not be a fashion designer but in the future, you might showcase your collection to the world. At such a time, you will have some knowledge on how to proceed with models, ramps, music and everything else related to a fashion show. The best part is that you will be watching this digital fashion show from the comfort of your home.
Image Source- Bollywood Mantra
Image Source- Rediff Pages
So, Participate or watch or do both in this online fashion show from the comfort of your home. You can easily become a part of this online fashion show by submitting your design to us between 10th January and 25th January.
Click here to register: https://bit.ly/2XfKLXX