For every little celebration we think about a dessert and cakes are the first thing that comes in our mind. We think about baking delicious cakes for every treat and have some good time with our family. We could go to any length to make a perfect cake for our family and have some good quality time.
Baking requires lots of patience and effort and you would want to see a perfect result after all the efforts and time that you have put in. But baking disasters happen every now and then. Sometimes the improper measurements can spoil the whole recipe and the worst part of a spoiled cake is that it takes ages to remove them from the baking pan. Cake making is a complicated process and you need to measure everything properly in order to get a perfect cake. You also need to be prepared in advance, in case any blunder happens. The biggest nuisance is the cake sticking to the baking pan. Removing it is a big task and therefore, you must be prepared well before to tackle this case tactfully. There are various tricks and tips through which you can easily avoid the sticking of the cake to the pan.
Keep reading this blog to get proper information on this topic and by the end you'll get to know what you are doing wrong and how you can avoid those little mistakes. You'll feel more confident while baking after this and enjoy cakes more often. Here are some ways to avoid the cake from sticking to the pan:
1. Consider Using Parchment Paper
Parchment papers are the best thing to use to keep your cakes from sticking to the pans. These papers do an excellent job of keeping the cake from sticking to the pan and they are also very inexpensive. Using parchment paper is no rocket science, all you need is to trace the lining of the baking pan on the parchment sheet and cut out the perfect shape. Like most of the people you can also use a permanent marker to trace the shape of the baking pan or you can simply use a pencil and cut out the shape using a pair of kitchen scissors. After you are done, place the papers on the base of the baking pans and you are ready to go. This way you'll definitely get better results and your cake also won't stick to the pan.
Image Source- Reynolds KItchen
2. Greasing Your Cake Pan
Greasing your cake pan is the next important recommendation when it comes to avoiding the cake from sticking to the pan. When getting ready to go through this process you have few options. You can use normal butter to grease your pan as it is the standard practice or you can also use vegetable shortening to get this done. Most of the bakers prefer to use vegetable shortening rather than using butter as it gives a better output. The reason behind this being that water can cause the cake to stick to the lining of the pan and butter contains more water as compared to vegetable shortening. Also, vegetable shortening doesn't add any extra flavour or taste to the cake. If you are thinking that using butter could enhance the taste of the cake then you are mistaken yet again. A thin layer of butter on the base of a baking pan would have no effect on the taste of the cake. Once you've decided what to use, smear some amount of butter or vegetable shortening on the base and the lining of the pan. You can use a brush to spread it evenly.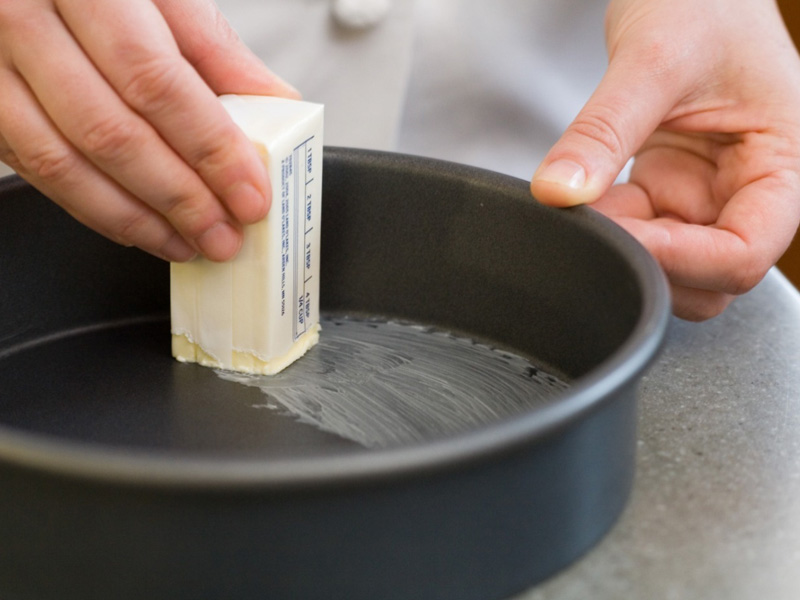 Image Source- Just A Pinch
3. Sprinkle some flour as well
For amazing results you can go ahead and sprinkle some flour on the bottom of your baking pan. A small amount of flour can be sprinkled directly over the butter or vegetable shortening. If you want to ensure that your cake doesn't stick to the sides of the baking pan then don't skip this process. You'll be glad to see the results and this can save you from all the extra efforts. You'll be amazed how easily the cake comes out after you leave it for a while and let it cool on the wire rack.
Image Source- A Pretty Talent Blog
4. Use a Non-Stick Pan
Some people absolutely love the idea of using non-stick pans for baking as they are easy to use. These pans are specially designed to avoid the cake from getting stuck to the pan while baking. They have a special non-stick coating that is there so that it can prevent the cake from sticking. If you have the choice of a non-stick pan then you should definitely go with it. These pans are easily available all over the market and are perfect for a hassle free baking.
Image Source- Joom
Now that you have a clear idea about how to keep your cake from sticking to the pan while baking, all you need is to follow the recipe and use the right measurement to bake a perfect cake. The next time you bake a cake, things will be easier and more fun.
Baking cakes is a fun activity and can refresh your mood at any time. If you are someone who loves baking and want to make a career in it, then here is good news for you. Hunar Online courses brings you a new baking course where you can turn your baking dreams into reality and have your own bakery. At Hunar Online, you will get access to detailed video lessons and can learn from anywhere. You will get 24/7 faculty support and a chance to learn from the experts of the industry.
So, what are you waiting for? Join Hunar Online Courses and start paving a new path to your career.